Summary
1624/01/20
Archivio di Stato di Roma (ASR)
ASR, TNC, uff. 15, 1624, pt. 1, vol. 99, fols. 183r-v
Antiveduto Gramatica, treasurer of the Accademia di San Luca, receives 10½ scudi from Matteo Berzini. The sum is the ground rent (canone) of a vineyard owned by the Accademia. Gramatica receives the money and gives quittance.
Transcription
[fol. 183r]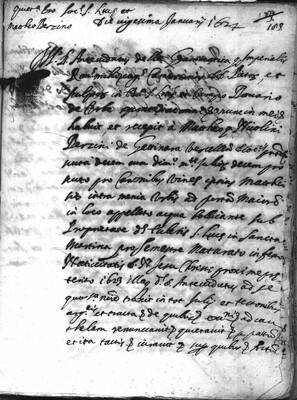 Quietantia Pro Societate Sancti Lucae et Mattheo Berzino
Die vigesima Ianuarii 1624


Ill'D. Antevidutus della Grammatica q. Imperialis
Romanus mihi cognitus Camer[a]rius[1] &nbsp[1]
Brackets denote illegible passages due to holes in the document or ink spots on paper. DD. Pictorum, et
Sculptorum in Ecclesia Sancti Lucae in Campo Bovario
de Urbe sponte etc. ac omni etc. nunc in mei etc.
habuit, et recepit à Mattheo q. Nicolini
Berzini de Gattinara Vercellensis Diocesis presente etc.
scuta decem cum dimidio monetae Iuliorum decem pro
scuto pro Can[o]nibus Vineae ipsius Matthei
sitae intra menia Urbis ad portam Maiorem
in loco appellato acqua bollicante Sub
Proprietate dictae Ecclesiae Sancti Lucae in Sancta
Martina pro Semestre Maturato in festo
Nativitatis Domini Nostri Iesu Christi proxime prae-
terito 1623 illaque dictus D. Antevidutus ad se
quo supra nomine traxit in tot Iuliis et testonibus
argenteis et tracta etc. de quibus etc. exceptioni etc. ad cau-
thelam renunciavit etc. quietavit etc. per pactum etc.
et ita tactis etc. iuravit etc. super quibus etc. Actum
[fol. 183v]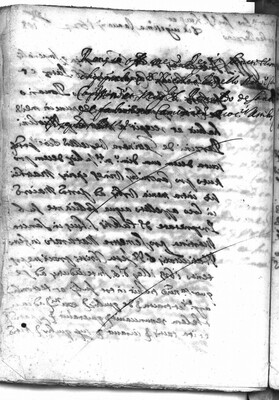 Romae in Offitio mei etc. Regionis Sancti Eusta-
chii presen[t]ibus etc. D. Nicolao Bercello Romano Curiae
Capitolinae Mandatario et Mag.o D. Romualdo de Sanc[tis]
de Fabriano Camerinensis Diocesis Testibus etc.
Iosephus Pal.s etc.