ASR, TNC, uff. 15, 1624, pt. 2, vol. 100, fols. 433r-v, 454r
Summary
1624/05/12
Archivio di Stato di Roma (ASR)
Girolamo Boerio promises the Congregazione di San Luca that he will serve as a chaplain in the church of San Luca. In exchange, he will receive 38 scudi annually as a salary, and he will be allowed to live in the two rooms adjacent to the church.
Transcription
[fol. 433r]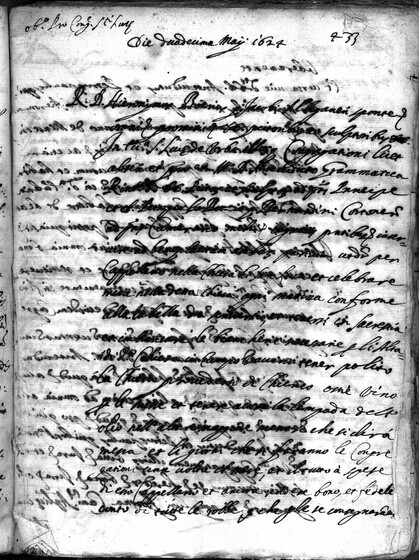 Obligatio Pro Congregatione Sancti Lucae
Die duodecima Maii 1624
R. D. Hieronymus Boerius q. Iacobi Albiganens sponte etc.
omni etc. promisit etc. DD. pictoribus [et][1] [1]
Brackets denote illegible passages due to holes in the document or ink spots on paper. Sculptoribus
In Ecclesia S. Lucae de Urbe illorumque Congregationi licet
absenti et pro e[a] Ill'. D. Anteviduto Grammatica
Romano dd DD. Pictorum et Sculptorum ad presens Principe
et D. Petro Paulo Bo[nci]o q. Bernardini Cortonense
ad presens Camerario mihi etc. cognitis presentibus etc. Inser-
vire ad beneplacitum ambarum partium ut dicitur per
Cappellano nella Chiesa di San Luca et celebrare
messa nella detta Chiesa ogni Mattina conforme
alla Tabella da scriversi, et tenersi in Sacrestia
et imbiancare le biancherie necessarie per li Alta-
ri di detta Chiesa in Campo Vaccino tener polito
la Chiesa provedersi di Chierico ostie Vino
per le messe et tenere accesa la lampada dell'
olio nell'altare maggiore ment[r]e che si dirà
messa et li giorni che si faranno le Congre-
gationi una volta il mese, et il tutto à spese
di esso Cappellano et ancora rendere bono, et fedele
conto di tutte le robbe che gle se consegnaranno
[fol. 433v]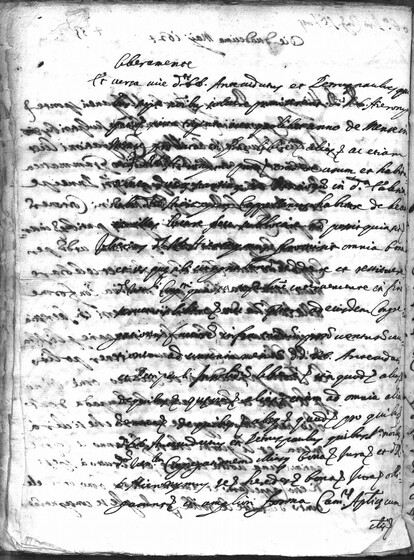 liberamente
Et versa vice detti DD. Antevidutus et Petrus Paulus qui-
bus supra nominibus solvere promiserunt dicto R. D. Hieronymo
[p]resenti etc. scuta triginta octo quolibet anno de Mense in
Mense pro rata in fine libere etc. alias etc. ac etiam
eidem RD. Hieronymo presente etc. tradere usum et habita-
tionem du[o]rum stantiarum seu Ma[n]sionum in dicta Ecclesia
ubi dictus D. Hier[on]ymus Cappellanus habitare debeat
e[t] illas locare Seu sublocare non possit quia sic etc.
Ult[eri]us dictus RD. Hieronymus promisit omnia bona
et res quae sibi consegnabunt reddere et restituere
dictae Venerabili Congregationi qua supra stipulatione interveniente in fine
servitutis libere etc. nec non prestare ad eiusdem Congre-
gationis favorem infra triduum proximum venturum cau-
tionem ad contentamentum dd. DD. Anteviduti
et Petri Pauli Insolidum liberè etc. ita quod etc. alias etc.
dequibus etc. Quae omnia etc. alias etc. etiam ad omnia alia
d[a]mna etc. de quibus etc. absque etc. quod etc. pro quibus etc.
dicti [D]D. Antevidutus et Petrus Paulus quibus Supra nominibus
dictam Venerabilem Congregationem illiusque bona etc. Iura etc. et dictus R.
D. Hieronymus se etc. heredes etc bona etc. Iura etc. obli-
garunt etc. in ampliori forma Camerae Apostolicae cum
clausulis etc.
[fol. 454r]