ASR, TNC, uff. 15, 1628, pt. 1, vol. 115, fols. 497r-v, 508r
Summary
1628/03/09
Archivio di Stato di Roma (ASR)
At a general meeting, the Accademia di San Luca elects and appoints the following officials: proctors, appraisers of sculpture, appraisers of painting, visitors to the infirm, administrators of foreigners, peacemakers, supervisors, appraisers, appraisers of gild work, appraisers of embroidery, and treasurer. The Accademia also decides to continue the litigation against the brothers de Santis and against the carpenters.
Transcription
[fol. 497r]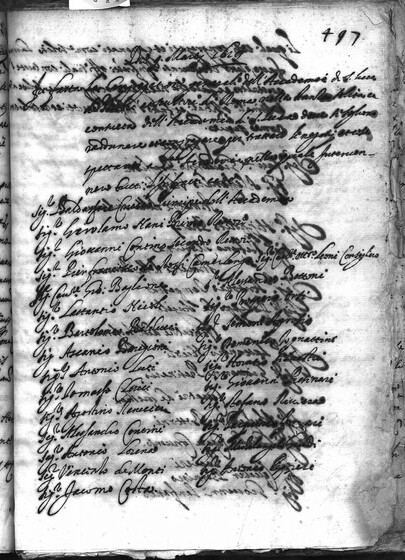 [fol. 497v]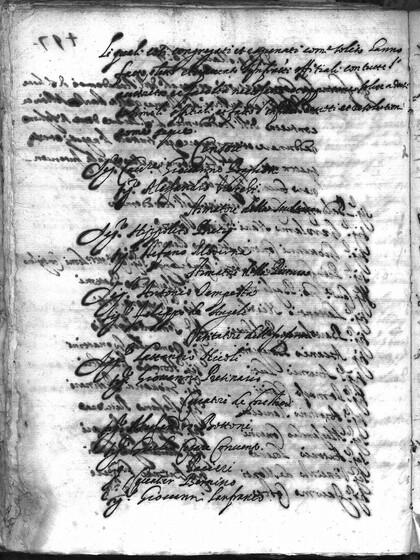 [fol. 508r]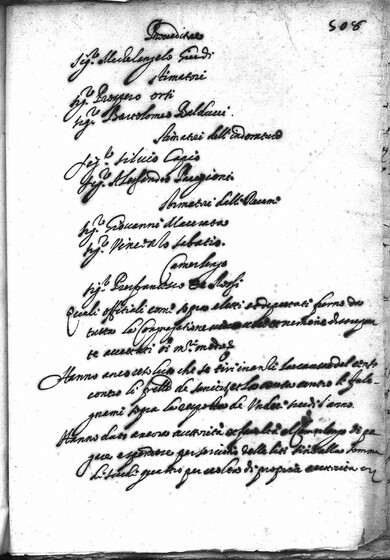 Proveditore
Sig.r Michelangelo Guidi
Stimatori
Sig.r Prospero Orsi
Sig.r Bartholomeo Balducci.
Stimatori dell'indoratur[a]
Sig.r Silvio Capio
Sig.r Alessandro Parigioni
Stimatori delli Recami
Sig.r Giovanni Macerata
Sig.r Vincenzo Sabatio.
Camerlengo
Sig.r Pierfrancesco [d]e Rossi
Quali offitiali come sopra eletti et deputati furno da
tutta la Congregazione viva voce et nemine discrepan-
te accettati omni meliori modo etc.
Hanno anco resoluto che se tiri innanzi la causa del conto
contro li fratelli de Sanctis, et la causa contro li fale-
gnami sopra la resposta de Undeci scudi l'anno.
Hanno dato ancora autorità e facultà al Camerlengo di pa-
gare e spendere per servitio delle liti sino alla somma
di scudi quattro per volta di propria autorita etc.