ASR, TNC, uff. 15, 1628, pt. 2, vol. 116, fol. 207r
Summary
1628/05/03
Archivio di Stato di Roma (ASR)
Giovanni Contini proposes to find a solicitor for the interests of the Accademia e Congregazione dei Pittori, who will serve without being paid.
Transcription
[fol. 207r]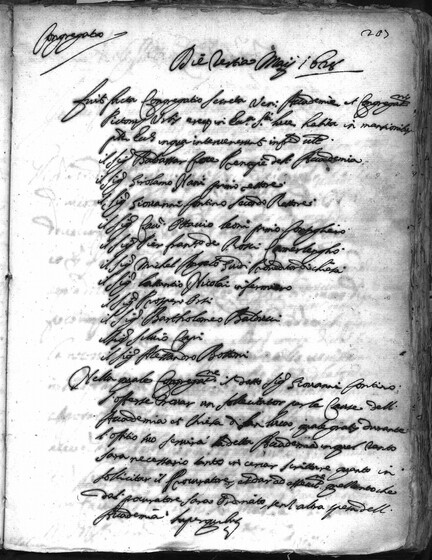 Congregatio
Die Tertia Maii 1628
Fuit facta Congregatio Secreta Venerabilis Accademiae et Congregationis
Pictorum Urbis erectae in Ecclesia Sancti Lucae habita in mansionibus
predictae Ecclesiae in qua intervenerunt infrascripti videlicet
il Sig.r Baldassar Croce Prencipe dell'Accademia
il Sig.r Girolamo Nani primo rettore.
il Sig.r Giovanni Contino Secondo Rettore.
il Sig.r Cav.r Ottavio Leoni primo Consegliero.
il Sig.r Pier Fran.co de Rosci Camerlengho.
il Sig.r Michel Angelo Guidi Proveditore di chiesa.
il Sig.r Lattantio Nicolai infermiero
il Sig.r Prospero Orsi
il Sig.r Bartholomeo Balducci
il Sig.r Silvio Capi
il Sig.r Alessandro Bottoni
Nella quale Congregatione il detto Sig.r Giovanni Contino
S'offerse trovar un Sollecitator per le Cause dell'
Accademia et Chiesa di San Luca, quale gratis durante
l'offitio suo Servirà la detta Accademia in quel tanto
Sara necessario tanto in cercar Scritture quanto in
Sollicitar il Procuratore, et dar ad essecutione queltanto che
dal procuratore Sara Ordinato, senz altra spesa dell'
Accademia Super quibus etc.