ASR, TNC, uff. 15, 1628, pt. 4, vol. 118, fols. 265r-v
Summary
1628/11/05
Archivio di Stato di Roma (ASR)
At a general meeting, the Accademia dei Pittori e Scultori elects the new principe, Giuseppe Cesari, and the principe for the following year, Antonio Tempesta, by drawing lots.
Transcription
[fol. 265r]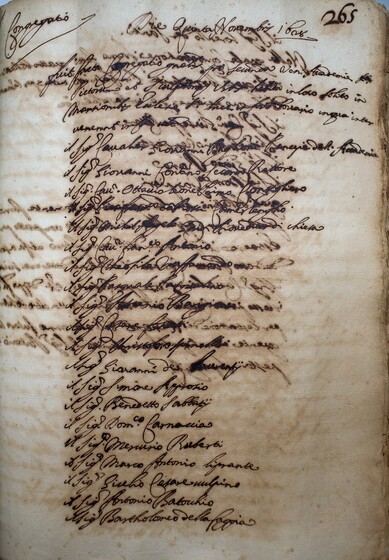 [fol. 265v]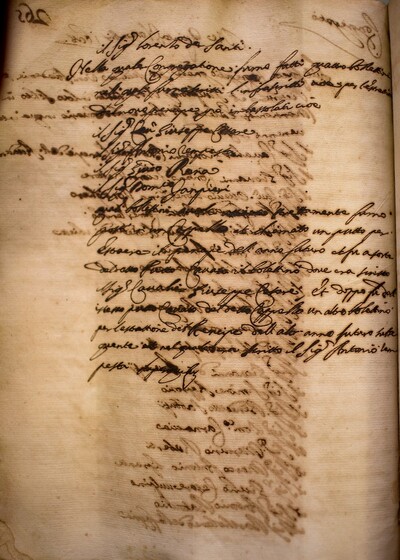 il Sig.r Lorenzo da Santi.
Nella quale Congregatione furno fatti quattro bollettini
nelli quali furno scritti l'infrascritti per l'estrattione
del novo prencipe già imbussolati cioè
il Sig.r Cavalier Giuseppe Cesare
il Sig.r Antonio Tempesta
il Sig.r Guido R[e]na
il Sig.r Dom.co Zampieri
Quali bollettini [avolti assieme] strettamente furno
posti in un Cappello et chiamato un putto per
estraere il pren[ci]pe dell'anno futuro et fu a sorte
dal detto Putto Cavato il bolettino dove era scritto
il Sig.r Cavalier Guiseppe Cesare, Et doppo fu dall'
istesso putto Cavato dal detto Cappello un altro bolettino
per l'estrattione del Prencipe dell altr'anno futuro subse-
quente et nel quale era Scritto il Sig.r Antonio Tem-
pesta Super quibus etc.