ASR, TNC, uff. 15, 1629, pt. 3, vol. 121, fols. 482r-v, 491r
Summary
1629/09/02
Archivio di Stato di Roma (ASR)
A meeting of painters and embroiderers in which they appoint festival organizers for the feast of St. Luke, representing the painters, gilders, and embroiderers. The treasurer Pier Francesco Rossi is assigned the task of picking up the [Accademia's] records and Michelangelo's chalk holder from Imperiale Gramatica.
Transcription
[fol. 482r]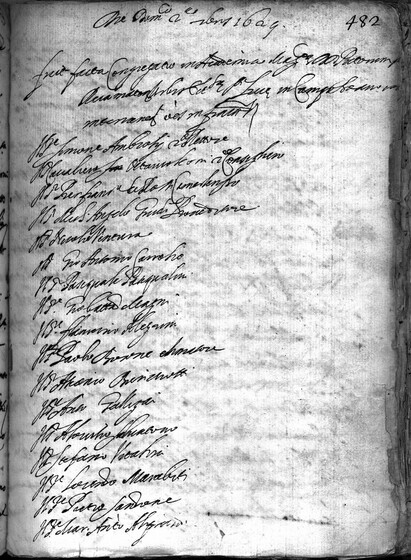 [fol. 482v]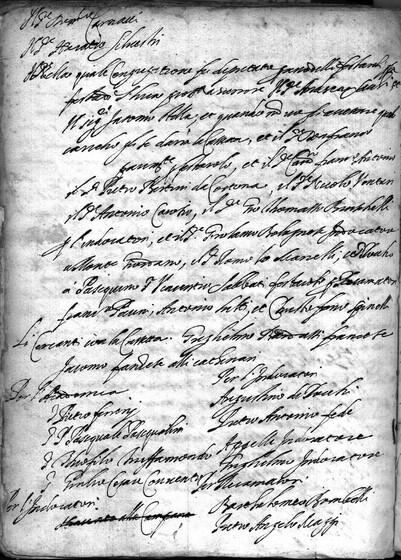 Il S.re Dom.co Carnacci
Il S.re Horatio Silvestri
Il Nella quale Congregatione fu deputato per[...][3] [3]
Unclear. delli festaroli per la
festa di S. Luca pro [...]scossore[4] [4]
Unclear. Il S.re Andrea Sacchi, et
Il Sig.re Iacomo Stella, et quando non vogli accettare questo
caricho gli Se darrà la Cassetta, et il S.re Don Franc.o
parimente per festarolo, et il S.re Cava.r Franc.o Antonio
il S.r Pietro Bertoni da Cortona, il S.re Nicolo Venturi
il S.re Antonio Carosio, il S.re Gio Thomasso Bruschelli
per l'indoratori, et il S.re Girolamo Bolognese Indoratore
a Monte Giordano, il S.r Romolo Manelli, et S.r Roccho
à Pasquino S.r Vincentio Sabbati festarolo per Recamatori
Franc.o Pacini, Antonio Lutti, et Christofano Spinelli
Li Cercanti con la Cassetta. Guglielmo Bardazzi francese
Iacomo franzese alli cathinari
Per l'Academia
S.r Pietro Ferrerii
S.r P Pasquale Pasqualini
S.r Theofilo Truffamondo
S.r Giulio Cesare Convento
Per l'Indoratori
Per l'Induratori
Augustino de Vacchi
Pietro Antonio Fede
Appelle Indoratore
Guglielmo Indoratore
Per Recamatori
Bartholomeo Bombelli
Pietro Angelo Maggi
[fol. 491r]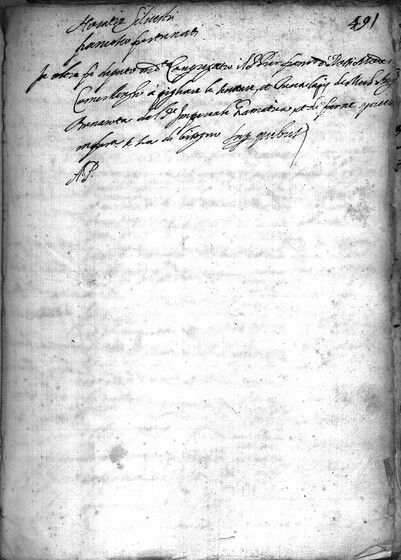 Horatio Silvestri
Francesco Fortunati
In oltre fù deputo in dicta Congregatio[5] [5]
Sic. il S.r Pier Fran.co de Rossi […][6] [6]
Brackets at end of lines denote illegible passages due to words cut off at margins.
Camerlengho à pigliare le scritture, et Tucca lapis de Mich'Ang[elo]
Buonarota dal S.re Imperiale Gramatica, et di farne quieta[ntia]
in forma se sia di bisogno Super quibus etc.
A.P.