ASR, TNC, uff. 15, 1631, pt. 3, vol. 129, fols. 52r-v
Summary
1631/07/06
Archivio di Stato di Roma (ASR)
At a general meeting of sculptors, painters and stoneworkers, chaplain Francesco requests to be paid 11 scudi for his services. In addition, Silvio Capio delivers 2 scudi to the treasurer, Pier Francesco Rossi.
Transcription
[fol. 52r]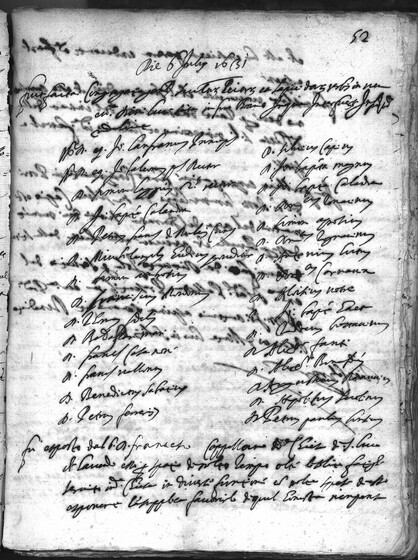 [fol. 52v]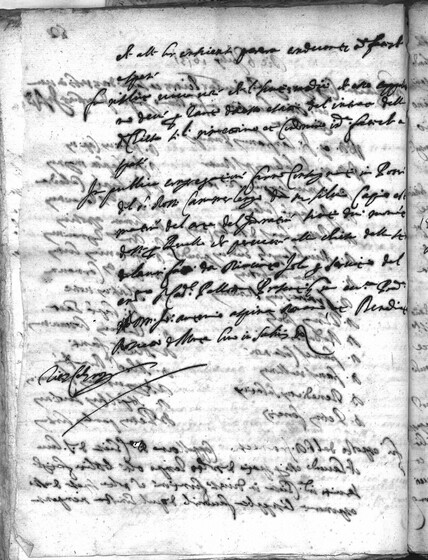 che alle loro conscienze parera condecente a dette fatiche
e spese
Fu risoluto viva voce che li scuti undici che esso cappella-
no deve per tanto da esso esatti del introito della
detta Chiesa si li rimettino et Condonino in dette fatiche
e spese
In publica congregatione furno Consegnati in Possi[2] [2]
Uncertain.
del s.r Rossi Camerlengo da m Silvio Capio esti-
matore del arte del Indoratori scuti dui monete
da esso per Quello che per[tiene] alla chiesa della Stima
[...] danni fatt[…][3] [3]
Brackets denote illegible passages due to ink spots on paper. da Diacinto Iole per Servitio del
Ex.mo S.r Card.e Pallotta Presentibus in ecclesia Predicta
Ill DD. Io: Antonio Aspina Romano, et Benedicto
Roscetto de Monte Bono in Sabinis testibus etc.
Tit' Col' rogavit etc.