ASR, TNC, uff. 15, 1633, pt. 3, vol. 137, fols. 261r-v
Summary
1633/07/17
Archivio di Stato di Roma (ASR)
The principe reports that the revenues from the houses of the Accademia dei Pittori e Scultori have been seized. Therefore, the Accademia decides to give a sicurtà de stando iure in favor of the sequestrator.
Transcription
[fol. 261r]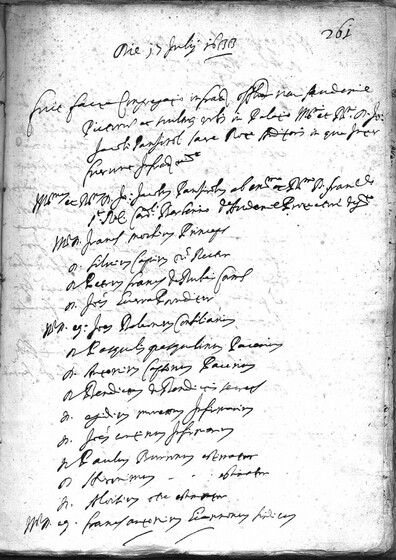 [fol. 261v]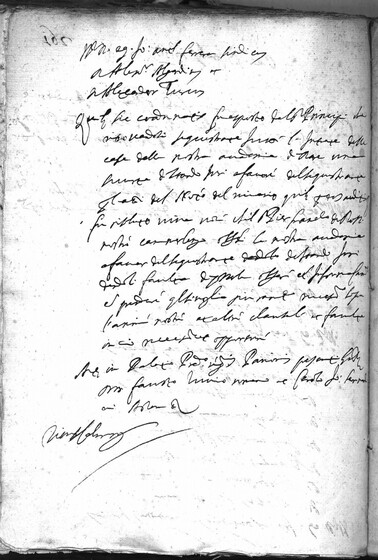 Ill.s S. eq. Io: Ant.s Ferrera Sindicus
D Alex.r Algardius et
D Alexander Turcus
Quibus sic coadunatis fu esposto dal s.r Principe che
ritrovandosi sequestrate tutti l'Intrate delle
case della nostra accademia di Dare una
sicurta destando Iure a favoré del sequestrante
per l atti del Notario del vicario quibus per[...][1] [1]
Unclear. auditis etc.
Fu risoluto viva voce che il s.r Pier Franc.co de Rossi
nostrò cammerlengo oblighi la nostra accademia
a favor del sequestrante destando Iure
dandoli faculta di poterla obligare etiam In forma Camere
con prenderé qualsivoglia giuramento necessario sopra
l'anime nostre et altre clausule et faculta
in cio necessarie et opportune
Actum in palatio Predicto régionis Parionis presentibus etc.
DD. Fausto Tuccio romano et Carolo Io: Fernandi-
ni testibus etc.
Titus Celius rogavit etc.