Summary
1633/12/13
Archivio di Stato di Roma (ASR)
ASR, TNC, uff. 15, 1633, pt. 4, vol. 138, fols. 673r-v, 674r
Francesco de Quirici and Stefano de Torres are charged with obtaining the money that belongs to the Accademia and church of San Luca. They will receive 7 percent of the sums obtained. The Accademia hires the chaplain of the church of Sant'Angelo in Pescheria as chaplain.
Transcription
[fol. 673r]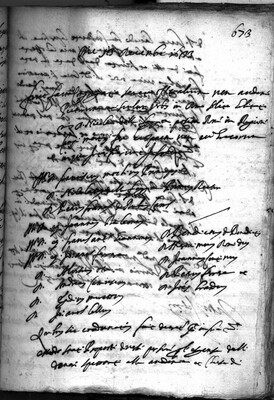 [fol. 673v]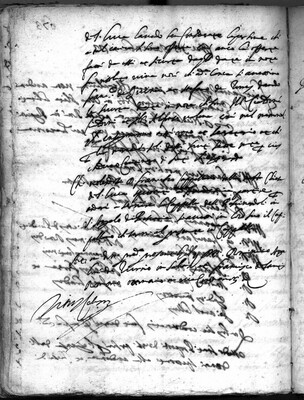 di S. Luca havendo ben Considerate le persone che
a tal carica si sono offerte come anco le offerte
fatte da essi et sicurta da quelli date in note
Fu risoluto viva voce che a detta Carica si accettino
Francesco de Quirici et Stefano de Torres dando
le Sicurta date in note che sono Il s.r Cialdone
Cialdoni et Il s.r Alfonso Volone come nel memoriale
quale consegnarno a me notario et Secretario et che
per lor mercede se li dessi scuti sette monete per cias-
cheduno Centinaro di Scuti ch'esigeranndo
Che volendosi D. Francesco Cappellano della nostra Chiesa
di S. Luca spectante a detta Accademia partire per
andare a servire la Cappella delli Pescivendoli in
S. Angelo di Pescaria si accetti in loco suo il Cap-
pellano che serve al presente in detta Cappella
Actum in domo predicta presentibus ibidem DD. Dominico Ange-
loni de Turris in Sabinis, et Francisco de Santis
Romano ottonario in via Coronariorum testibus etc.
Titus Celus rogavit etc.
[fol. 674r]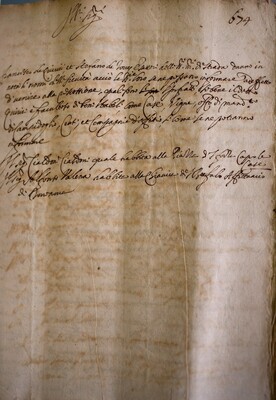 Ill. ri sig. ri
Francesco de Quirici, et Stefano de Torres Esattori delli SS.ri Ill.mi di Strada danno in
nota li nomi della Sicurtà acciò le SS.rie loro se ne possano informare ad effetto
di venire alla riscossione, quali sono l'infrascritti, sebene il detto
Quirici è facultoso di beni stabili, come Case, Vigne, officio di mandato
di Campidoglio, Censi, et Compagnie d'offitio, si come se ne potranno
informare
Il Sig.r Cialdone Cialdoni quale habbita alla Piazza di Sforza Capo le
Case
Il Sig.r Alfonso Valena habbita alla Chiavica del Bufalo Affittuario
di Torrenova