ASR, TNC, uff. 15, 1634, pt. 1, vol. 139, fols. 791r-v, 792r
Summary
1634/03/09
Archivio di Stato di Roma (ASR)
Giovanni Battista Soria, treasurer of the Accademia dei Pittori e Scultori, rents a few houses belonging to the Accademia to Bernardino de Mori. The annual rent is 14 scudi. The document contains the agreement between the two contractors.
Transcription
[fol. 791r]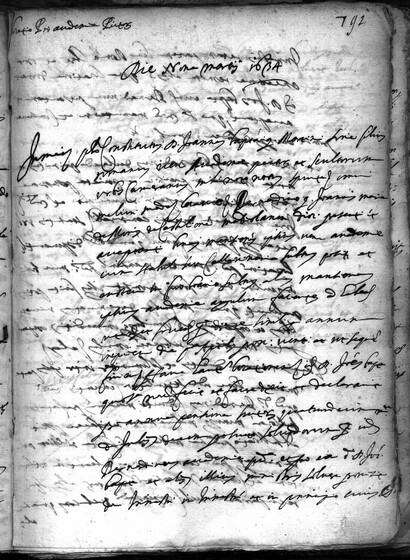 Locatio Pro accademia Pictorum
Die Nona Martii 1634
In mei etc. personaliter Constitutus D. Ioannes Bap'ta q. Martini Sorie filius
romanus venerabilis Accademie pictorum et Scultorum
Urbis Camerarius mihi notario notus sponte etc. omni
meliori modo etc. locavit etc. Bernardino q. Ioannis Marie
de Moris de Castilione mediolanensis diocesis presenti ét
acceptanti [bonas][1] [1]
Uncertain. mansionés ipsius venerabilis accademie
cum stabulo seu cella vinaria subtum positas et
existentes in foro boario subtum aliam mansionem
ipsius accedemie angulum facientem ad habendum
utendum et fruendum prout de re simili per annum
incipiendo die prima Aprilis proximi venturi et ut sequitur
finiendo etc. Hanc hautem locationem etc. idem D. Io'es Bap'ta
quo supra nomine fecit et facere dixit et declaravit
pro annua pensione scutorum quatuordecim monete
de Iuliis decem pro scuto solvendorum prout idem
Bernardinus accademie predicte et pro ea dicto D. Io'i
Bap'te et aliis illius ministris solvere promisit
de trimestri in trimestre et in principio cuiuslibet
[fol. 791v]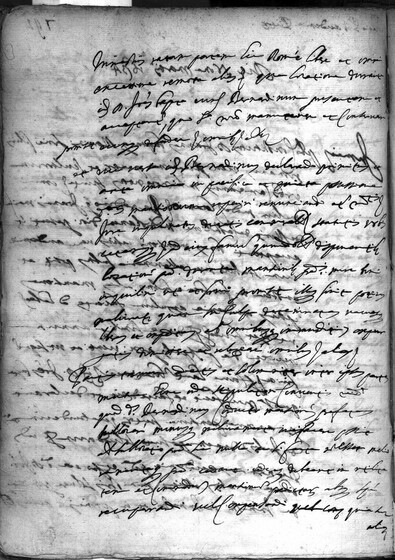 trimestris ratam partem hic Romé libere et omni
excettione remota alias etc. qua locatione durante
idem D. Io'es Bap'ta eumdem Bernardinum presentem et
acceptantem, quo supra nomine manutenere et Conservare
promisit eumque defendere etc. omnibus etc. alias etc.
Et vicé versa idem Bernardinus declarando primitus et
ante omnia in pacifica et quieta possessione
dictorum mansionum reperiri renunciando etiam medio iuramento tactis etc.
Iure inquilinatus decretis cammeralibus statutis urbis
ceterisque etc. ad eius favorem quomodolibet disponentibus
locatione durante mansionibus predictis more[2] [2]
Uncertain. boni
inquilini uti et frui promisit illasque finita potius
melioratas quam sui Culpa deterioratas vacuasque
liberas et expeditas ab omnibusque immunditiis expur-
gatas dimittere et relaxare omnibus etc. alias etc.
Partis tamen adiectis et Solemniter inter ipsas partes
mutua hinc inde stipulatione Conventis videlicet
quod dictus Bernardinus Conductor mansiones prefatas
sublocare minusque melioramenta in eas facere possit
alias sublocatio predicta sit nulla ac si facta non esset melio-
ramentaque predicta cadant cadereque debeant in utilita-
tem et Commodum mansionum predictarum absque spé
recuperandi vel Compensandi quia sic
alias etc.
[fol. 792r]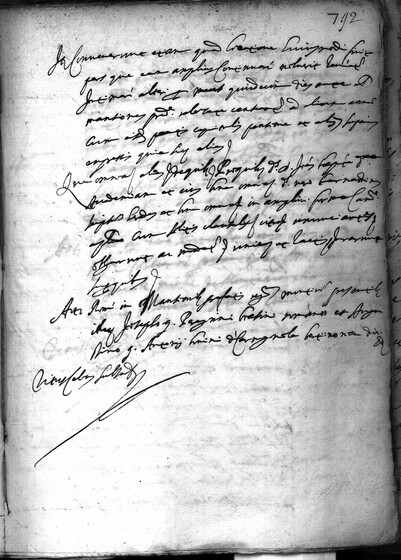 Item Convenerunt etiam quod locatione huiusmodi finita
pars que eam amplius Continuaré noluerit teneatur
Intimaré alteri per quindecim dies ante alias
mansiones predicte relocata relocate censeatur ad alium annum
cum eisdem pactis capitulis pensione et aliis superius
expressis quia sic etc. alias etc.
Que omnia etc. alias etc. de quibus etc. Proquibus dictus D. Io'es Bap'ta dictam
Accademiam et eius bona omnes etc. dictus vero Bernardinus
seipsum heredes et bona omnia etc. in ampliori forma Camere
apostolice cum solitis clausulis etc. citra etc. renunciantes etc.
obligarunt ac mandatum etc. unica etc. et tactis etc. Iurarunt
Super quibus etc.
Actum Romé in Mansionibus prefatis regionis montium presentibus
ibidem etc. Iosepho q. Peregrini Biasini romano et Augus-
tino q. Antonii Bonini de Carmagonla Bertinoriensis diocesis
testibus etc.
Titus Celius Sub[…][3] [3]
Unclear. etc.