Degas/Cassatt
May 11 – October 5, 2014
West Building, Main Floor, Northeast Galleries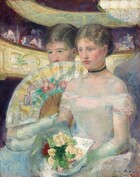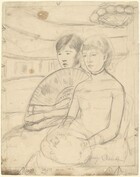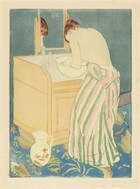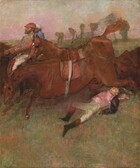 This exhibition is no longer on view at the National Gallery.
From the moment the American Mary Cassatt (1844–1926) made her debut in 1879 with the group of artists known as the impressionists, her name has been linked with that of the Frenchman Edgar Degas (1834–1917). Cassatt stated that her first encounter with Degas's art "changed my life," while Degas, upon seeing Cassatt's art for the first time, reputedly remarked, "there is someone who feels as I do." It was this shared sensibility as much as Cassatt's extraordinary talent that drew Degas's attention.
The affinity between the two artists is undeniable. Both were realists who drew their inspiration from the human figure and the depiction of modern life, while they eschewed landscape almost entirely.
 Both were highly educated, known for their intelligence and wit, and from well-to-do banking families. They were peers, moving in the same social and intellectual circles. Cassatt, who had settled in Paris in 1874, first met Degas in 1877 when he invited her to participate with the impressionists at their next exhibition. Over the next decade, the two artists engaged in an intense dialogue, turning to each other for advice and challenging each other to experiment with materials and techniques. Both made printmaking an important aspect of their careers and for a time collaborated on their endeavors. Their admiration and support for each other endured long after their art began to head in different directions: Degas continued to acquire Cassatt's work, while she promoted his to collectors back in the United States. They remained devoted friends for forty years, until Degas's death.
Organization: Organized by the National Gallery of Art, Washington
Sponsors: The exhibition is made possible by a generous grant from Booz Allen Hamilton Inc. in celebration of its 100th Anniversary.
The Robert and Mercedes Eichholz Foundation is the foundation sponsor.

The exhibition is supported by an indemnity from the Federal Council on the Arts and the Humanities.
Attendance: 381,178
Catalog: Degas/Cassatt. By Kimberly Jones et al. Washington D.C.: National Gallery of Art, 2014.
Brochure: Degas/Cassatt, by Kimberly A. Jones. Washington, D.C.: National Gallery of Art, 2014.
American

, 1844 - 1926
French

, 1834 - 1917
Introduction to the Exhibition: Degas/Cassatt
Audio, Released: April 28, 2015, (7:59 minutes)
Mary Cassatt's Radical Monstrosities
Audio, Released: April 28, 2015, (7:59 minutes)
Degas and Cassatt: Different Perspectives, Part 1: Degas, Cassatt, and the Americans
Video, Released: April 28, 2015, (7:59 minutes)

Degas and Cassatt: Different Perspectives, Part 2: Degas and Cassatt: Sex and the Single Artist
Video, Released: April 28, 2015, (7:59 minutes)