Degas at the Opéra
March 1 – October 12, 2020
West Building, Ground Floor, Outer Tier Galleries
This exhibition is no longer on view at the National Gallery.
An exuberant display of fecund imagination and keen observation, Edgar Degas's renowned images of the Paris Opéra are among the most sophisticated and visually compelling works he ever created. Celebrating the 350th anniversary of the Opéra's founding, Degas at the Opéra will present approximately 100 of the artist's best-known and beloved works in a range of media, including paintings, pastels, drawings, prints, and sculpture. It will be accompanied by a fully illustrated exhibition catalog.
Degas (1834–1917) is celebrated as the painter of dancers, a subject that dominated his art for nearly four decades. Although there have been many exhibitions celebrating his love of the ballet, this will be the first to consider his enduring fascination with the opéra. A music lover and regular visitor to performances, Degas explored both the public spaces of the Paris Opéra—auditorium, stage, and boxes—as well as more private ones, including dance studios and backstage. He was friends with many of the people he depicted in his paintings, from dancers, singers, and orchestra musicians to the dark-suited subscribers.
The Opéra also fueled some of Degas's most daring technical innovations, including his first monotype, The Ballet Master (c. 1876), and his wax statue Little Dancer Aged Fourteen (1881), which revolutionized sculpture.
The exhibition is curated by Degas expert Henri Loyrette with Kimberly A. Jones, curator of 19th-century French paintings, National Gallery of Art; Leïla Jarbouai, graphic arts curator, Musée d'Orsay; and Marine Kisiel, conseillère scientifique, Institut national d'histoire de l'art; former curator, Musée d'Orsay.
Originally scheduled to close on July 5, 2020, the exhibition closed early when the COVID-19 pandemic museum closure began on March 14, 2020. The exhibition re-opened on July 20, 2020, with an extended closing date of October 12, 2020.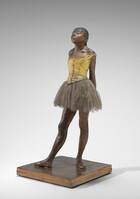 Organization: Organized by the National Gallery of Art, Washington, and the Musées d'Orsay et de l'Orangerie, Paris

Sponsors: BP America is proud to be a sponsor of this Washington, DC, exhibition as part of its support for the arts in the United States. Adrienne Arsht also kindly provided a leadership gift for this exhibition. Additional funding is provided by Jacqueline B. Mars and The Exhibition Circle of the National Gallery of Art. The exhibition is supported by an indemnity from the Federal Council on the Arts and the Humanities.
Hashtag: #DegasOpera
Attendance: 41,611
Catalog: Degas at the Opera. By Henry Loyrette, Kimberly A. Jones, Leila Jarbouai, and Marine Kisiel. Grand Palais: Musee d'Orsay, 2020.
Other venues: Musée d'Orsay, Paris, September 24, 2019–January 19, 2020

Edgar Degas, executed in collaboration with Vicomte Lepic

c. 1876
Edgar Degas

1878-1881
Lecture: Introduction to the Exhibition: Degas at the Opéra
March 8, 2:00 p.m.
East Building Auditorium
Concert: Agora Dance with Sound Impact (canceled)
Backstage at the Opera
March 15, 3:30 p.m.
West Building, West Garden Court

Film: The Paris Opéra (original title L'Opéra) (canceled)
April 4, 11:00 a.m.
April 25, 2:00 p.m.
May 23, 24, 2:00 p.m.
East Building Auditorium