In celebration of Women's History Month, art historian and author Katy Hessel digs into the lives and practices of five women artists in our collection. Learn why she considers them some of the greats.
Alice Neel reflected that she painted "to catch life as it goes by, right hot off the griddle . . . the vitality is taken out of real living."
She was one of greatest figurative painters of the 20th century, but Neel resisted the label of a portraitist. Instead, she described herself as a "collector of souls." In her distinctively thick, petrol-blue outlines, she captured each of her sitters and all their peculiarities with honesty: not only their physical likeness but also their fears and their inner beauty.
Despite the shifting pulls of landscape, portraiture, and abstraction throughout 20th century American painting, Neel remained steadfast in her commitment to people. She once said, "If you don't have humanity, you don't have anything."
When we look at one of her paintings, it's as if the whole world falls away. All we are left with is a person—and the encounter with her sitter—reflected only through Neel's unique expressionist lens. Her paintings are as much a conversation as they are portraits of her sitter and herself.
Neel Paints Her Children
Neel was born in 1900 in the small town of Colwyn, Pennsylvania, just outside Philadelphia. She was attracted to art from an early age, drawing the flowers around her family home. In the 1920s, she enrolled at Philadelphia School of Design for Women, where she was among the first generation of American women permitted to study from nude models.
Neel experienced turbulent times in her 20s: she suffered the death of one child, and the loss of another after her husband, Carlos Enriquez, took their daughter to live with his family in Cuba. In her early 30s, she made her home in New York City. In 1938, she moved to Spanish Harlem, where two years later, she gave birth to her youngest son, Hartley. It is he who is immortalized in this painting.
As a working mother—and later grandmother—Neel painted her children and grandchildren from a young age. In 1943, she depicted Hartley as a toddler. Although Hartley on the Rocking Horse is an intimate and loving portrayal of a son, I can't help but read into it an element of tension: painting her child is taking her away from interacting and playing with him. Neel captures that feeling through Hartley's worried expression. The child's mouth is slightly open, and his eyes are wide.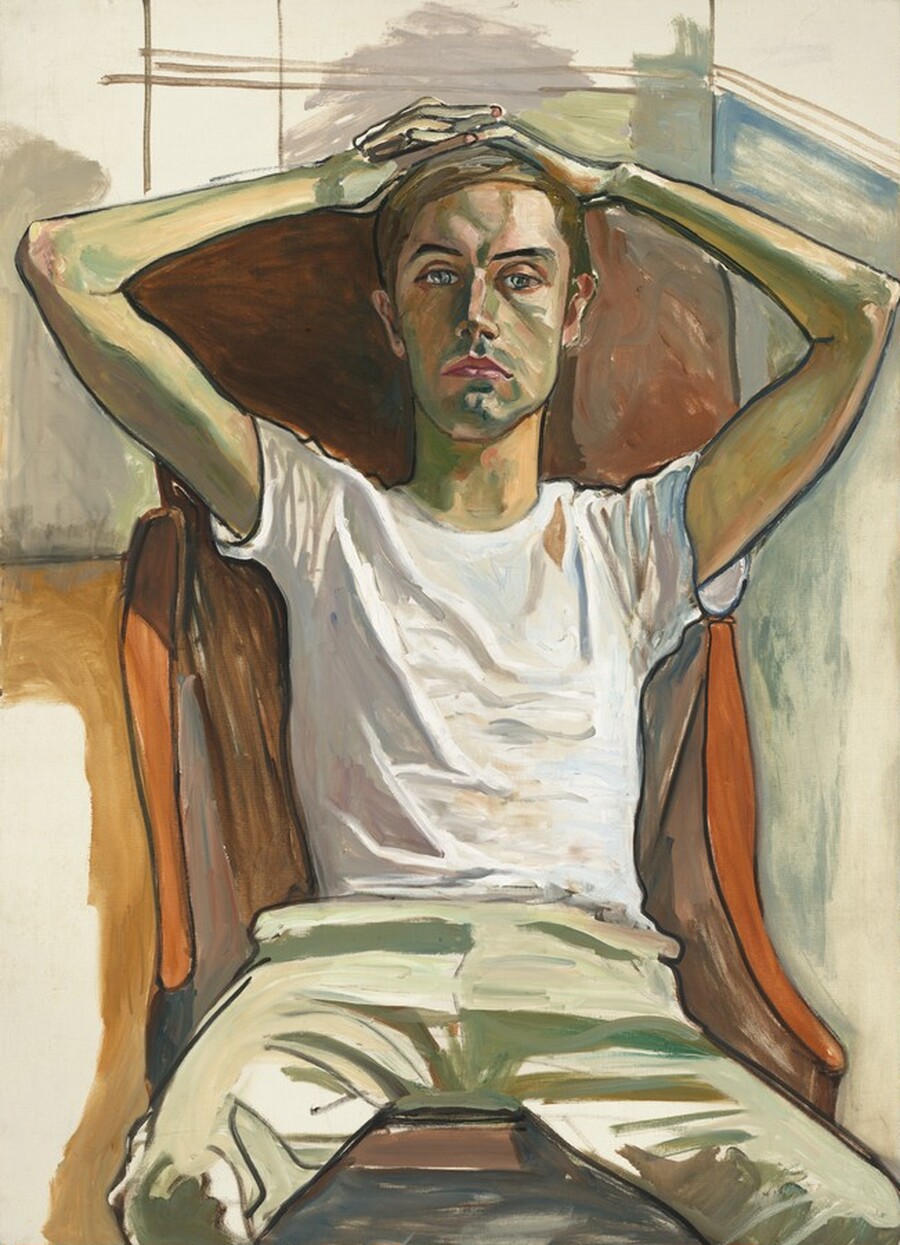 From Hartley to Loneliness
In Hartley, we see him as a 26-year-old man. Painted with Neel's typical blue outlines, he rests his arms behind his head in a state of quiet contemplation and locks eyes with his spectator and painter, his mother.
This painting feels like meeting Hartley at a threshold in his life: his relaxed stance and expression hold a reflection of the past, but his wide eyes suggest a sense of excitement about an unknown future.
Neel painted this work four years before Hartley married Ginny Taylor. After the wedding, Neel made Loneliness. Like Hartley, it is set in her son's old bedroom. But Loneliness pictures an empty, silent chair facing away from the window. With Hartley now gone, raising a family of his own, it's as if the chair itself has become the sitter—a reminder of vacancy. I love how worn the chair is, a relic of all that it witnessed over the years.
Ginny, along with the grandchildren, went on to become both Neel's subjects and her supporters. Hartley and Ginny moved to Vermont in 1973, and two years later set up a studio in their home for Neel to work in during her long visits.
The family's support of her work was significant in the run-up to Neel's first major museum exhibition at the Whitney Museum of Art in 1974: a show that finally established Neel as a pioneer of portraiture. Her grandson, Andrew Neel, made a documentary about his grandmother's life in 2007.
Hartley captures love, commitment, and respect between mother and son. Although Hartley sat for his mother "many hundreds" of times, it is this painting that has become one Neel's most beloved.

Art in your inbox
Our weekly email features news, events, exhibitions, and more.
Thank you. Please check your email for a confirmation message.
Discover more great women artists