In celebration of Women's History Month, art historian and author Katy Hessel digs into the lives and practices of five women artists in our collection. Learn why she considers them some of the greats.
Cascading lines of jostling colors. Streams of reds, pinks, yellows, and purples. Tiny irregular plates that interlock to form pulsating, rhythmic paths.
Each mark in Tiptoe Through the Tulips carries equal importance and creates a hypnotic effect across the entire canvas.
This painting by the 20th-century visionary Alma Thomas is in her signature style of colorful stripes, also known as her "Alma Stripes." Thomas once said, "The use of color in my paintings is of paramount importance to me. Through color I have sought to concentrate on beauty and happiness, rather than on man's inhumanity to man."
We see Thomas's words transmitted to canvas in this painting, where the individual brushstrokes work together to create a mosaic-like, unified utopia that sparks joy.

Alma Thomas, Artist and Educator
Thomas lived a remarkable life. She was born in Columbus, Georgia, in 1891. After Thomas finished her elementary school education, her family moved north to Washington, DC. When they arrived, her mother famously said, "Take off your shoes and shake all that Georgia sand out of them and don't look back."
As a young girl, Thomas dreamed of being an architect who would build and design bridges. She found comfort in the art rooms of her high school: "When I entered the art room, it was like entering heaven. . . The Armstrong High School laid the foundation for my life."
Seeking one of the few higher-education options available to Black women at the time, she enrolled in the home economics program at Howard University to become a costume designer. But driven by her passion and at the urging of artist and professor James V. Herring, she switched to fine art and in 1924 became the first ever student at the university to graduate with a degree in the subject.
Committed to education, Thomas went on to teach in DC public schools for over 40 years. She also initiated the school system's first art gallery at Shaw Junior High School. All the while, she was painting at night.
In the 1940s, Thomas joined the Little Paris Group: a DC-based group of artists and friends inspired by early-20th-century French art. The group was headed by artist and trailblazing community leader—and Thomas's former teacher—Loïs Mailou Jones. They were influenced by impressionism, especially the practice of painting en plein air—that is, working outside from nature. Thomas began experimenting with abstraction in the 1950s while taking weekend and evening classes at American University.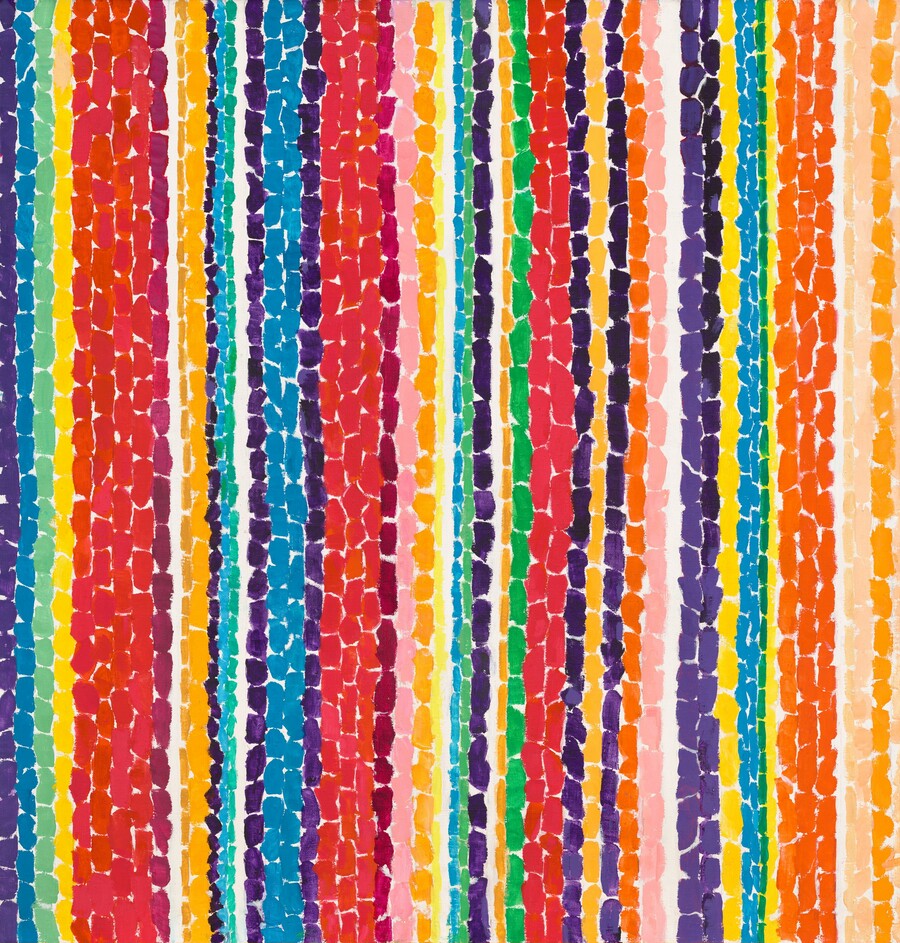 Paintings Inspired by Nature
In 1966, Howard University held Thomas's first exhibition. Thomas, then in her 70s, had retired from teaching in part due to her increasing arthritis, but nonetheless she was determined to create something new for the exhibition.
She noticed the dappled light pouring in through a holly tree outside her window. The shadows covering the floors and walls of her living room inspired her observations of fragmented color and light.
Consistently inspired by nature, Thomas paid tribute to local plants and flowers. In Tiptoe Through the Tulips, she references the flowers that blossom in the DC each year: tulips are abundant on the path to the Capitol Building. The painting takes its name from the whimsical 1929 children's song, made famous when singer Tiny Tim recorded it in 1968.
Tiptoe Through the Tulips is a manifestation of Thomas and her life's work. It is rooted in her community and exudes color and life. "A world without color would seem dead. Color, for me, is life," Thomas said.
Thomas was a woman with great determination, and it should come as no surprise that in 1972, at age 81, she became the first Black woman to achieve a solo exhibition at the Whitney Museum of American Art. And in 2015, she was the first woman of color whose art entered the White House Collection, thanks to First Lady Michelle Obama.
The message of Thomas's life and work is how profound the power of art can be for anyone of any age. As she said, "We artists are put on God's good earth to create. Some of us may be Black, but that's not the important thing. The important thing is for us to create, to give form to what we have inside of us."
Art in your inbox
Our weekly email features news, events, exhibitions, and more.
Thank you. Please check your email for a confirmation message.
Discover more great women artists