In celebration of Women's History Month, art historian and author Katy Hessel digs into the lives and practices of five women artists in our collection. Learn why she considers them some of the greats.
"I make the invisible visible," says legendary artist Carrie Mae Weems.
Working with the camera, Weems sets out to capture the beauty of the everyday through both candid and elegantly staged photographs. "I'm always questioning what has been left in and what has been left out," she explains. "How do we . . . insert for the first time a body that has not often been there or . . . pull forward a body that rests in the background."
Born in Portland, Oregon, in 1953, Weems received her first camera as a 20th birthday gift and immediately fell in love with it. She studied photography and design at the City College of San Francisco, received a bachelor of fine arts from the California Institute of the Arts and a master of fine arts in photography from the University of California, San Diego, and enrolled in a graduate program in folklore at the University of California, Berkeley.
In Family Pictures and Stories, Weems used documentary-style images to memorialize her loving, multigenerational family. Some of the pictures brim with energy while others exude moments of quiet.
But it was in 1990, while teaching photography in a small college town in Massachusetts, that Weems began her now renowned Kitchen Table Series.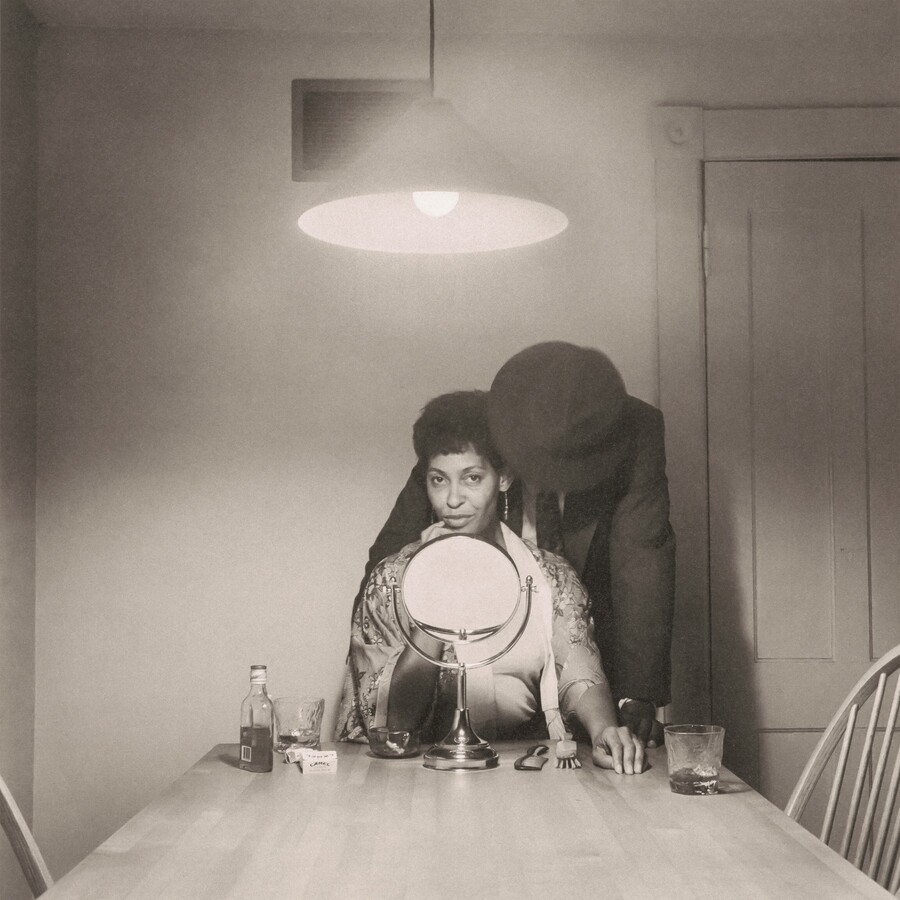 Weems's Kitchen
Shot in her own kitchen, the 20 carefully staged photographs center Weems as she sits, alone and with others, at her table. Each figure plays a role in a domestic tale that unfolds throughout the series. And among the photographs are text panels that add a layer to the narrative.
The series begins as a love story: a woman looks directly at the camera, applying her make-up while a man hovers over her shoulder. They go on to embrace tenderly over a meal or knowingly smile at one another as they play card games and smoke.
Soon, a distance emerges between the pair. He, fixated on his newspaper, no longer seems to notice the woman. Hard conversations take place between friends under the tense glow from the light above.
In the final image of the series, we see the woman on her own, asserting herself at the head of the table, in command of her actions and of the card game in front of her.

Weems placed herself at the center of the series for a simple reason: "I was the only person around." She carved time out of odd hours in her schedule to ensure that the work was completed. Weems worked on the series day in and day out for months and, right at the end, added the textual commentary.

Everyday Experiences of Black Women
This landmark series looks at the role of women in the domestic sphere, showing the significance of their many, multifaceted relationships. It catches tensions and intimacies that feel universal, and are united, so simply, by one piece of furniture: the kitchen table.
My favorite image is of a woman and her daughter, who sit at the table applying make-up and lipstick, as if mimicking one another. I find that photography so rarely captures such intimate and private moments in the mother-daughter relationship.
The series broke ground as one of the earliest representations of the everyday experiences of Black women—images that the art world (and the world at large) so often dismisses. "I knew that I was making images unlike anything I had seen before, but I didn't know what that would mean. I knew what it meant for me, but I didn't know what it would mean historically, within the terms of a graphic history," Weems said.
The series has inspired many artists. Mickalene Thomas first saw it in Portland 1994. "That was the moment I knew I wanted to become an artist," she said.
The work has taken on a life of its own. Weems has said that "Kitchen Table doesn't really belong to me anymore. I was the conduit for it. But it actually belongs to those people who engage in it. . . It's much bigger than I am."
Art in your inbox
Our weekly email features news, events, exhibitions, and more.
Thank you. Please check your email for a confirmation message.
Discover more great women artists