Food is a basic human need. In our Food for Thought series, James Beard Award–winning journalist, scholar, and writer Cynthia Greenlee hosts a gathering of historians, food journalists, poets, chefs, and farmers and invites them to riff on food-related works of art in our permanent collection. In this story, Wayne Thiebaud's Cakes inspires Cheryl Day, cookbook author, award-winning pastry chef, and self-taught scratch baker, to recall the dessert's place in her life—and in her family's history.
In my youth, I spent most summers with my grandmother, Hannah Marie Hanson, in Alabama. The first time I visited, she made two ​​cold-oven pound cakes (baked in an oven that hadn't been pre-heated). I remember thinking that was a lot of cake for just the two of us, but I discovered later that she always made two. One for us, and one to share. She taught me that cake is always a gift of love.
Cake is more than the sweetness you experience in every bite. Cake can be nostalgic, evoking memories and crossing all cultural barriers.
And for me, cake is timeless. For me, cakes are beauty, craft, resiliency. They represent dreams for hope and community and the celebration of a life well-lived.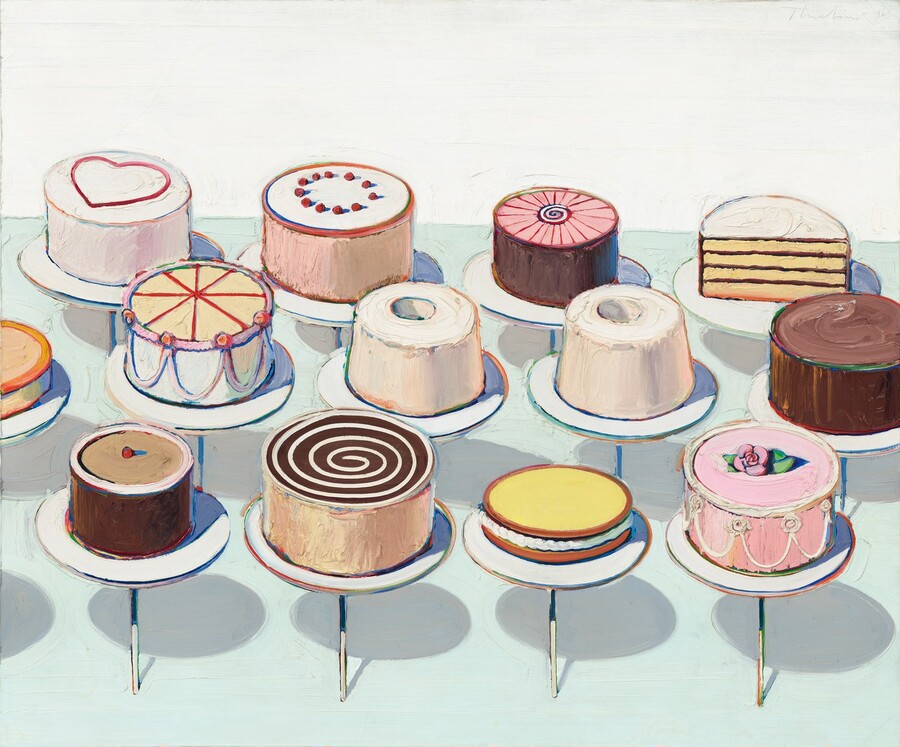 Baking as Family History
Wayne Thiebaud's Cakes has inspired me for more than 30 years. I look at this baker's dozen of beautifully decorated cakes, and I see the heart and craft of American baking. I see the visual textures of my handmade confectionary art at my bakery in Savannah, Georgia.
In an instant, this painting conjures memories of all the landmark occasions when I have enjoyed a simple slice on a plate. I feel reverence for the women who taught me to bake.

I come from a long line of women who cooked, baked, and dared to follow their dreams. Baking is engraved in my genetic code, an integral part of my family story ever since my great-great grandmother Hannah Queen Grubbs was born enslaved in the South in 1838.

She was the family's first Hannah and my grandmother's namesake. She held the position of pastry cook on the ​​Grubbs plantation. She was known for her flaky biscuits and delicate cakes. Now I, too, am known for these dishes. Her special gift allowed her to survive and thrive. Many of the Southern baking recipes we know and love today were created by enslaved or formerly enslaved women just like my great-great-grandmother.
When I see Thiebaud's painting, a visual parade of cakes dances in my head: brought by grandmothers, mothers, aunties, and sister bakers for all to enjoy. I see the community celebrations that these cakes bring to life: long tables unfolded, dusted off, and set with floral tablecloths at church socials, potluck suppers, weddings, and memorials.

I see my grandmother Hannah's African Methodist Episcopal (AME) church fellowship hall, where desserts were displayed with deep pride. Those desserts spread love and made genuine connections in her community.
The Legacy of Church Cake
I can still recall the first cake my grandmother taught me to bake on one of my summer visits. I was 8 years old. It was chocolate cake with a decadent chocolate buttercream frosting. I remember enjoying it with my aunts, cousin, and a few folks from my grandmother's church. She called it "Church Cake," and to this day it is still my absolute favorite cake to make and to share at my bakery. Passing down family recipes has become my life's work.
Just as her cakes appeared at joyous homecomings and "homegoings" (funerals), mine carry the stories of my journey and appear at all my important milestones. Baking is my calling, but also my social currency and my legacy. I consider my heritage, my ancestors, and their passed-down recipes some of my greatest treasures.
Big, luscious swirls of buttercream frosting; moist layers of cake; beautiful pedestals; and cake plates draw me in every time. Just approaching a display of delightfully colored cakes, in its grandeur, has brought me to tears—both happy and sad. In my opinion, both joyful and solemn celebrations always call for cake.

Yes, for me, cake is emotional. Once I bought myself an entire cake covered in buttercream roses because it was so beautiful that I simply could not resist. I still make mini versions of that cake because sometimes you just need beauty. And sometimes you just need a slice.
Discover more Food for Thought