Food is a basic human need. In our Food for Thought series, James Beard Award–winning journalist, scholar, and writer Cynthia Greenlee hosts a gathering of historians, food journalists, poets, chefs, and farmers and invites them to riff on food-related works of art in our permanent collection.
For a time, whenever there seemed to be a lull in COVID's relentless quest for world domination, I spent my early Sunday evenings at a local bistro. It's the kind of nouveau Southern place where there is always an "elevated" pimento cheese appetizer on the menu, and the bartenders take chest-swelling pride in hand-cutting crystal-clear ice for your margarita.
I went for the brisket taco and the translucent ice cubes, but also because I loved to read at this restaurant's bar. Fork in right hand, book in left, I could seem social—occasionally chatting with the mixologist on duty—while exuding steady "do not talk to me" vibes. And that's exactly what the restaurant's female owner said: "I've always wanted to create a place where women could read at the bar," unmolested by male customers.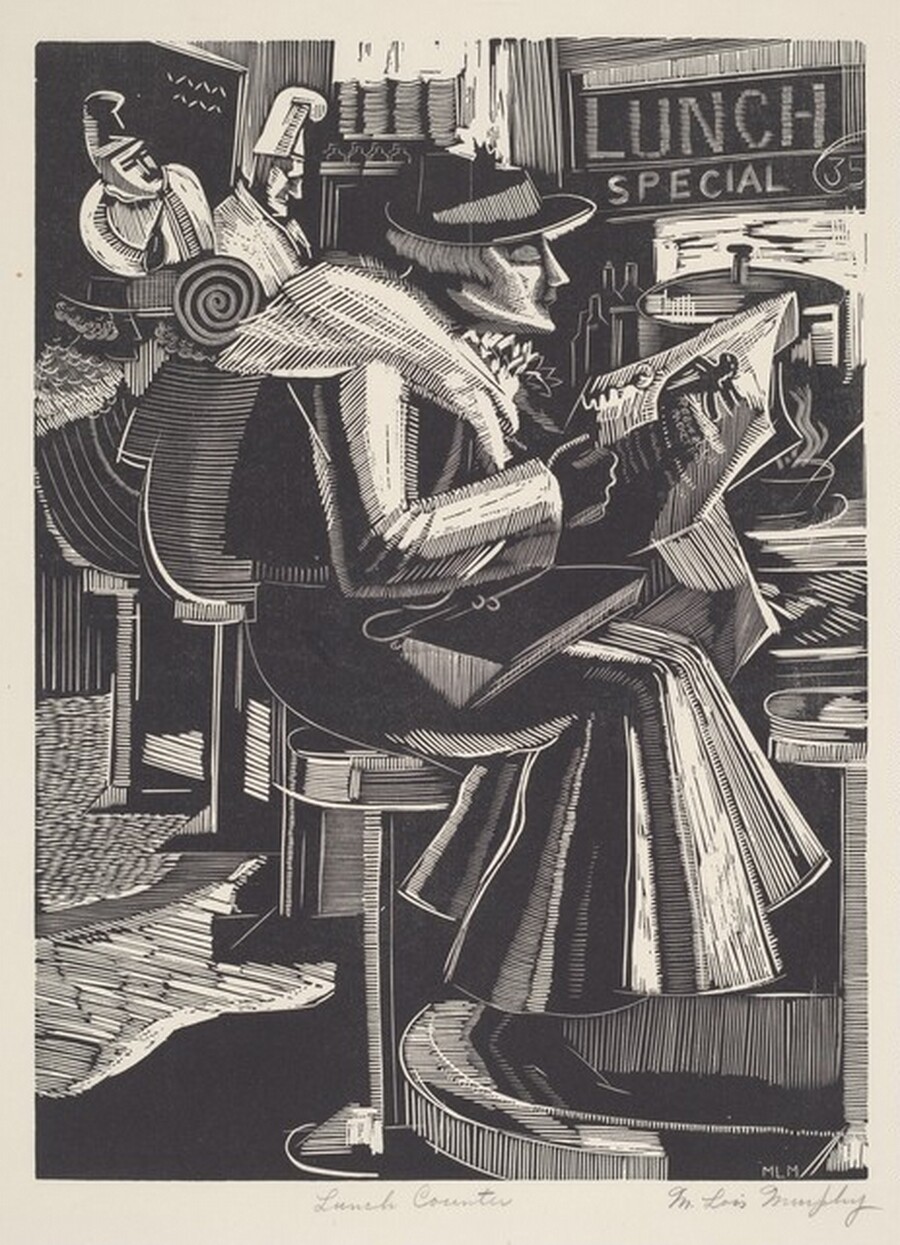 For me, the convergence of literature and food at a wine bar's high table or a diner counter represents a compounded luxury. I'm like the woman who reads over a steaming mug in artist Minnie Lois Murphey's engraving Lunch Counter. In this print, created sometime after the Depression and before the end of the second World War, the woman of angular face and fashion wants to know things and confidently takes up space, as chefs putter in the background.
Art, Consumption, and Creativity
I hope that "Food for Thought," a new series exploring representations of food in the National Gallery's collection, will pique your intellectual appetite. As a historian and journalist who often writes about food, I invited chefs, farmers, historians, scholars, and various thinkers to each consider a work of art and its connection to food, consumption, or culinary creativity. Over the next several months, we'll share their different and unique takes on that universal activity: eating.
To jumpstart this project, publisher Emiko Usui, curators, and I identified food-related art in the National Gallery's permanent collection—including visitors' favorites such as the still life Mound of Butter (I think of it as the Matterhorn of fat).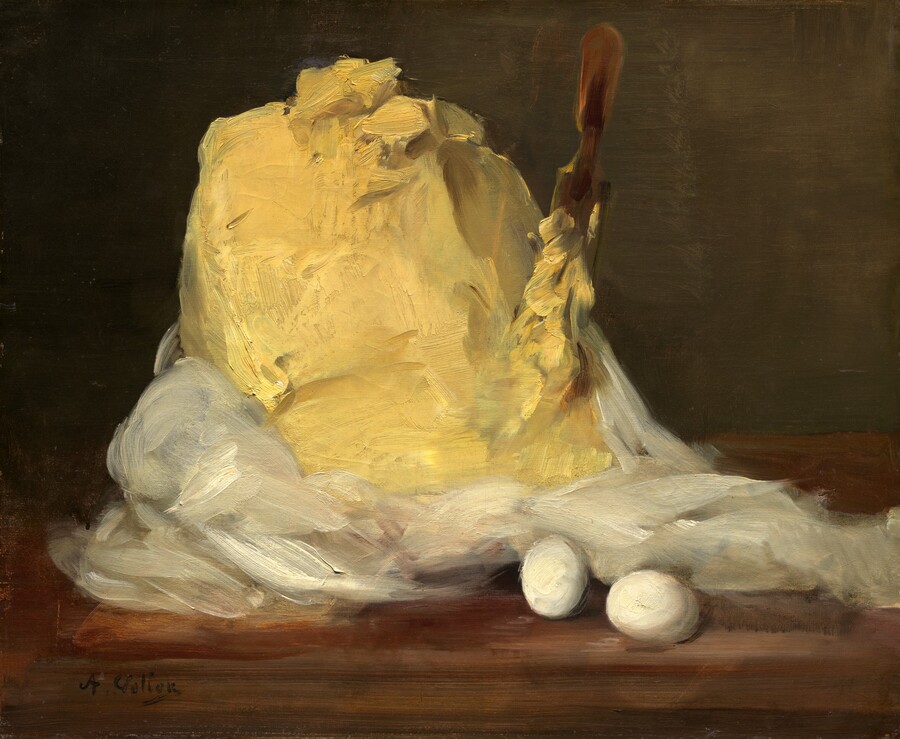 Exploring the National Gallery's holdings took us into places many of us no longer frequent without some fear or awareness that lingering might expose us to disease: the grocery store, the restaurant, the cafe where once we stopped so casually for a cuppa and conversation.
So if there's a note of seriousness in many of these pieces, I think that's because all of us have been forced to reorganize our lives around food—including how we find it, how hard it is to find, what we pay for it, or who we expect to share it with. It seems so long ago, but I remember the early days of the pandemic when I went to the grocery store with elbow-length plastic gloves, leery of touching produce that lay exposed to the dangerous, germy sneezes of others.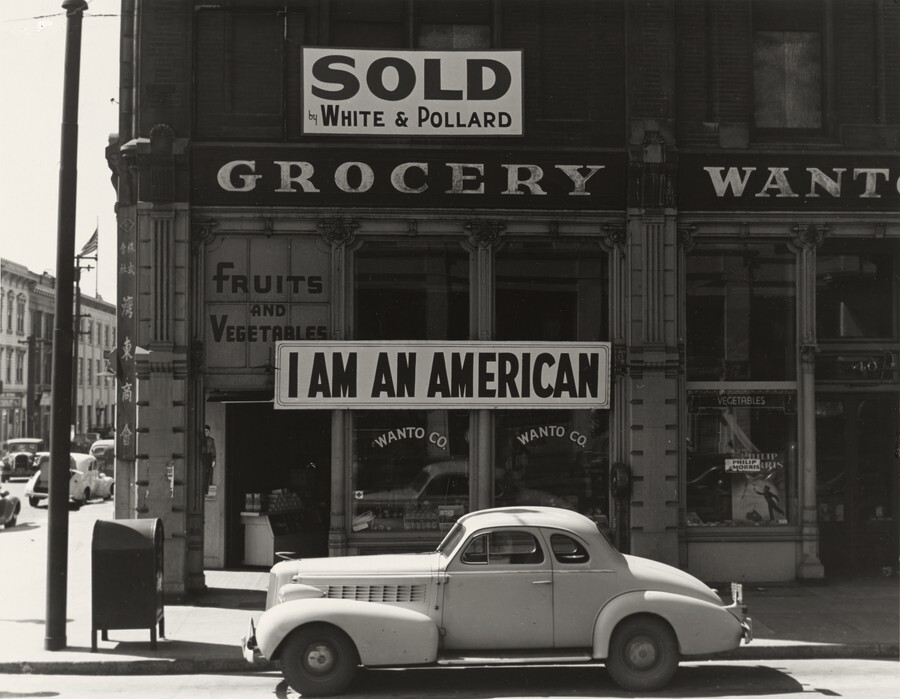 The Politics and Pleasures of Food
Looking at the National Gallery's collection and reading the pieces we'll post throughout the winter, I was reminded again and again that food has never been an uncomplicated pleasure. Thinking about ongoing waves of anti-Asian and anti-Black violence, I was riveted when I saw this image of a Japanese American-owned corner store sold in the wave of anti-Japanese sentiment that surged with World War II.
Best known for her iconic "migrant mother" image, Dorothea Lange captured this photograph months after storeowner Tatsuro Matsuda evacuated. He had posted the sign immediately after the Pearl Harbor attack (and was later interned in detention camps that incarcerated Japanese Americans, many of them US citizens). My people, too, have had to prove we are Americans, though our enslaved ancestors built much of this country's wealth.
Soon after seeing the Lange photograph, I stumbled on this image of a smartly dressed, smiling young woman having a snack at Coney Island in New York. It is from 1954, so Black Americans would have had to use segregated bathhouses on the beach. But those restrictions didn't dampen the delight gleaming dark in her eyes. Was she enjoying a family outing or a jaunt with high school friends? A walk down a promenade in search of a crush?
But more than anything, I wonder what she was eating, the half-moon of a treat partly obscured by her fingers. I've rarely delighted that much in a food since the pandemic made every meal my responsibility. Perhaps her snack was a hand pie, but part of me wants it to be a hot dog. Because what could be more American than processed meat?
Come back for seconds
Sign up to our newsletter for the next edition in our food series.
Thank you. Please check your email for a confirmation message.
Discover more Food for Thought