In celebration of Women's History Month, art historian and author Katy Hessel digs into the lives and practices of five women artists in our collection. Learn why she considers them some of the greats.
A little girl, flopped on a silky-blue, patterned armchair, gazes lovingly at her dog.
She's probably around five or six, not yet conscious of how she appears. She exudes liberation. Her only concern, at this sweet and tender moment, is for her tiny, furry dog, who rests, sleepily mimicking her stance in the opposite chair.
Little Girl in a Blue Armchair is set in what seems to be a living room. Large French windows in the back allow natural light to stream inside. The grey and white light outside suggests winter, and to me, Mary Cassatt captures the childhood feeling of returning home after a long day out and slumping onto your favorite seat. The little girl is still wearing her shiny black shoes and coordinated bow, and socks, and her plaid dress is bunched around her waist.
Cassatt is known for her intimate and charming portrayals of women and girls, often in private domestic spaces, swept up in her distinct loose and gestural style. One contemporary commentator called her paintings a "symphony of color."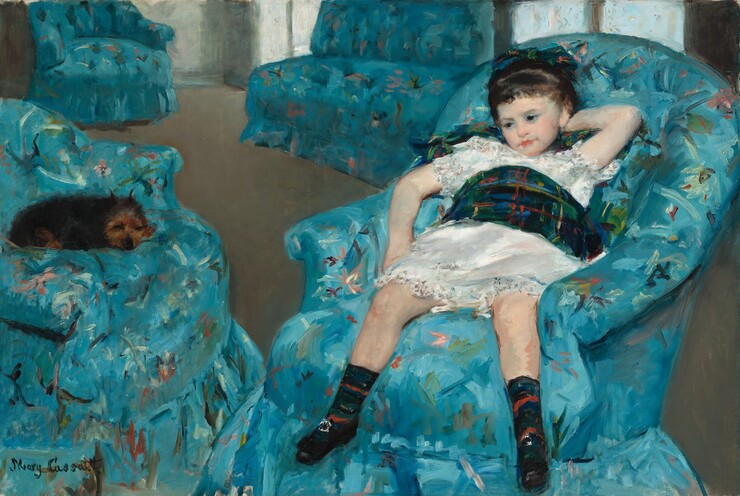 Cassatt Joins the Impressionists
Cassatt was born in Pittsburgh in 1844 to a prominent family. When she was young, her family traveled through Europe, learning Romance languages and studying European historical painting.
At 22, Cassatt convinced her reluctant parents to let her attend art school in Paris. This was a popular move among American women artists, as the city offered far more opportunities for artistic education than the United States.
Here, she studied in the studios of prominent painters and spent her days analyzing works in the Louvre. Within a matter of years, Cassatt had gained recognition and exhibited works at the traditional Salon de Paris, an annual exhibition judged by the French Académie des Beaux-Arts.
In 1877, Edgar Degas invited her to join the impressionists, who prided themselves as a radical alternative to the rigid, hierarchical structures of the Salon. Instead of large-scale historical scenes, they favored smaller works showing scenes of daily life. They used quick and feathery brushstrokes to capture a fleeting "impression," not a static image.
Little Girls Worth Having on Museum Walls
The impressionists hosted a total of eight exhibitions, and Cassatt featured in four of them. She was the only artist from outside Europe and one of only three women—along with Berthe Morisot and Marie Bracquemond—to be included in these exhibitions.
Women remained at a disadvantage. Men could paint in bars, cafés, and wherever they wandered, while women were often confined to domestic spaces. Although they had little option but to draw on scenes from domestic life, women took advantage where they could.
As we know from Cassatt's biographer, she still experienced a sense of liberation: "At last I could work with absolute independence without considering the opinion of a jury. I had already recognized who were my true masters. I admired Manet, Courbet, and Degas. I hated conventional art—I began to live!"
Little Girl in a Blue Armchair demonstrates the importance of a small, perhaps mundane, scene in daily life. But by declaring this little girl a subject worth having on museum walls, Cassatt creates a sense of possibility for her sitter and others like her. She insists that these stories matter and that we should expect to see many more of them in the future.
Art in your inbox
Our weekly email features news, events, exhibitions, and more.
Thank you. Please check your email for a confirmation message.
Discover more great women artists