As artistic collaborators and romantic partners, Ellen Auerbach and Grete Stern were anything but traditional.
The two met in 1929 while apprenticing with Berlin-based photographer Walter Peterhans. A year later they were running their own studio under the name ringl + pit, a nod to their nicknames (ringl for Stern and pit for Auerbach). The duo embodied the iconic "New Woman," independent and confident, at a time when more women in Germany were able to establish professional careers.
Together Auerbach and Stern made advertisements and portraits. Their staged, witty photographs often subverted the commodification of women in mainstream media. In Pétrole Hahn, for example, their model is an outdated mannequin dressed in a frilly nightgown once owned by Auerbach's mother. Disrupting this quaint scene is a human hand holding a bottle of hair oil—an uncanny detail that underscores the artifice of the image.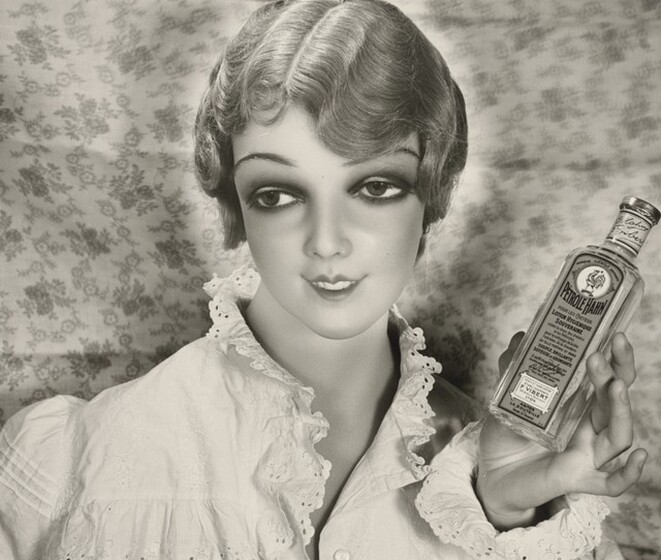 In 1931, Auerbach created a remarkable book as a birthday gift for Stern. Die Ringlpitis is filled with drawings, photographs, mixed media collages, handwritten poems, and ironic proclamations. Through an eclectic mix of imaginative and documentary imagery annotated with insider commentary, Auerbach illustrated the pair's daily life and their collaborative and queer relationship.
Some of the anecdotes in Die Ringlpitis are light-hearted. Auerbach recounts Stern sleeping in a bed made with wildly patterned sheets, much to her mother's dismay. Others address the more challenging familial and societal pressures each woman faced. The set of the one-act play Grete on the Marriage Market is a lively dinner party Stern's mother throws to introduce her daughter to a respectable suitor.
Yet Grete is so bored, she falls asleep as the young man—flowers in hand—attempts to talk to her. Stern, like Auerbach, resisted expectations to settle down. The two lived and worked in a shared studio space filled with friends and boyfriends. They embraced openness and play, refuting conventional definitions of gender and sexuality and forging new ways of living and making art. The book is both an intimate object and a humorous declaration of their alternative way of life.
On another page, we see the pair dressed in matching striped tank tops. "We all know the 2 Superstars," a paper tab notes. When pulled back, it reveals Stern in drag as the Strongman, and Auerbach wearing dainty wings as the ambiguously gendered Flying Something.
A spectacular foldout photomontage follows illustrating a vibrant circus scene. Here the amateur acrobats perform "attractions" accompanied by a remarkably talented seal and a show horse sticking out its tongue.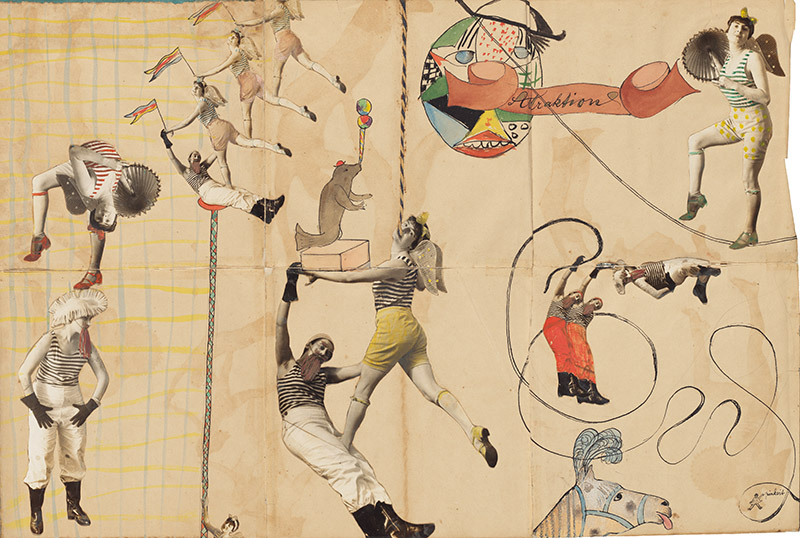 Through their collaboration, Auerbach and Stern refuted the ideal of the individual author, which was widely celebrated even in progressive schools at the time. Years later, they reflected that it didn't matter who was in front of or behind the camera. "The picture was made completely together," Auerbach explained. "Together, yes, exactly," Stern agreed.
Auerbach and Stern closed their studio in 1933. The rise of Adolf Hitler and the Nazi Party in Germany forced the two Jewish, queer, avant-garde artists to flee their homeland. Accompanied by their respective future husbands, they landed in different countries and never again worked together so closely. Die Ringlpitis remains a profound testament to their special relationship, made with care and infused with love.
Banner detail: Page from ringl + pit (Grete Stern, Ellen Auerbach), Die Ringlpitis, 1931, bound album, Alfred H. Moses and Fern M. Schad Fund, © ringl + pit, courtesy Robert Mann Gallery, New York, 2017.141.1