Mary Cassatt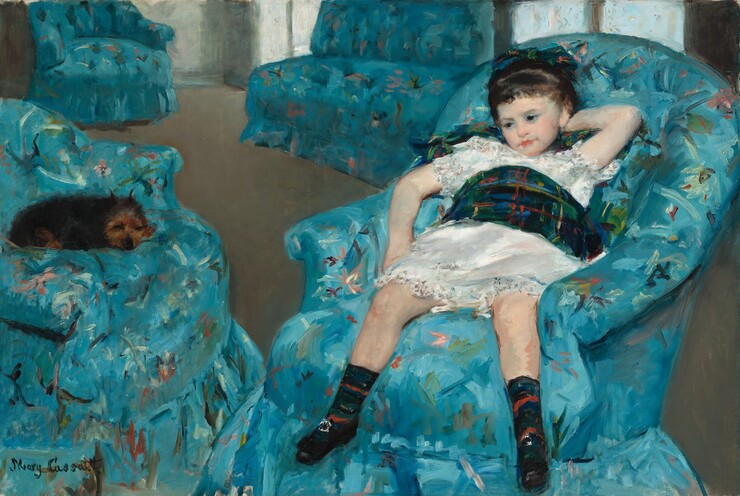 Mary Cassatt painted many images of mothers and children. She painted the scenes that she saw around her: children taking a bath, playing in the sand, and spending time with their parents. Observing from real life, Cassatt was able to capture everyday moments.
What colors can you find in the armchairs? What patterns?
What is the little girl wearing? Describe her outfit.
Look carefully at how the little girl is sitting, then take the same pose with your body.
What else can you find in this room?
What do you think this little girl might be thinking or feeling? (To help children think through this question, draw a speech bubble on a printed version of the image and fill in what the girl might be saying.) Have you ever felt this way?
If you could talk to this girl, what would you ask her? What might she ask you?
Imagine this painting is a scene from the middle of a story. What happened before this? What might happen next?
What name would you give the puppy? What title would you give the painting?
MAKE: Paint a quiet moment
You will need:

Paints
Paintbrushes
Heavyweight paper
Where do you go to have some quiet time? You might think of a place at home, at school, outside, or somewhere else. What do you do in this place? Are you by yourself, or is someone with you? If you can, spend some time in that place before making this painting.
Now, paint that special place. When you're ready to paint, decide on the most important things to include in your painting. Try to make them fill the paper. How can you use color and pattern, or a person's pose, to capture a particular feeling?
You might want to paint someone else in a quiet moment. Ask a family member or friend to pose for you, or even your family pet!
Send images of your students' projects that follow these activities - email [email protected]