American Art
How does art send messages about a nation and its identity? During this field trip, students explore the historical and cultural connections among selected works of American art.
Looking and Learning Skills
During four or five field trip stops in the galleries, students engage in activities—such as looking exercises, and working in small groups—that foster conversations about works of art. On this field trip, students will practice the following skills:
• Using works of art as primary sources on American art and society.
• Making and articulating careful observations.
• Formulating questions that demonstrate curiosity and engagement.
• Comparing and connecting different works of art.
• Connecting new ideas learned from the field trip to prior knowledge and experience.

Examples of Works Featured on this Field Trip


Example works featured on the American Art school tour

Example works featured on the American Art school tour

Example works featured on the American Art school tour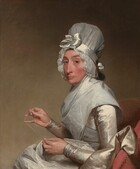 Example works featured on the American Art school tour
Logistical Information
Group Size: Up to 90 students (12:30 p.m. field trip); up to 60 students (2:15 p.m. field trip)
Length: 75 minutes for grades 4 through 12
Meeting Location: West Building Rotunda

Additional Gallery Resources