Exploring Modern Art
Grades 4 through 8
Modern art challenged the conventions of traditional art with new subject matter, materials, and techniques. This tour will explore some of these elements through guided looking, sketching, and discussion activities. Students will consider how artists deliberately chose to break from tradition and create a new way of interpreting the world through their art.
Looking and Learning Skills
During four or five tour stops, students engage in activities—such as careful looking and sketching exercises—that foster conversations around works of art. The following skills are promoted:
• Making careful observations.
• Formulating questions and connections that demonstrate curiosity and engagement.
• Exploring multiple viewpoints within the group.
• Comparing and connecting different works of art of the same theme.
• Developing and articulating new ideas about modern art .
Examples of Works Featured on Tour

Examples of Works Featured on Tour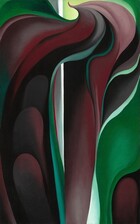 Examples of Works Featured on Tour

Examples of Works Featured on Tour

Examples of Works Featured on Tour
Logistical Information
Group Size: Up to 90 students
Length: 75 minutes; offered at 12:30 p.m., 1:00 p.m., and 2:15 p.m.
Meeting Location: East Building Atrium

Additional Gallery Resources