Spanish Art in Spanish
Spanish Language tours are only offered on the second and fourth Tuesday of each month.
Grades 9 through 12
During this two-building tour, students explore and compare the style, subject matter, and technique of artists ranging from El Greco to Picasso.
Tours conducted in Spanish by fluent speakers are intended for advanced high school language students. This tour has limited availability. If a Spanish-language docent is not available for your requested time slot, the Gallery can make an English-language tour available as an alternative.
Looking and Learning Skills
On this tour, students will practice the following skills:
· making and voicing careful observations;
· formulating questions that demonstrate curiosity and engagement.
· comparing different works of art and articulating connections between them;
· reasoning with evidence from the works of art and using them as primary source materials; and
· connecting tour ideas to prior knowledge and experience
Examples of Works Featured on Tour


Examples of Works Featured on Tour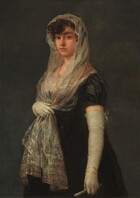 Examples of Works Featured on Tour

Examples of Works Featured on Tour

Examples of Works Featured on Tour
Logistical Information
Group Size: Up to 30 students
Length: 90 minutes
Meeting Location: West Building Rotunda
Additional Gallery Resources