Spanish Art
Grades 9 through 12
During this two-building tour, students explore and compare the style, subject matter, and technique of artists ranging from El Greco to Picasso.
Please note this tour is given in English. If you wish to request a Spanish-language tour, please see information about Spanish Art in Spanish.

Looking and Learning Skills
This tour, with five or six stops in the galleries, includes discussion and sketching to encourage participants to develop their own ideas and interpretations based on careful observation. On this tour, students will practice the following skills:
• Reasoning with evidence from the works of art and using them as primary sources on Spanish art and culture.
• Making and articulating careful observations.
• Formulating questions that demonstrate curiosity and engagement.
• Comparing and connecting different works of art.
• Connecting tour ideas to prior knowledge and experience.

Examples of Works Featured on Tour


Examples of Works Featured on Tour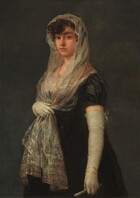 Examples of Works Featured on Tour

Examples of Works Featured on Tour

Examples of Works Featured on Tour
Logistical Information
Group Size: Up to 60 students
Length: 90 minutes; offered at 12:30 p.m. and 2:15 p.m.
Meeting Location: West Building Rotunda

Additional Gallery Resources
Tours must be scheduled at least four weeks in advance. Groups must contain at least 15 students.
Once your tour has been scheduled, you will receive an email confirmation in 10 business days.
Funding for the cost of bus transportation is available for Title I schools that participate in our docent-led school tours. For more information, please contact Deirdre Palmer at [email protected] or (202) 842-6880, or use the application form.

We greatly value your feedback about your school tour experience. Please submit this form to share your feedback.