Mark Rothko is best known for paintings of soft-edged rectangles arranged vertically against monochrome backgrounds. This "classic format" became a kind of personal signature for the artist.
But Rothko's distinctive style did not come out of nowhere. In fact, he took the study of Western art and architecture very seriously. He read art books, spent hours in New York City museums, visited European monuments and collections, and built close relationships with several contemporaries. His work is in dialogue with that of many other artists.
In summer 1959, Rothko visited the Laurentian Library in Florence. It was designed by Michelangelo, the Italian Renaissance painter, sculptor, and architect.
Rothko cited the library—specifically, its vestibule—as a source of inspiration for a series of large murals he had been commissioned to make for the Four Seasons, an upscale new restaurant in Manhattan's Seagram Building. He ultimately abandoned that project, but not before making nearly 30 canvases. Exploring a new motif, Rothko included open forms like portals or thresholds that resemble the blocked interior windows and blank walls of the Laurentian Library vestibule.
Years later, Rothko described what he learned from Michelangelo: "He achieved just the kind of feeling I'm after—he makes the viewers feel that they are trapped in a room where all the doors and windows are bricked up, so that all they can do is butt their heads forever against the wall."
Learn more about the fraught Seagram mural commission.
Rothko admired Rembrandt, particularly for his ability to use contrasts of light and dark to convey emotion. The 17th-century Dutch painter, printmaker, and draughtsman created many mysterious portraits. "We do not know the sitter, but we are intently aware of the drama," Rothko observed.
Rothko's only self-portrait, painted in 1936, seems to be modeled after one of Rembrandt's. In both paintings, the sitter addresses us over his left shoulder, hands clasped. Moody backdrops swirl with shades of brown and ochre. But Rothko's more abstract painting reduces his face to a blank mask, hiding his gaze behind tinted glasses. He has made it even more difficult to "know the sitter."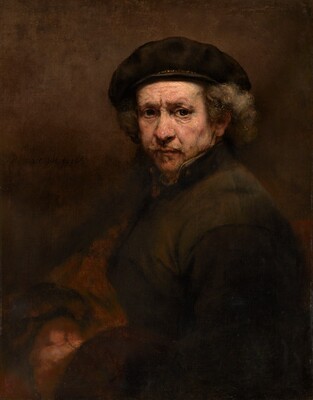 Matisse was one of Rothko's favorite artists. In fact, Rothko only gave one of his "classic format" paintings a title: Homage to Matisse. Matisse was a leading figure in modern art. The French painter, sculptor, draftsman, and printmaker was best known for his skilled handling of the relationship between color and line.
Rothko spent hours in front of Matisse's painting The Red Studio at the Museum of Modern Art. "When you looked at that painting," he said, "you became that color, you became totally saturated with it." The experience shaped Rothko's ideas for his own abstract paintings—like this untitled red canvas from 1970. Rothko wanted us to be completely immersed in this, his final work.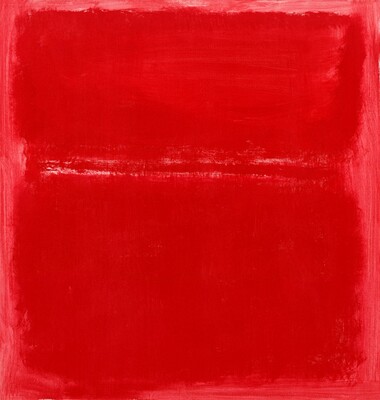 Pablo Picasso is widely celebrated for his pivotal role in developing modern art. He influenced many younger artists, including Rothko.
When Rothko was searching for an expressive way to represent the body, he looked to Picasso. For example, Picasso's Seated Bather inspired a painting on paper Rothko made in the 1940s. Rothko's untitled work resembles a half-length portrait with a bulbous head and slender torso—much like Picasso's earlier surrealist painting of a bather. There are other clear visual rhymes between the two. Rothko echoes Picasso's serpentine lines, the figure's pincer claw–like jaws, the horizontally striped background, and the vertical strokes in the bather's lank hair.
American painter Milton Avery was an important early mentor to Rothko. A modernist, Avery rejected many conventions of realism and experimented with form. His simplified approach and vibrant use of color made a significant impact on the younger artist.
Avery and Rothko were also good friends. In summer 1934, they vacationed together in Gloucester, Massachusetts. While there, Rothko made a series of beach scenes. With high horizons and statuesque figures, his paintings closely follow the example Avery set in works like Bathers, Coney Island.
Rothko met American painter, sculptor, and printmaker Adolph Gottlieb in 1929. The pair went on to be lifelong friends. In the late 1930s, they began discussing the problems they saw in contemporary art. By 1941 they had decided to mine classical mythology for new subject matter. In works like Gottlieb's Pictograph and Rothko's Antigone, the artists used a new kind of abstract form to try to address themes they felt were universal—to quote Gottlieb, "the brutality of the natural world as well as the eternal insecurity of life."
In June 1943, Rothko and Avery co-authored a letter to the New York Times defending their recent work against attack from a critic. It was the first formal statement of concerns from those artists who would soon be known as the abstract expressionists.
Learn more about Rothko's interest in classical subject matter.