We sat down with artist Christopher Myers to discuss the meaning and process behind his tapestry What Does It Mean to Matter (Community Autopsy) and its ties to the quilts of Gee's Bend and cutouts by Henri Matisse. You can see the work in our installation, The Interior Life: Recent Acquisitions, through September 10.
Christopher Myers is a storyteller. He sews stories into tapestries, crafts them into sculptures, illustrates them in books. He's also a cartographer of sorts, mapping connections between histories and communities. He connects seemingly isolated data points into webs that span geographies, time periods, identities.
The idea for What Does It Mean to Matter (Community Autopsy) came to him while discussing the Black Lives Matter movement. It struck him that, too often, "we matter in our pain." Black lives only seem to matter once it's too late. Full and complex lives are reduced to a photograph, a name, or a viral video. Or an autopsy report. "But I want us to matter both before that and after that."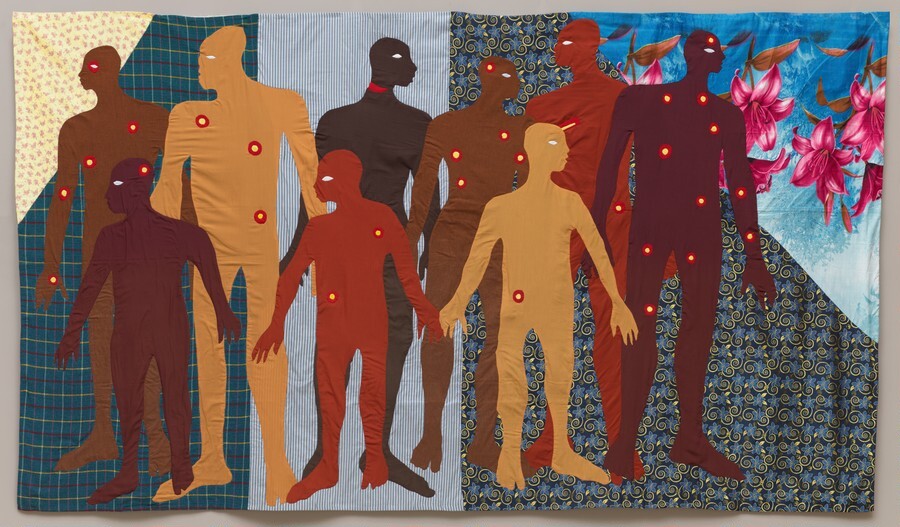 So Myers created a work that questions the reduction of Black lives to their ending. Stretching 14 feet wide and 8 feet tall, What Does It Mean to Matter shows nine silhouettes. Their arms are extended away from their torsos, and their heads are turned to the side—like bodies on autopsy reports.
Circles and strips of red and yellow fabric mark wounds. These correspond to the actual autopsy reports of nine adults and children who died at the hands of the police or while in police custody: Laquan McDonald (17), Sandra Bland (28), Tamir Rice (12), Michael Brown Jr. (18), Antwon Rose Jr. (17), Miriam Carey (34), Emantic Fitzgerald Bradford Jr. (21), Ezell Ford (25), and Jordan Edwards (15).
Through the monumental textile Myers considers, "How can we liberate them from the black and white of the coroner sheet? How can we bring them into community with each other as we bring ourselves into community with them?"
Myers represents the figures in different sizes and shades of brown, each with a single white eye. Beyond their wounds, no details distinguish them. The figures appear in two rows against a patchwork of plaid, floral, and stripes. Through this vibrant, clashing background, Myers wants to restore the color that was taken when these people were reduced to the black-and-white outline on a report. The patterns "carry some of the weight of the complexity underneath."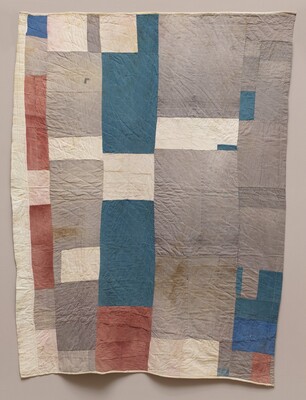 Inspired by Gee's Bend and Henri Matisse
Myers uses a process known as appliqué to piece together fabrics. It's the same technique used to make banners, flags, and the dazzling quilts of Gee's Bend.
Myers considers his art part of the lineage of the Alabama quilters—the artists and their creations are foundational to his work. It's not just their process or how they've used textiles as tools of resistance. It's also their place in modern art, which his own art engages with. Their innovative use of color and pattern inspires his tapestries.
He also takes inspiration from French artist Henri Matisse. Matisse made textiles, collage, and stained glass. Look at What Does It Mean to Matter, and you can see echoes of Matisse's simple and colorful cut-out forms.
Unlike some traditional histories of art, Myers doesn't separate the Gee's Bend quilters and Matisse. Both worked at the same time, exploring parallel questions about material, color, and form. They are a "kind of singular history in my heart, in my head," says Myers. That history spans the world and also includes Asafo flags, military flags made by the Fante people of Ghana.
Resonance Beyond Borders
Myers collaborates with artists from across the globe to make his art, from woodcarvers in Ghana to shadow puppet makers in Indonesia. For his textiles, he often works with artisans in Luxor, Egypt. Myers designs the works and sources the fabrics; the artisans then sew the pieces together.
This collaboration has helped him understand the global nature of the questions he poses. While Myers was in Egypt in 2014, the Egyptian government commented on the protests in Ferguson, Missouri, in response to Michael Brown's death. People asked him about what was happening, connecting the events in Ferguson and the US movements for racial justice to their own struggles. While police violence and racism can feel like deeply American issues, the question of what it means to matter "has resonance beyond our borders."
Myers considers his work a process of cultural exchange that builds bridges between time, geography, and experiences.
He also sees his art as a tool to help pry open questions of community, representation, and history. A tool for driving conversations—ones that will take time. With What Does It Mean to Matter now hanging on the National Gallery's walls, he hopes you'll sit and take a long look.