When Alma Woodsey Thomas moved to Washington, DC, at age 16, her first steps here were on the National Mall. She and her family disembarked from a train at the Baltimore and Potomac Railroad Station—a site that is now home to the National Gallery's West Building.
Thomas was a transformative figure in the modern art movement. Her exuberant canvases reference sites, events, and flora specific to her life in the nation's capital. Take a walk in Ms. Thomas's shoes and experience Washington as she did, from her initial arrival at age 16 to her posthumous inclusion in the White House Collection.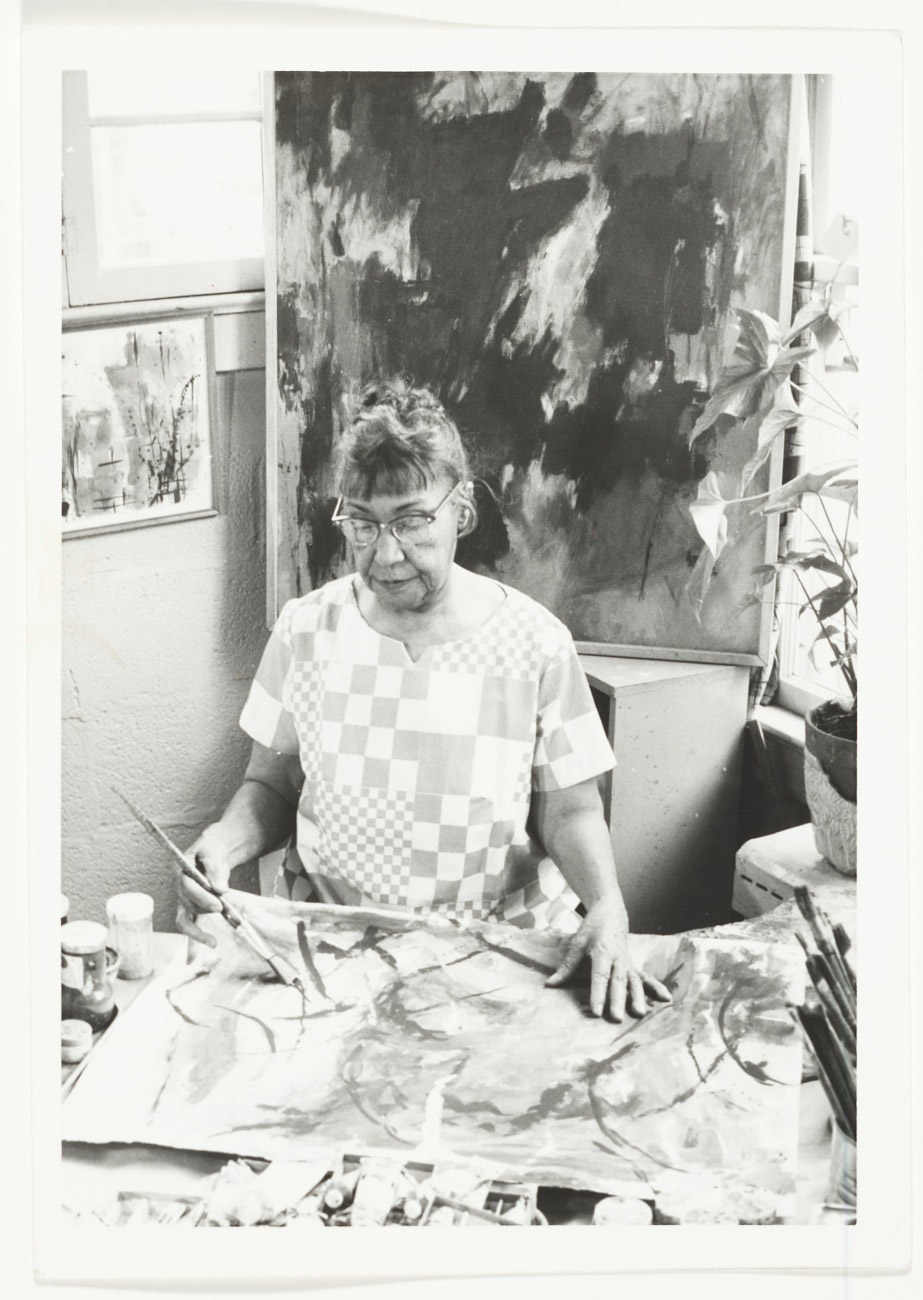 Baltimore and Potomac Railroad Station
(now the National Gallery of Art West Building)
6th Street and Constitution Avenue NW
In 1907, Thomas, her parents Amelia and John, and her three younger sisters left their home in Columbus, Georgia, to escape the violence and inequality of the Jim Crow South. In Alma W. Thomas: Everything Is Beautiful, her mother Amelia is quoted as saying, "Take off your shoes and shake all that Georgia sand out of them and don't look back." The Thomases were ahead of a trend that, between 1916 and 1970, saw more than 6 million African Americans leave the South for urban areas in the North.
Armstrong Manual Training School
(now Friendship Public Charter School)
1400 1st Street NW
The move was a seminal moment for Alma Thomas and her sisters. In Columbus, Black people could not enter libraries, and there were limited educational opportunities for the creative and curious Thomas siblings. "When I finished grade school in Columbus, there was nowhere that I could continue my education, so my parents decided to move the family to Washington," Thomas explained in her autobiographical writings.
Armstrong High School had opened at the turn of the 20th century as Manual Training School #2, one of two schools for Black students in a segregated District of Columbia. The school offered a progressive curriculum, combining technical training with art and science.
As she started high school, Thomas attended her first art classes. She has reflected, "When I entered the art room, it was like entering heaven. . . . The Armstrong High School laid the foundation for my life."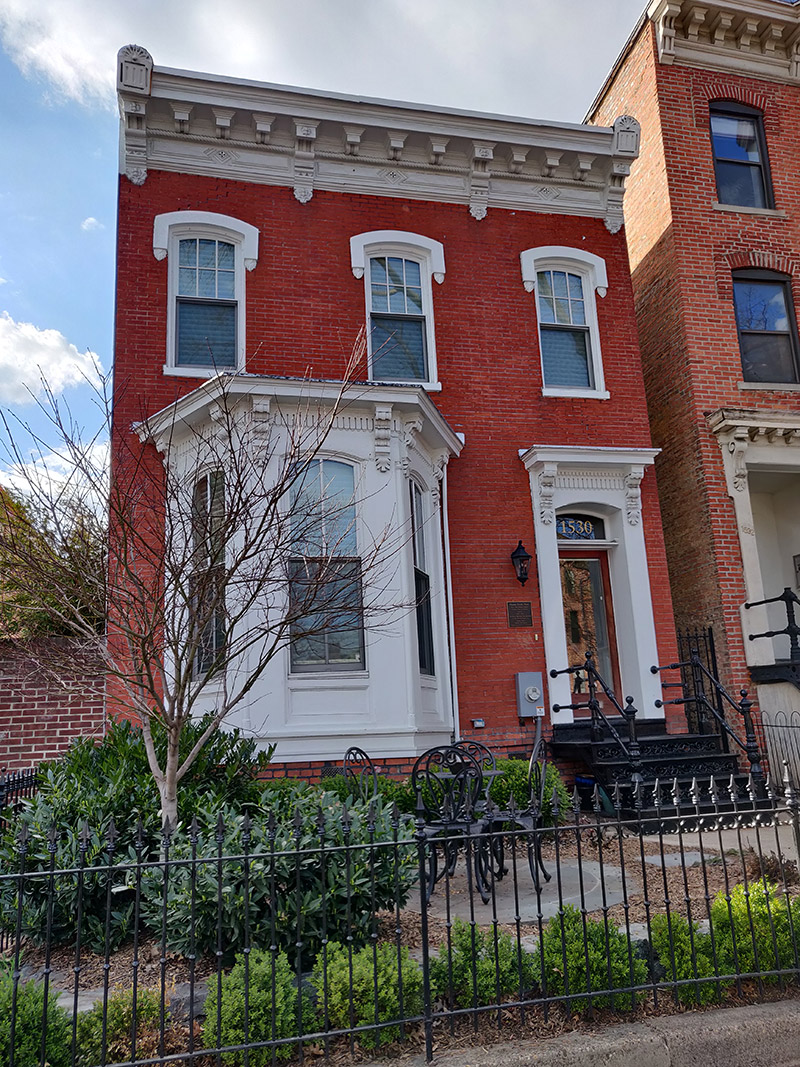 Alma Thomas Home
1530 15th Street NW
Alma Thomas lived in her family home, a red brick house in Logan Circle, for more than 70 years. It served her as both a residence and an art studio. Thomas painted in the kitchen, and the natural elements surrounding the property inspired several of her paintings: "Why, the tree! The holly tree! I looked at the tree in the window, and that became my inspiration. There are six patterns in there right now that I can see. And every morning since then, the wind has given me new colors through the windowpanes."
The Alma Thomas Home was added to the National Register of Historic Places following the artist's death in 1978. The effort was spearheaded by John Maurice, Thomas's sister, and aided by National Gallery curator Alison Luchs.
St. Luke's Episcopal Church
1514 15th Street NW
For a young Alma Thomas, interested in architecture and sculpture, St. Luke's Episcopal Church was a site of religious and social activity. The English Gothic Revival structure, designed by African American architect Calvin Thomas Stowe Brent and housing a church founded by African American scholar Rev. Alexander Crummel, is a visual representation of Black creativity and achievement.
The Thomas family home was just steps away from St. Luke's, which provided the Thomases access to a Black middle-class congregation, anchoring the family within its community. Alma Thomas formed lifelong friendships there and remained affiliated with the church into adulthood.
Shaw Junior High School
(now an apartment community)
7th Street and Rhode Island Avenue NW
Alma Thomas spent 35 years as an arts educator at Shaw Junior High School. From its inception in 1928, Shaw was overcrowded and under-resourced. The deteriorating building was emblematic of the district's neglect of and disinvestment in its Black population.
Thomas described teaching from the same classroom throughout her time at the school. "I devoted my life to the children, and they loved me," she said. Thomas organized student exhibitions at Howard University, arranged field trips to cultural institutions around DC, invited Black artists to speak with students, and incorporated African American history into her art lessons.
Howard University
600 Howard Place NW
Alma Thomas was the first graduate of Howard University's fine arts program, earning a BS in sculpture in 1924. Thomas went on to attend graduate school at Columbia University, travel abroad to study art in Europe, and train as a painter at American University.
By 1964, she had retired from teaching and was suffering from arthritis. Thomas feared she would not be able to walk, let alone paint, again. However, when Howard University offered her a retrospective, she was determined to create something completely original. The result was the development of her signature style: exuberant daubs of color freely applied in seemingly random patterns.
This shift to abstraction was transformative for Thomas. Her artwork garnered national recognition, and the retrospective was followed by more solo exhibitions, including at Fisk University in 1971. In 1972, Thomas became the first African American woman to have a solo exhibition at the Whitney Museum of American Art.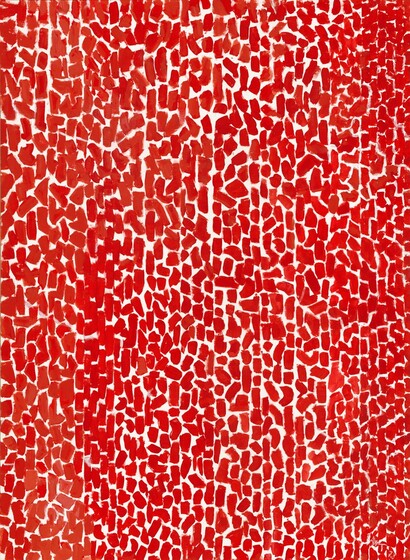 National Mall
Capitol to the Lincoln Memorial, between Independence Avenue SW and Constitution Avenue NW
Alma Thomas found inspiration in the sites and flowers of Washington: pansies in multiple hues dotting planters along Pennsylvania Avenue, the Smithsonian Gardens spread across the National Mall, and the flora offered year-round at the United States Botanic Garden. Thomas studied the hues, shapes, and patterns of trees and flowers and spent time touring the Kenilworth Aquatic Gardens and the National Arboretum. "Everyone on earth should take note of the spring of the year coming back every year, blooming and gorgeous," she said.
Her experiences with nature informed paintings such as Red Rose Cantata, Tiptoe Through the Tulips, and Pansies in Washington. Her Double Cherry Blossoms refers to a long-standing District tradition—the annual blooming of cherry blossom trees along the Tidal Basin.
Banner: Alma Thomas, Tiptoe Through the Tulips (detail), 1969, acrylic on canvas, Corcoran Collection (Gift of Vincent Melzac), 2015.19.145