My new local library opened shortly before the pandemic and quickly became a community hub with bookshelves full of new discoveries in many languages. Despite being closed and eerily deserted, it has tantalizingly kept its lights on all these months. When I pass by, I remember sitting in a quiet corner with a stack of books, forgetting that time was marching on beyond the library's walls.
More than 100 years ago, the New York Public Library's main branch on 5th Avenue opened its doors to much fanfare and excitement. Within nine minutes of the grand opening, someone had already borrowed the first book. Artist Theresa Bernstein spent many happy hours there, not only reading books but also surreptitiously sketching the gestures and expressions of those around her on scraps of paper and the backs of envelopes. She became such a frequent visitor, so attached to the library's space and holdings, that she referred to it in her memoir as her "alma mater."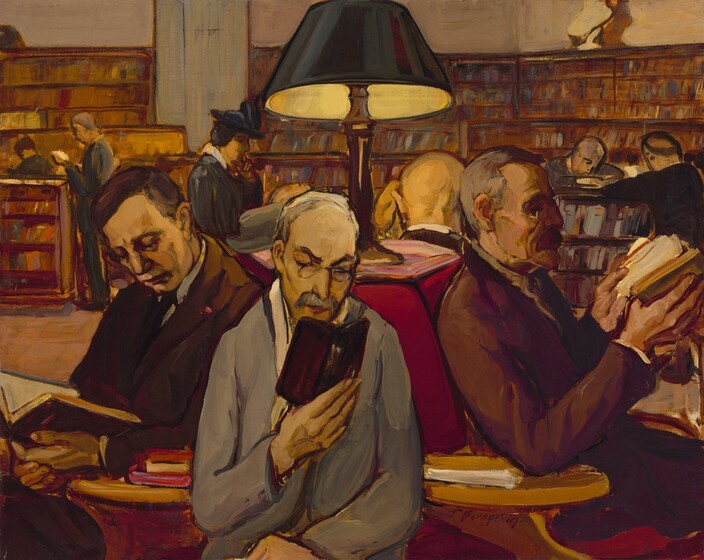 In her 1914 painting The Readers, Bernstein depicts the reading room of the newly opened library. Five men are seated on all sides of a banquette, forming a pyramid shape in the center of the composition. A glowing reading lamp gently illuminating their faces. They appear to have staked out the best spot in the reading room and settled in for the day, each in his own private reverie within this very public space.
In a detailed pencil study for this painting, one of the figures seated on the banquette is a woman in a feathered hat. But in the painting, Bernstein replaced her with a man, and only one woman remains in the composition. She stands in the middle background, plainly dressed and deep in thought, her hand resting on her chin as she pores over a book. By placing the woman in the background of the painting, Bernstein may have been providing a visual commentary on gender inequality.

Born in Cracow, Galicia (now Poland), Bernstein was a Jewish immigrant whose parents brought her to the United States as a baby in 1890. She successfully exhibited works of art in every decade of the 20th century (and, remarkably, lived into the 21st). Although she exhibited with prominent artists like Edward Hopper, Robert Henri, and John Sloan early in her career, Bernstein, like many women artists of her time, was frequently overlooked. She often signed her works "T. Bernstein" to hide her gender and avoid being dismissed by galleries or deselected by exhibition juries. In reviews of her exhibited artwork, she was often commended for painting like a man.
Throughout her career, Bernstein documented life around her in New York, and many of her subjects were women. She painted her family members sewing together, a group of immigrants—mostly women—on a ship, suffragist parades, women anxiously waiting for work at an employment office. In The Readers, her subject is the library, one of the few public places where women were able to sit comfortably for hours, exploring the world of books undisturbed. Using broad and evocative brushstrokes, Bernstein captures something intangible and timeless—the delight of losing oneself in a good book in the paradoxical quiet of a crowded library.
I miss that feeling myself. I look forward to returning to the library soon and sitting quietly for hours immersed in a book, allowing time to stand still and the world to pass me by.