Flemish portraitist Cornelis Jonson van Ceulen gives us a window into the world of Dutch education pioneer Anna Maria van Schurman. The gray tones of this portrait belie the dynamic life of the sitter. Van Schurman was known as a "learned lady" by her peers, a remarkable 17th-century artist and scholar, and a force of nature.
Creative and curious, Van Schurman dove into reading at the age of four and progressed to studying philosophy, theology, science, the classics, and linguistics, her pursuits made possible by her family's substantial resources. She ultimately mastered 12 languages, including Amharic, Ethiopia's primary language. She also excelled in the fine arts, including embroidery, sculpting, and drawing and engraving—which she learned from Magdalena van de Passe, daughter of a well-known engraver and publisher Crispijn van de Passe I.

Early in her life, Van Schurman challenged the prevalent view that women should not pursue higher education. Undeterred by conventions, she began corresponding with humanist scholars and philosophers, including René Descartes, in the 1630s to advocate for women's education and against male bias in the education system. Ultimately, she took on the newly formed Utrecht University and won the right to attend class. She became the first woman to study at a Dutch university.
However, she was not permitted to sit among her male classmates. Instead, she was seated behind a screen that obscured her from their view. In a time of expanded telework for many of us, the separation of studying and working behind a screen is perhaps more relatable than ever. Jonson depicts an elegant Van Schurman holding a book, standing in front of a view of the Utrecht cathedral. A curtain separates her from the background—possibly referencing her studies isolated from her male peers.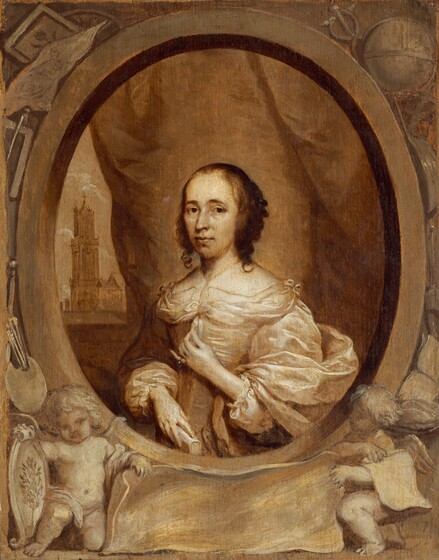 Van Schurman may be best known for barrier-breaking attendance at a university, but she made many other significant cultural contributions. She went on to write her dissertation, and other publications, defending women's right to higher education. She graduated with a degree in law. In 1643, the Utrecht St. Luke's Guild, an artist collective, awarded her an honorary membership, a rare distinction for a woman at that time.

In Jonson's painting, Van Schurman appears confident and poised; we can look directly into her eyes, her gaze meeting ours. Around the perimeter of the frame, Jonson includes attributes that represent in great detail Van Schurman's many scholastic pursuits in science, the arts, literature, and music.
The painting itself is a sketch, the model for an engraving by Cornelis van Dalen the Younger. To create engravings, lines are drawn and incised on the surface of a metal plate, which is then inked and pressed on paper. This technique allowed printers to produce engravings in large volume and disseminate them to a wider audience—in this case, one that could share in the recognition and celebration of Van Schurman's achievements.

Although her early ideas were radical at the time, Van Schurman successfully challenged the prescribed roles of women in 17th-century Europe. In both her words and deeds, she planted the seeds for equality, access, and inclusion.