Our rapidly changing environment continues to drive artistic inquiry, as artists respond through their work. Use these works from our collection and discussion questions to start conversations about climate change or to guide your exploration of issues that impact your life and world.
For more information and additional works on this topic for students in grades 5 through 12, explore the Art and Science lessons available under each grade band.
Robert Havell after John James Audubon, Snowy Owl, 1831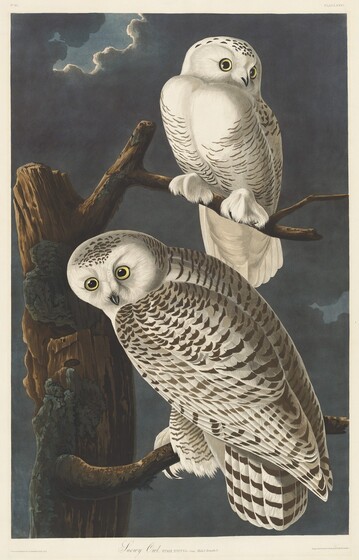 John James Audubon, a French American ornithologist, naturalist, and painter, posed a challenge for himself: to record all the species of birds in North America. Using his keen observation skills, Audubon made detailed watercolor, pastel, and graphite drawings, in addition to oil paintings, of nearly 500 types of birds. He vividly depicted each bird life-size in its natural habitat, often showing it in motion—hunting, preening, fighting, or flying. The snowy owl in this print from 1831 is typically found in far northern climates across the world. Its population has been steadily decreasing as its natural habitats have grown warmer.
Which animal populations are changing in your area? What might be causing the change?
Joan Miró, The Farm, 1921–1922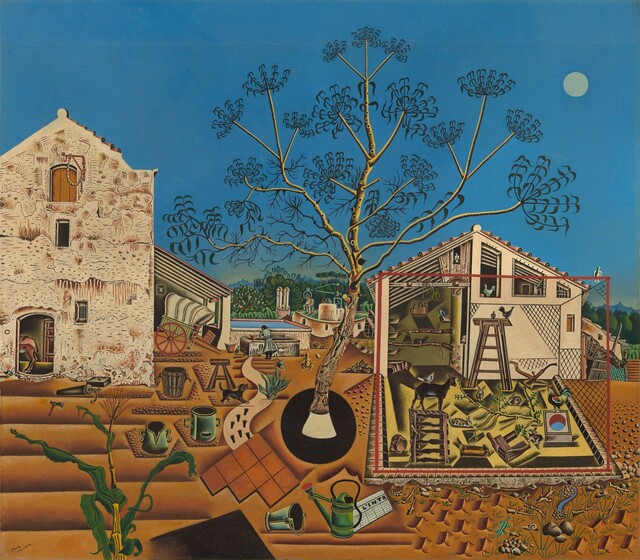 When he was 17 years old, Joan Miró first visited his parents' new summer retreat, a farm in the village of Montroig, about 60 miles from Barcelona. The artist's love of the countryside in Montroig led him to spend all his summers there. The rustic farm lacked a public water supply. Miró used both a cistern (depicted between the barns) to collect precious rainwater for washing clothes and watering crops and a well (behind the cistern) to supply drinking water.
How does water reach your neighborhood? What are some ways to conserve water?
Bernarda Bryson, Dust, 1935–1936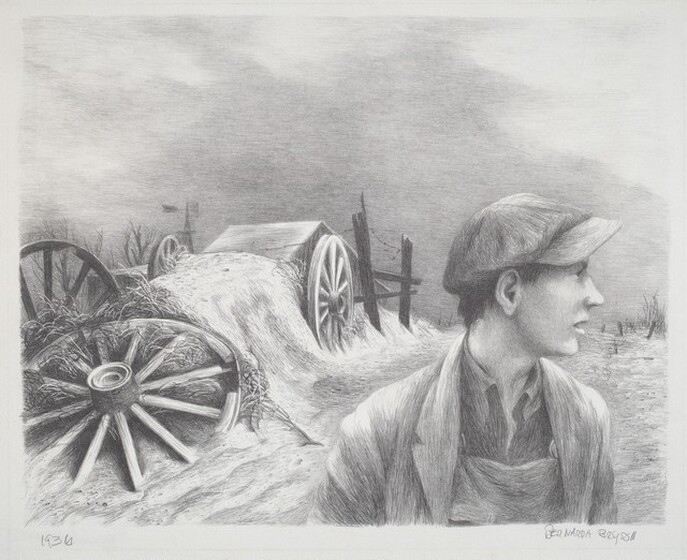 Bernarda Bryson made Dust for a project she titled The Vanishing American Frontier. The federal Resettlement Administration had hired her to document poverty, unemployment, and the effects of over farming, which contributed to the Dust Bowl, a period of severe droughts and dust storms that plagued the Great Plains during the 1930s.
Hearing President Franklin D. Roosevelt speak about the changing frontier inspired Bryson. In that 1936 speech the president said, "The period of geographical pioneering is largely finished. But, my friends, the period of social pioneering is only at its beginning."
How would you describe the mood of this print? What does President Roosevelt's statement mean to you?
Ansel Adams, The Tetons and the Snake River, Grand Teton National Park, 1942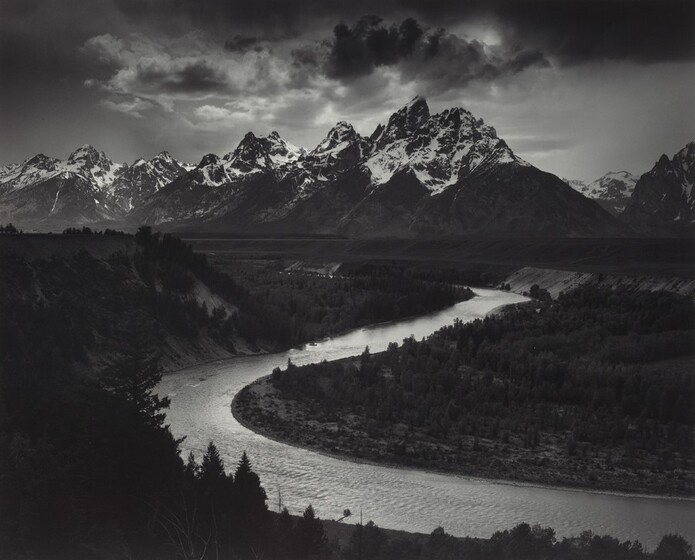 Photographer Ansel Adams is often associated with this country's national parks. His stunning black-and-white photos of the vast American wilderness popularized national parks during the 20th century. Adams worked to conserve and protect the wilderness during his 37-year tenure as a member of the Sierra Club's board of directors.
What does this photo communicate about the wilderness?
Edward Burtynsky, Dam #6, Three Gorges Dam Project, Yangtze River, China, 2005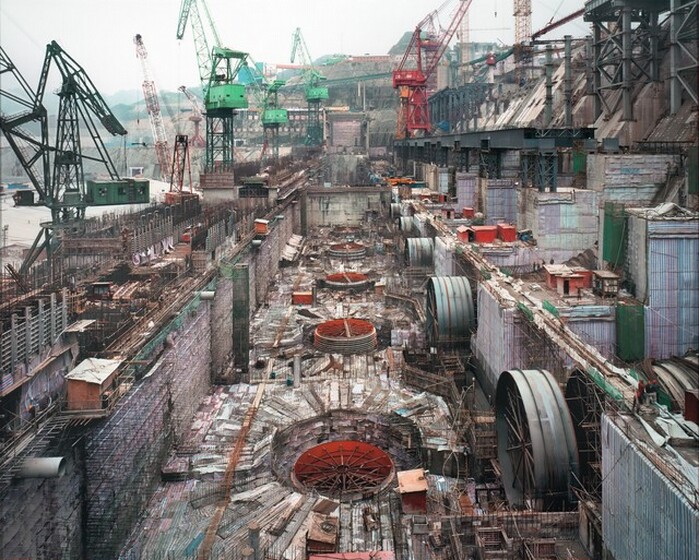 Growing up with a General Motors plant in his hometown sparked Edward Burtysnky's interest in using photography to explore locations transformed by industry. Here, Burtynsky photographed the construction of the controversial Three Rivers Dam in Hubei Province, China. The dam was built to increase the production of electricity and to raise the region's shipping capacity. In reality, its construction ruined land that had been used for farming; displaced over a million people from their homes; and triggered a range of ecological changes, from landslides to diminished biodiversity.
What about this project might have inspired Burtynsky to make it the subject of a photo series? What power do artists have to affect change in the world?