It feels nearly impossible to make plans as the world outside our homes has been thrown into chaos. We have lost so much: friends and family, jobs, the small businesses that hold our communities together. And we don't know when or how our lives will start to move back toward familiar rhythms, nor how familiar the post-pandemic world will be. How can we build anything now, given the uncertainty of the future? The phrase "house of cards" comes to mind—a carefully constructed but fragile edifice that, with unforeseen but inevitable turbulence, will all come down.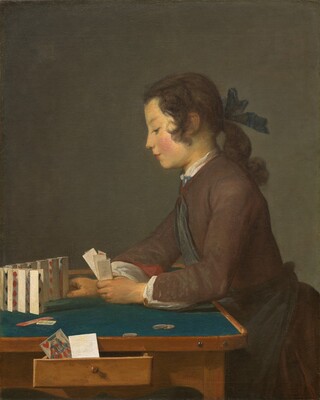 The phrase was first used in the 17th century, and in 1737, the French painter Jean Siméon Chardin realized the subject in one of my favorite pictures at the Gallery. The House of Cards shows a boy standing at an abandoned game table, bending cards in half and using them to build the foundation of a structure. Chardin has taken enormous care with the painting, the diagonals and horizontals establishing a neat composition. The velvet texture of the blue-green card table, the slick, smooth, reflective paper cards, and the delicate pink-toned features of the boy's face and hands cast a kind of spell. I am mesmerized.
Chardin's public in the middle of the 18th century was, too. The image was so popular that he painted it four times, and it was reproduced as an engraving so that many more people could enjoy it. Added to the print version was a poem:
Charming child, beguiled by pleasure,
We smile smugly at your frail travaux:
But, between us, which is the more solid,
Our endeavors, or your chateaux?
Despite his effort and concentration, the boy's work, or travaux, will not result in something lasting. He knows that, too, and yet he continues to build, beguiled by the pleasure of creating. This sense of what we now call "flow," of being wholly absorbed in a constructive task, occupied Chardin across his career. Best known as a still-life painter, he made hundreds of carefully arranged compositions of humble objects whose graceful balance and subtle coloring provoke from the viewer a meditative state. Painting these pictures, viewing them now, building a precarious house made of cards—all these entrancing practices still offer moments of great value in the present, in the face of an unknowable future.