Throughout the pandemic and the months of revolutionary uprisings across the country, I have returned again and again to A Shopper at the Fair, Columbus, Ohio, one in a series of photographs Ming Smith made at the Ohio State Fair. The series is named after a 1977 Alice Coltrane album: Transcendence. Transcendent on the whole, Smith's photographs create the kind of soaring sensation in the heart—the simultaneous flutter and deep calm—that occurs before art that taps into one's inner life. I find tenderness in Shopper's quotidian subject matter and strength in the memories it evokes for me.

Smith was a member of the Kamoinge Workshop, a group of African American photographers formed in 1963. Kamoinge, the Kikuyu word for "a group of people acting and working together," described an ethos of mutual support and productive critique. Largely shut out of mainstream publications, fine arts institutions such as ours, and the commercial gallery system, Kamoinge took on the responsibility to, as Louis Draper, a founding member, put it, "speak of our lives as only we can." Over the course of her five-decade career, Smith has fulfilled this mandate of recording Black life in all of its complexity. She said, "Being a black woman photographer was like being nobody. It was just my camera and me. I worked to capture black culture, the richness, the love. That was my incentive."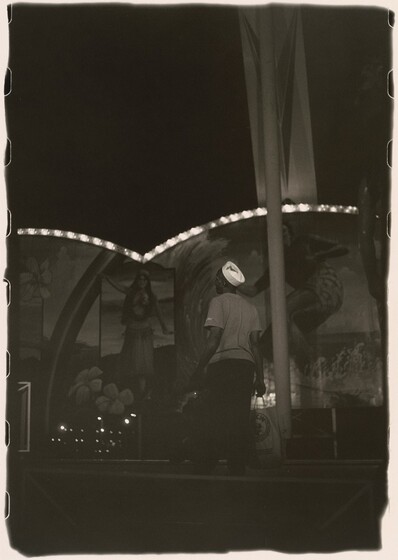 In Shopper, a lone Black figure walks through a fair holding a shopping bag at his side. One might be tempted to view it as a simple, leisurely picture, but of course, simple, leisurely pictures of Black men were not—still are not—commonplace. To make these kinds of pictures was Smith's transcendent, revolutionary, resistant act. She has labeled him a shopper, not a looter; a visitor, not a trespasser; a community member, not an imposter. He belongs. In the stillness of a breezeless summer night, the flag above him hangs limply, but the angle of his hat and his upright posture communicate youth, confidence, and leisure. He reminds me of my late father, who spent much of his youth on naval submarines wearing just such a hat.

The shopper passes by a panel depicting a bronzed surfer riding a breaking wave. A winged band of lights divides the ebony sky from the fair below, the two illuminated arcs meeting over the head of a larger-than-life hula dancer. Her grass skirt and haku lei, or flower crown, are just visible in the minimal light.
The dancer and surfer were no doubt meant to transport the shopper from landlocked Ohio to tropical Hawaii. Stereotypical as the images may be, they transport me, too—to the island of Oahu, where our family relocated for my father's naval career. Though Hawaii itself is incredibly diverse, our small neighborhood on the naval base was not. We were the only interracial family I ever saw there, and my mother the only Black woman I recall in our housing unit. "We were outliers in every way," she told me recently. Looking back, I feel the isolation of living there and the sense of relief when we returned to the mainland, where my grandmother's Spanish greeted me, and I was not such an outlier. I belonged.
Smith's was one of the first Black families to move into a white area of Columbus in the 1950s. Her interest in college was rebuffed by a high school counselor who told her she could only aspire to become a domestic worker. Despite these low expectations, she attended Howard University, where she took photography courses and graduated with a microbiology degree.
For Smith, transcendence was about moving beyond the racism she experienced. She left Ohio for New York and moved spiritually to a place of recovery—"to forget all that, forgive and forget," she says. For me, Smith's evocative Shopper, with its simultaneous acknowledgments and rejections of stereotypes, transforms a casual moment into a transcendent one, tapping into memories, speaking across time and space, and engendering connection and healing.