We need to talk.
That need has new poignancy today—when keeping a safe distance is a necessity, when many who would like to converse and learn from each other can no longer sit safely together in the same room. But we can find two men doing just that in a little bronze work from the Renaissance called a plaquette.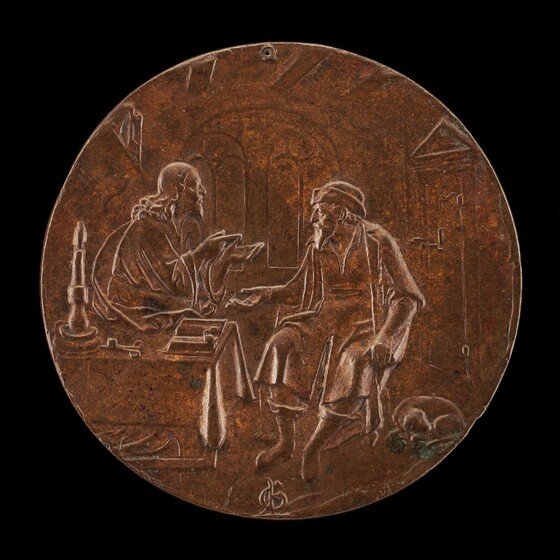 Leaning toward each other and gesturing with outstretched hands, they talk deep into the night—as we see from the candle on the left and the small dog sleeping peacefully on the floor.
Who are these men? The younger—with long curls falling over a timeless flowing gown, his cloak sweeping forward around his body—would have instantly been recognized in 16th-century Europe as Jesus Christ. His crisp profile was based on a well-known image, widely circulated in prints and reliefs. According to legend, it copied a portrait carved on an emerald when Jesus was alive. The older nighttime visitor, still wearing cap and coat, has presumably just arrived. He is Nicodemus, a devout Pharisee and expert in scripture and Jewish law, who felt compelled to seek out this "teacher who has come from God." An open book, possibly central to their debate, lies between them on the table. And the subject that seizes them, as told in the Gospel of Saint John, is nothing less than the way to salvation.
This tiny work—measuring just over two inches across and weighing less than seven ounces—is among those at the National Gallery of Art that are often overlooked. But it may, I am happy to report, be enjoyed online and easily enlarged for better viewing. Telling stories from ancient history, myth, and the Bible, plaquettes were popular in Italy and northern Europe from the mid-15th to the late 16th century. Cast in molds taken from models made of clay, wax, or occasionally wood, plaquettes were commonly made using bronze—a metal alloy (chiefly copper and tin) honored since ancient times for its strength, beauty, and the skill required to work it. Often produced as multiples, they allowed people to share ideas and circulate images long before the invention of the digital methods that keep us connected today. Small but tough, these objects could be used as decoration, say, on an inkwell or the hilt of a sword. Or, they could be held in the hand, passed around a table, and discussed by friends, perhaps meeting at night to socialize or thrash out a problem, as these two do.
We need to talk.
In the comfortable room where these two men sit together, the beams of the vaulted ceiling recede toward an archway that forms a visual bridge connecting their heads. Windows beyond await the light of dawn and the hope, the possibility, of coming to an understanding. While we do not know the identity of the artist—we have no name, only the intertwined initials P and G at the bottom of the plaquette—we can recognize someone who grasped the human need for connection.