American artist Georgia O'Keeffe is known for painting natural forms, such as flowers, bones, shells, stones, leaves, trees, and mountains. Gathering seashells along the shoreline was one of her favorite activities. She often drew shells from the collection of natural objects that she displayed in her home in New Mexico. Surrounding herself with these objects allowed O'Keeffe to carefully observe their shapes, patterns, colors, and other essential details. She believed that "to see takes time, like to have a friend takes time." Getting to know something well requires careful looking.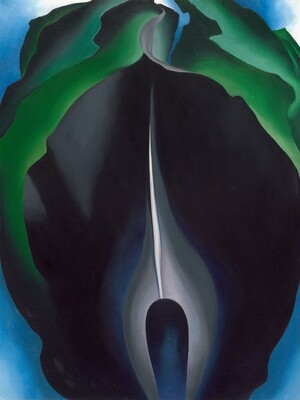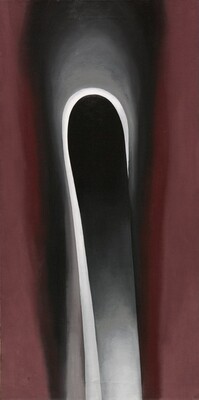 In her series of paintings, Georgia O'Keeffe often invites us to look more and more closely at a familiar object,
as we will do in this drawing exercise. This progression of canvases features a jack-in-the-pulpit flower.
How to Sketch Your Own Nature Drawings
Find your own inspiration in a garden or a local park and follow the steps below to do a close study of one piece of nature through drawing.

You will need:
A pad of paper
A pencil, colored pencils, crayons, colored chalk, pastels, markers, and/or watercolors
1. Select an object from nature to study, such as a flower, leaf, shell, or stone. (We chose a red rose.) Place it on a table near your paper and drawing materials.
2. Examine the object carefully. Study its colors, shapes, patterns, and designs. What makes it unique?
3. Experiment with medium and color.
Create a series of drawings on separate sheets of paper. Try to fill the entire page each time.
First, use only a pencil to draw the object.
Then draw it again, but this time use colors that are as close to those of the actual object as possible.
Next, draw it using only two colors—not the actual colors this time.
Now, draw it with as many colors as you like. Use your imagination!
4. Explore design.
Take a close look at the object's design. What are its parts? What are its shape and texture? What purpose do you think its parts, shape, and texture might serve? Create another series of drawings on separate sheets of paper.
Using any medium you choose, draw the entire object. Focus on how the different parts come together.
Turn the object around to show another side. Now draw it from a different view.
Pretend you are looking at the object through a magnifying glass. Select just one detail and draw it large—all the way to the edges of the paper.
Imagine how the object would look to an insect. Make a "bug's-eye" view drawing of your object.
Draw the object in an imaginary landscape. Include sky, water, land, animals, and/or buildings.
In O'Keeffe's jack-in-the-pulpit series, each painting zooms in closer, becoming more abstract as it highlights one specific part of the flower. As you looked closer, what did you notice or learn about your object that you did not see at first? What are you left wondering about it? Build on what you learned through observation by doing some research on your object. You'll soon be an expert!
Now take another look outside to find inspiration for your next series of drawings based on nature.