In this moment, when many of the people who are important to us are absent or isolated from us, my thoughts often turn to one of the most powerful effects an artist can express. It is something that may be called the presence of absence. This is the ability to render a room without people or narrative action and yet somehow convey the sense of their being in the space—a lingering life force, as if someone has just departed or is about to arrive.
In American art, this effect is masterfully achieved in paintings by Edward Hopper and Andrew Wyeth. It is also present in the photographs of Walker Evans, most notably in some that accompany James Agee's Let Us Now Praise Famous Men, published in 1941. But one particular work from the Gallery's collection always comes to my mind: Charles Sheeler's conté crayon drawing Interior with Stove from 1932.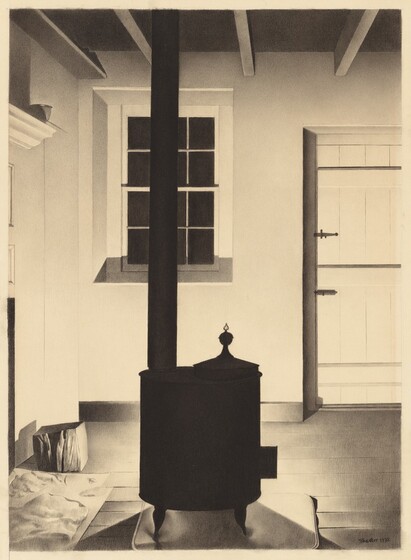 This quiet, empty interior space is fraught with the emotional power of absence. The velvety black of the stove with its extended pipe that bisects the window, its small door open in anticipation of being fed some wood, the bright light accenting the door—all combine to make us anticipate the entrance of a person, someone we are keen to see. The stump by the fireplace is both a source of heat and a waiting seat.
The drawing derives directly from a photograph Sheeler had taken 15 years earlier inside his farmhouse in Doylestown, Pennsylvania. Much can be made of the differences between the photograph and the drawing. Sheeler must have been motivated by the challenge to translate the chiaroscuro—the dramatic light and dark effects—of the photograph into the rich medium of conté crayon. He must also have been concerned with the general relationship between drawing and photography and the lessons to be learned from each medium.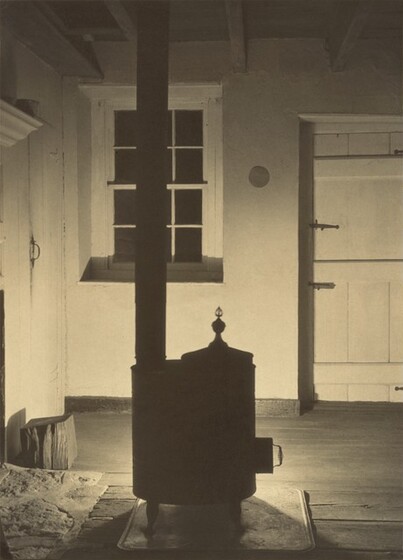 But I believe there is another explanation for Sheeler's decision to make a drawing of the same subject he had photographed years earlier. Drawing is among the most personal of artistic media. The very act of holding the pen, pencil, or crayon involves an intimacy between hand, tool, paper, subject, and eye. While both versions of the interior are impressive, it is the drawing—in its physical textures and materials—that fully expresses the presence of absence. While the cast of inanimate characters is the same in both the drawing and the photograph, to my eye and sensibility the drawing speaks more powerfully of the presence of someone missing from this room. In the artist's touch resides the implied desire to touch, to hold, and to reconnect. These are feelings and sentiments that many if not all have experienced, have in common­­. We are eagerly, even anxiously, awaiting the entrance of loved ones through the door again.