This selection of works from the collection of the National Gallery of Art explores feminism and how it has and continues to serve as a driver of artistic inquiry. Use these images and discussion questions with your students to help start conversations about gender equality today or to guide your own reflection on issues that impact your students' lives.
The topics in this blog post are best suited for students in grades 9 through 12. For more information and additional works on this topic, explore the Uncovering America module Women in Art.
Guerrilla Girls, When Racism & Sexism Are No Longer Fashionable, What Will Your Art Collection Be Worth?, 1989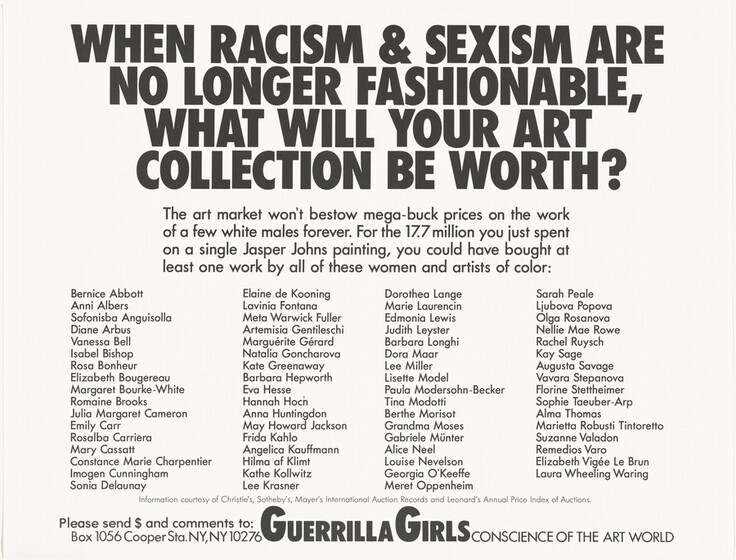 The Guerrilla Girls is an anonymous and ever-changing group of women artists, curators, and writers who use performances, public demonstrations, and visual art to advocate for greater diversity in the arts. The Guerrilla Girls dress in full-body gorilla suits to perform guerrilla actions, such as protests, on behalf of women and other underrepresented groups in the art world. The costumes disguise their real identities and allow them to assume the pseudo-identities of famous women artists. This satirical gesture familiarizes women artists' names while also preventing the individuals from being blackballed by the institutions against which they protest. This lithograph is in the collection of the National Gallery of Art, but it has also been reproduced in many different formats to function as a protest poster. The Guerrilla Girls collect data upon which they base their clever and boldly headlined messages about art world inequities. To date, approximately 11 percent of the artists represented in the National Gallery of Art collection are women.
Do you find this artwork an effective form of activism to address sexism? Why or why not? What other methods have activists used today and in the recent past to address sexism?
Graciela Iturbide, Nuestra Señora de Las Iguanas (Our Lady of the Iguanas), 1979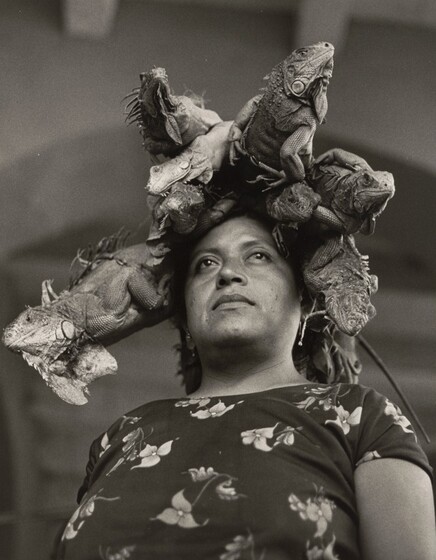 This striking image was captured by Mexican photographer Graciela Iturbide in the town of Juchitán, Mexico, where she made a series of works depicting the Indigenous Zapotec women of the Oaxaca region. In Juchitán women typically hold the primary positions of social and economic power. Nuestra Señora de Las Iguanas depicts a woman named Zobeida confidently wearing a crown of iguanas in the marketplace, where she sold them. This photograph, one of Iturbide's best-known works, is frequently reproduced in Juchitán, serving as a visual signifier of the dominant role of women in that society.
Where can you find women in positions of power in your community? How are they perceived by the public?
Miriam Schapiro, Anonymous Was a Woman VII, 1977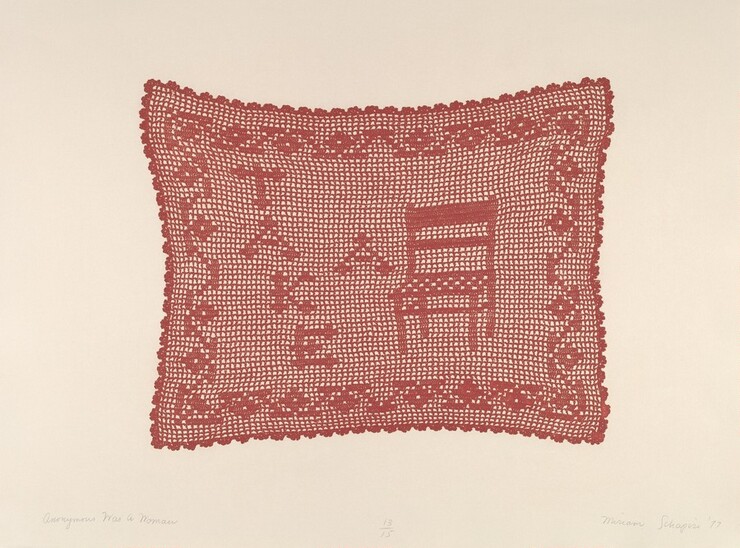 Miriam Schapiro was a pioneer of feminist art beginning in the 1970s. Feminist art gave visibility and voice to the particular conditions of women's personal and socioeconomic lives. Schapiro's etchings of crochet and embroidery recall drawings of similar objects from the Index of American Design (IAD). Traditional, embroidered samplers and examples of fine crochet made by generations of young women—and visually documented in the IAD—embody conventional expressions of domesticity. Schapiro's works slyly subvert those ideals while also paying homage to household labor and activities performed largely by women. This etching commands the viewer to "Take a Seat," with an image of a chair replacing the final word. It was part of a series that recognized the unseen and uncredited work of women in the home, whether sewing, mending, cooking, or cleaning.
Are there any activities in your own life that are viewed as belonging to a specific gender? How do you feel about this perception?
Rozeal, afro.died, T., 2011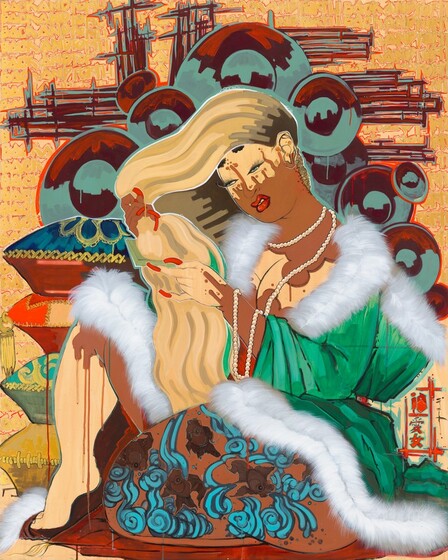 Rozeal uses the title of this work, a play on the name of Aphrodite, ancient Greek goddess of love and beauty, to present a cross-cultural rebellion against beauty ideals.
Rozeal spent time in Japan through a fellowship program and became interested in the ganguro style, in which young Japanese women counter traditional beauty norms by wearing skin-darkening makeup, dying their long hair blonde, and applying long nail tips. Rozeal underscores ganguro's references to Black hip-hop culture with the words "back and forth" repeated in the background (a quotation from the song "Whip My Hair" by Willow Smith) and the discs, suggesting vinyl records or speakers, that frame the figure. The stylized appearance and pose of the figure recall 19th-century Japanese ukiyo-e prints, which often depicted women using idealized standards of feminine beauty—a historical precedent for the societal standards Rozeal addresses in this painting.
What does beauty mean to you? What does this work of art make you think about women in your own community and culture?
Judy Chicago, Through the Flower 1, 1972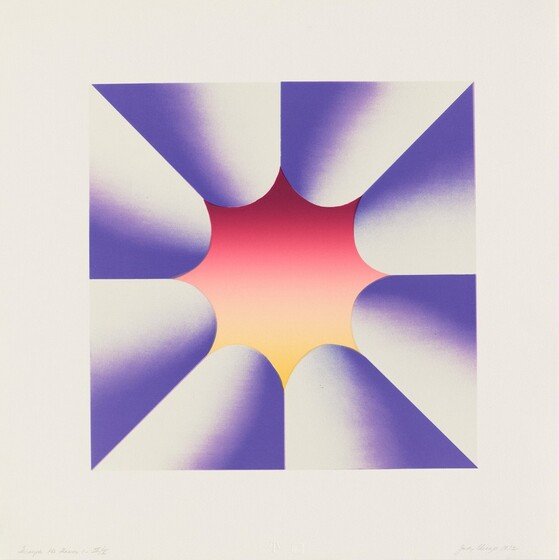 Judy Chicago is a self-proclaimed feminist artist whose work largely focuses on womanhood. In Through the Flower, which has become one of her best-known works, she has created an abstract image that alludes to a vulva. She has continued to use floral imagery as a visual metaphor for her career in an art world dominated by men. Chicago's use of forms suggestive of genitalia have received mixed reactions, with some applauding the celebration of a typically taboo subject and others criticizing her work for reducing women to their sexuality.
How is your own gender identity shaped? What role does sexuality play in this?