Narrative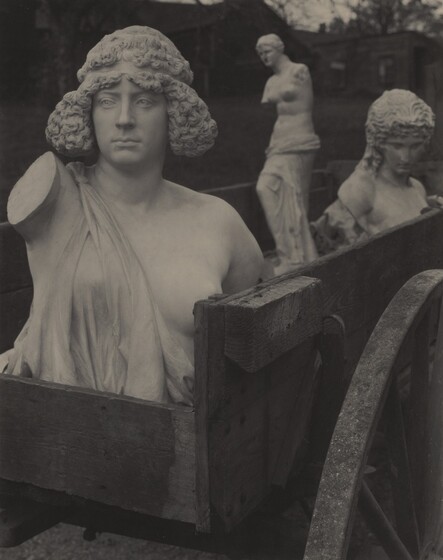 In 1920, Stieglitz's family sold their Victorian summerhouse on the shore of Lake George, New York, and moved to a farmhouse on a hill above it. This photograph shows three sculptures his father had collected—two 19th-century replicas of ancient statues and a circa 1880 bust by Moses Ezekiel depicting the Old Testament heroine Judith—as they were being moved in a wooden cart from one house to another. Stieglitz titled it The Way Art Moves, wryly commenting on the low status of art in American society. With her masculine face and bared breast, Judith was much maligned by Georgia O'Keeffe and other younger family members. In a playful summer prank, they later buried her somewhere near the farmhouse, where she remained lost, despite many subsequent efforts by the perpetrators themselves to find her.
Alfred Stieglitz, Judith Being Carted from Oaklawn to the Hill. The Way Art Moves, 1920, gelatin silver print, National Gallery of Art, Washington, Alfred Stieglitz Collection 1949.3.441
1 of 10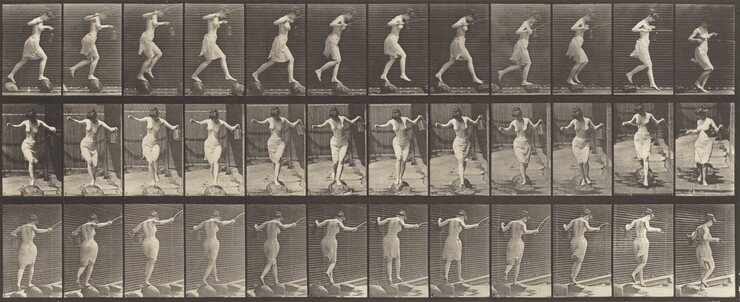 Using theatrical props in an outdoor studio, Muybridge produced this short sequence of 12 photographs of a model seen from three different angles to represent a rudimentary narrative: a lone woman goes fishing and crosses a brook on stepping stones while carrying her fishing pole and a can. This study of simple storytelling exhibits improbable elegance due to the woman's balletic grace, agility, and balance.
Eadweard Muybridge, Plate Number 175. Crossing brook on step-stones with fishing-pole and can, 1887, collotype, National Gallery of Art, Washington, Corcoran Collection (Museum Purchase, 1887) 2014.79.220
2 of 10
Beginning in the mid-1960s, conceptual artist Dan Graham created several works of art for magazine pages and slide shows. When Homes for America was designed for Arts magazine in 1966, his accompanying text critiqued the mass production of cookie-cutter homes, while his photographs—made with an inexpensive Kodak Instamatic camera—described a suburban world of offices, houses, restaurants, highways, and truck stops. With their haphazard composition and amateur technique, Graham's pictures ironically scrutinized the aesthetics of America's postwar housing and inspired other conceptual artists to incorporate photographs into their work. Together, these two photographs link a middle-class family at the opening of a Jersey City highway restaurant with the soulless industrial landscape seen through the window.
Dan Graham, Homes for America, 1966–1967, two chromogenic prints, National Gallery of Art, Washington, Glenstone in honor of Eileen and Michael Cohen 2008.30.20
3 of 10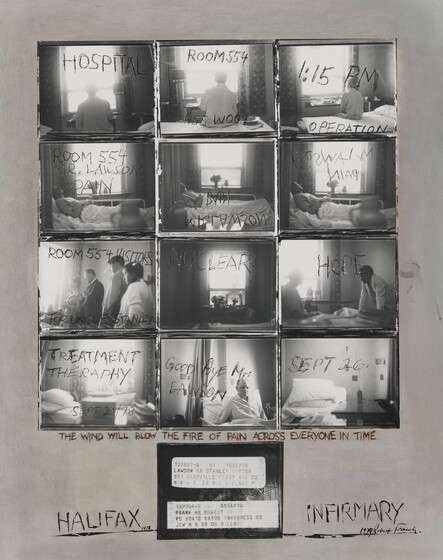 When Frank was a patient at the Halifax Infirmary in Nova Scotia, he photographed his roommate who was dying of cancer. Best known for his groundbreaking book The Americans, Frank had moved from New York to Nova Scotia in 1970 after a decade of making films. There he reinvented his work by making personal pictures using Polaroid instant film that produced a negative as well as a positive print. He wrote words like "operation," "pain," "nuclear," and "treatment" directly onto his negatives and combined them, like a storyboard for a film, into a narrative sequence, which was then printed and colored by hand. By linking his photographs as a unit and writing on them, he added a poetic layer of words to an already emotional story.
Robert Frank, Halifax Infirmary, 1978, gelatin silver print with green oil paint and black ink, National Gallery of Art, Washington, Robert Frank Collection, Anonymous Gift 1994.31.1
4 of 10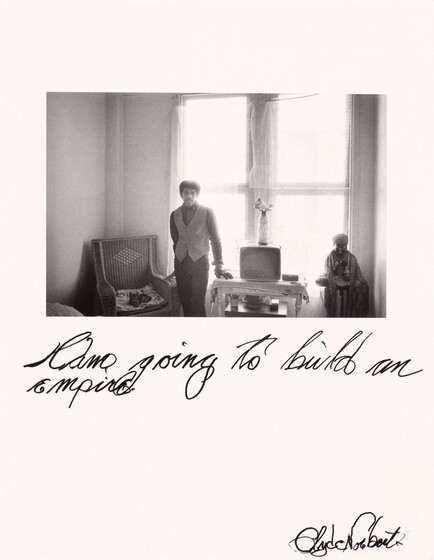 Jim Goldberg radically shifted the traditional relationship between photographer and subject by asking the people he photographed to respond to his pictures by writing directly on them. Taken in San Francisco welfare hotels and the homes of wealthy art patrons, these experimental collaborations combine gritty, black-and-white portraits with handwritten reflections that feature the subjects' points of view. Often poignant, sometimes funny, the writing gives people an opportunity to tell their own stories. Guided by questions from the photographer, Clyde Norbert inscribed his own bold ambition on his portrait: "I am going to build an empire." When his project was first published in 1985, Goldberg wrote, "I believed that having my subjects write on the photographs would bring an added dimension, a deeper truth."
Jim Goldberg, Clyde Norbert, from Rich and Poor, 1978, gelatin silver print, National Gallery of Art, Washington, Corcoran Collection (Gift of the artist) 2015.19.4477
5 of 10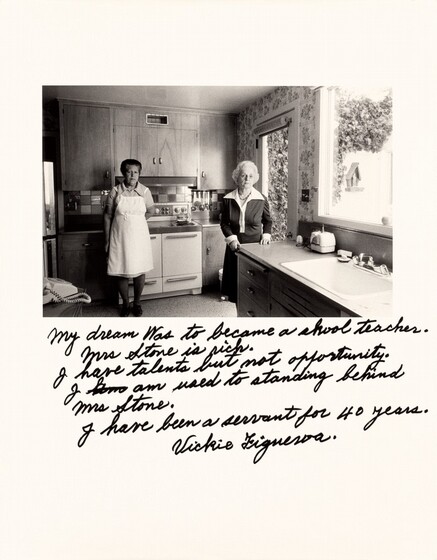 Jim Goldberg, Vickie Figueroa, from Rich and Poor, 1981, gelatin silver print, National Gallery of Art, Washington, Corcoran Collection (Gift of the artist) 2015.19.4479
6 of 10

From 1983 to 1992, Sultan photographed his parents in retirement at their Southern California house. His innovative book, Pictures from Home, combines his photographs and text with family album snapshots and stills from home movies, mining the family's memories and archives to create a universal narrative about the American dream of work, home, and family. Thanksgiving Turkey/Newspaper juxtaposes photographs of his mother and father, each with their face hidden and with adjacent texts where they complain about each other's shortcomings. "I realize that beyond the rolls of film and the few good pictures . . . is the wish to take photography literally," Sultan wrote. "To stop time. I want my parents to live forever."
Larry Sultan, Thanksgiving Turkey/Newspaper, 1985–1992, two chromogenic prints and two screen printed plexiglass panels, National Gallery of Art, Washington, Corcoran Collection (Gift of FRIENDS of the Corcoran Gallery of Art) 2015.19.4484
7 of 10
Goldin has unsparingly chronicled her own community of friends by photographing their struggles, hopes, and dreams through years of camaraderie, abuse, addiction, illness, loss, and redemption. Relapse/Detox Grid presents nine colorful yet plaintive pictures in a slide show-like narrative, offering glimpses of a life rooted in struggle, along with Goldin's own recovery at a detox center, seen in the bottom row.
Nan Goldin, Relapse/Detox Grid, 1998–2000, nine silver dye bleach prints, National Gallery of Art, Washington, Corcoran Collection (Museum Purchase with funds donated by the FRIENDS of the Corcoran Gallery of Art) 2015.19.4709
8 of 10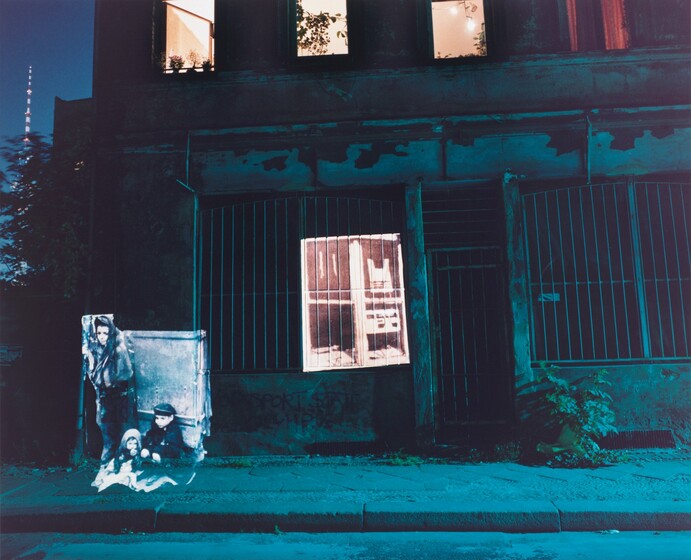 Attie projected historical photographs made in 1932 onto the sides of a building at Mulackstrasse 32, the site of a Hebrew reading room in a Jewish neighborhood in Berlin during the 1930s. Fusing pictures made before Jews were removed from their homes and killed during World War II with photographs of the same dark, empty street made in 1992, Attie has created a haunting picture of wartime loss.
Shimon Attie, Mulackstrasse 32: Slide Projections of Former Jewish Residents and Hebrew Reading Room, 1932, Berlin, 1992, chromogenic print, National Gallery of Art, Washington, Corcoran Collection (Gift of Julia J. Norrell in honor of Hillary Allard and Lauren Harry) 2015.19.5081
9 of 10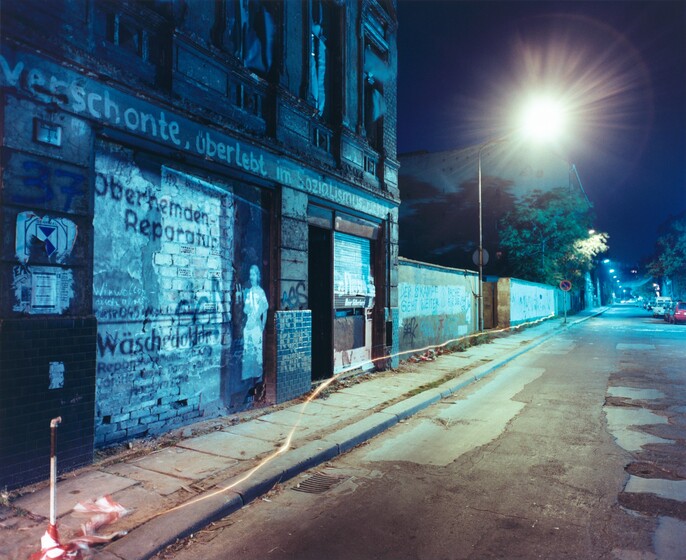 Shimon Attie, Mulackstrasse 37: Slide Projection of Former Kosher Butcher Shop and Laundry, 1930, Berlin, 1992, chromogenic print, National Gallery of Art, Washington, Corcoran Collection (Gift of Julia J. Norrell in honor of Susan Kenney Battle) 2015.19.5082
10 of 10