Sequence
Whenever Stieglitz exhibited his photographs of New York City made in the late 1920s and early 1930s, he grouped them into series that record views from the windows of his gallery, An American Place, or his apartment at the Shelton Hotel, showing the gradual growth of the buildings under construction in the background. Although he delighted in the formal beauty of the visual spectacle, he lamented that these buildings, planned in the exuberance of the late 1920s, continued to be built in the depths of the Depression, while "artists starved," as he said at the time, and museums were "threatened with closure."
Alfred Stieglitz, From My Window at An American Place, Southwest, March 1932, gelatin silver print, National Gallery of Art, Washington, Alfred Stieglitz Collection 1949.3.1233
1 of 11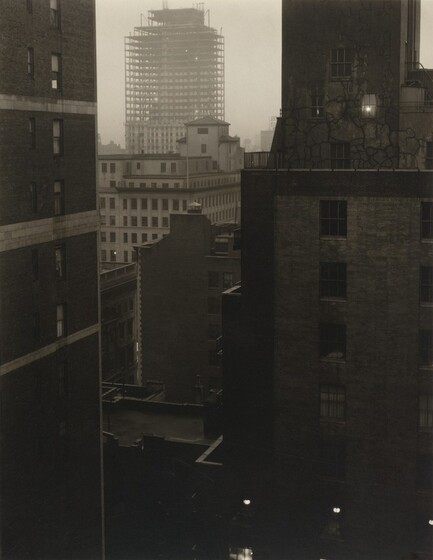 Alfred Stieglitz, From My Window at An American Place, Southwest, March 1932, gelatin silver print, National Gallery of Art, Washington, Alfred Stieglitz Collection 1949.3.1235
2 of 11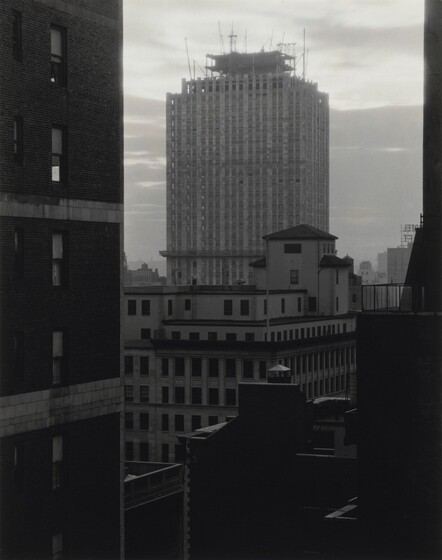 Alfred Stieglitz, From My Window at An American Place, Southwest, April 1932, gelatin silver print, National Gallery of Art, Washington, Alfred Stieglitz Collection 1949.3.1239
3 of 11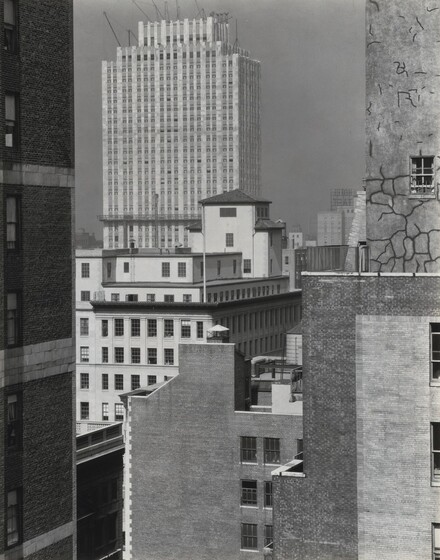 Alfred Stieglitz, From My Window at An American Place, Southwest, April–June 1932, gelatin silver print, National Gallery of Art, Washington, Alfred Stieglitz Collection 1949.3.1240
4 of 11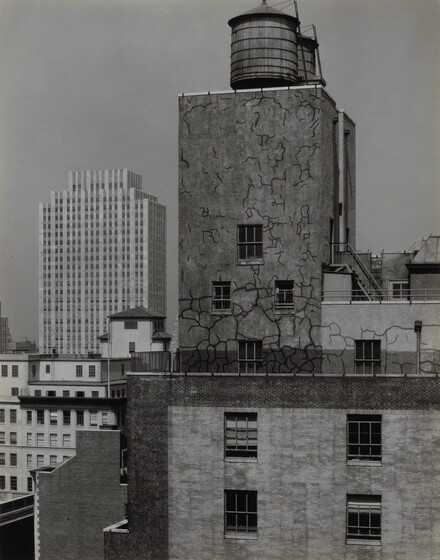 Alfred Stieglitz, Water Tower and Radio City, New York, 1933, gelatin silver print, National Gallery of Art, Washington, Alfred Stieglitz Collection 1949.3.1246
5 of 11

Plate Number 180 shows Muybridge's model stepping on and over a chair both in profile and from behind. For Muybridge and his University of Pennsylvania advisors, the study of human and animal locomotion could be applied in aesthetic, scientific, and industrial fields. Inspired in part by Muybridge, Vito Acconci in 1969 used a similar action of stepping on and off a stool in his Step Piece (seen next in this slide show).
Eadweard Muybridge, Plate Number 180. Stepping on and over a chair, 1887, collotype, National Gallery of Art, Washington, Corcoran Collection (Museum Purchase, 1887) 2015.19.4107
6 of 11
Acconci's Step Piece is made up of equal parts photography, drawing, performance, and quantitative analysis. It documents a test of endurance: stepping on and off a stool for as long as possible every day. This performance-based conceptual work is rooted in the idea that the body itself can be a medium for making art. To record his activity, Acconci made a series of five photographs spanning one complete action. Like the background grid in many of Muybridge's motion studies, vertical panels in Acconci's studio help delineate the space. His handwritten notes and sketches suggest the patterns of order and chaos associated with the performance, while typewritten sheets, which record his daily progress, were given to people who were invited to observe.
Vito Acconci, Step Piece, 1970, five gelatin silver prints and four sheets of typewritten paper, mounted on board with annotations in black ink, National Gallery of Art, Washington, Dorothy and Herbert Vogel Collection 1994.17.1
7 of 11
Originally a poet, Acconci became a visual artist in 1969, when he began photographing activities based on his instructions. Fall is a small-scale model for a larger multi-image collage of photographs and handwritten text that explores a simple directive: "take photos while falling forward." Acconci used the camera as an extension of his body and put it in motion. His outdoor performance relied on this sequence of two photographs to record his fall for an audience to see later. "These photographic pieces were ways to, literally, throw myself into my environment," he wrote.
Vito Acconci, Fall, 1969, two gelatin silver prints, National Gallery of Art, Washington, Patrons' Permanent Fund 2008.30.1
8 of 11
Nauman's video Bouncing in the Corner No. 1 depicts the artist standing in a corner of his studio; he leans back to hit the wall, rebounds forward, and then repeats the same bouncing action over and over. His portable video camera was positioned on its side, and Nauman's body, which simply repeats this series of mundane, futile, and repetitive movements, is both the subject of his art and his means of making it. As an early example of video art about the body, this work produces a disorienting experience for the viewer, in which gravity and narrative expectations are upended. This sheet shows a sequence of video stills made for magazines and books. It also includes two photographs of another Nauman video, Slow Angle Walk (Beckett Walk) (1968).
Bruce Nauman, Reproduction Proof of "Bouncing in the Corner No. 1", 1968, gelatin silver print, National Gallery of Art, Washington, Gift of Eileen and Michael Cohen 2011.93.37
9 of 11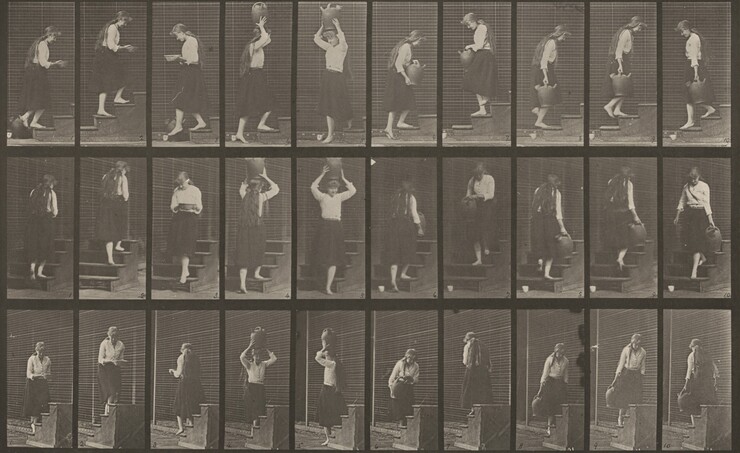 In 1884, Muybridge obtained new facilities and financing from the University of Pennsylvania and began an extensive technical examination of human and animal locomotion. He frequently photographed his models from several angles and incorporated a grid of white lines to help scientists and artists plot the details of motion. Sometimes, though, he did not present continuous action. Plate Number 504 depicts fragments of several different sequences cut together like a very short movie: a woman ascends and descends a flight of stairs carrying first a pan of water and then a jug. The result is less analytical and more an experiment in playing with time and sequence for visual effect, an approach that caught the attention of early filmmakers.
Eadweard Muybridge, Plate Number 504. Ascending and descending stairs, 1887, collotype, National Gallery of Art, Washington, Corcoran Collection (Museum Purchase, 1887) 2014.79.490
10 of 11
These photographs of a New York street are part of a series called The Present, in which Graham sought to show that life, as he said, is "a continuum and what you thought mattered shifts quickly and transforms itself into another thing that matters for that instant." By taking three pictures seconds apart, he emphasizes the fleeting nature of time and awareness as our focus shifts from the man in a white shirt to the young man emerging from the shadows to a woman walking her dog. Graham likes the photographs to be hung low on the wall to give viewers the impression that they could enter the scene.
Paul Graham, Port Authority, 17th August 2010, 11:01:33 a.m., 2010, three inkjet prints, National Gallery of Art, Washington, Corcoran Collection (Museum Purchase, Firestone Contemporary Art Fund) 2015.19.5252.1–3
11 of 11