Dog walks. So many dog walks. Over the recent months of quarantine, daily strolls in the woods near my home have provided welcome exercise, stress release, and changes of scenery. As refreshing breaks from the screen time and virtual meetings that punctuate my days as a curator working from home, these pandemic-era, nature-focused outings substitute, perhaps, for the restorative walks I used to take through our art-filled galleries. Luckily, walks are my enthusiastic dog's lifeblood no matter the state of the world. So it was that on a cool, early May morning we found ourselves on a familiar trail when she sniffed out something decidedly unfamiliar at the path's edge: a cornucopia of assorted fresh fruit and sugarcane nestled in the large, empty hollow of a beautiful old beech tree. Pineapple, star fruit, guava, watermelon, eggplant, mangos, grapes, bananas, plantains, apples, and cane stalks spilled out of the deep, triangular-shaped crevice.
This arrangement, with its vivid color and beauty, could have been the subject of a still-life painting (a work of art that typically depicts a group of inanimate objects). It reminded me of the National Gallery of Art's 17th-century Dutch paintings of decaying fruits and flowers, often known as vanitas (a Latin noun meaning empty) and signifying the transience of earthly existence—how fleeting life is, how impermanent. These still lifes can also suggest the cycles of life, as in Abraham Mignon's Still Life with Fruit, Fish, and a Nest. There, nearly a dozen types of fruit—many ripening and dotted with insects—cascade from a basket set at the base of an aging oak tree.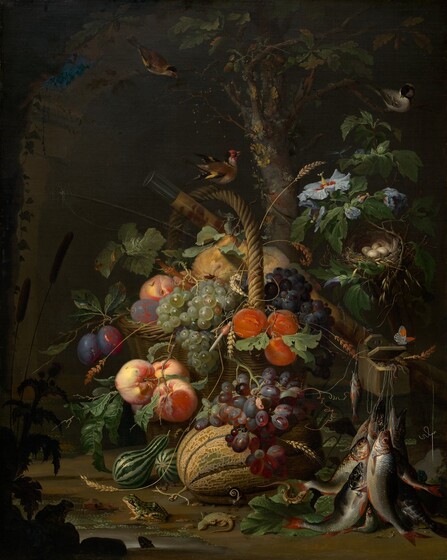 Another picture, painted some 200 years later, is my favorite American "cousin" of these works: a small, brilliantly colored canvas by Joseph Decker called Ripening Pears. I say cousin, perhaps once removed, because the Decker is very unconventional for its time, somewhere between still life and landscape—or is it skyscape? With its rhythmically patterned leafy branches laden with speckled green and gold pears set against a brilliant blue sky, the image is almost abstract. Yet it is also photographically realistic, with its smooth fruit at different stages of ripening. Just below the painting's center, our eyes are nearly tricked by a trio of lifelike wasps feasting on a juicy orb, recalling the decay of the vanitas theme.
My thoughts have often returned to my unexpected encounter with that live arrangement out along the trail, nestled in the hollow of an old tree, and what it could have meant. I have no doubt that it was an offering of some sort, perhaps for a loved one, but it remains a mystery—and, as a friend put it recently, that not knowing is often associated with life and great works of art. It has certainly made me contemplate the meaning of "still life." With little travel and few or no live performing arts or sports or cheering fans, quarantined life has been quite still for many (at least those without young children). It continues largely indoors, and even outdoors, road and air traffic is so reduced that we can hear birds calling clearly—the sorts of birds that might peck at a mound of fruit. The mound of fruit is gone, but I am still here. There is still life. There is still hope.