Dolls from the Index of American Design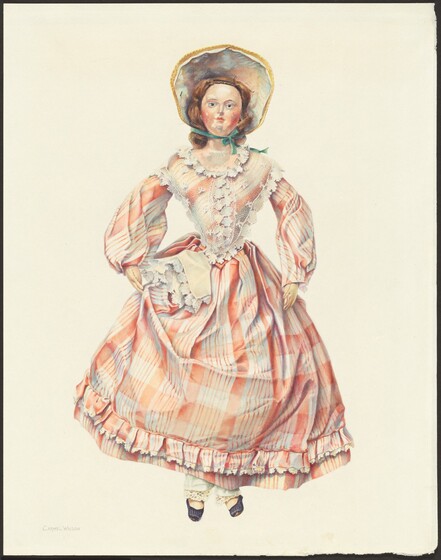 Overview

From early times, children everywhere have loved dolls. This program presents a sampling of different types of dolls, many of them old, rare, or beautiful, which are cherished by collectors or exhibited in museums in the United States. The history of dolls may begin in prehistoric times with idols and ancestor images. It has been conjectured that, once the symbolic or religious role of figurines lost significance, they became toys for children. It is known that toy dolls as such existed in ancient Egypt and Greece, where examples have been found in archaeological excavations.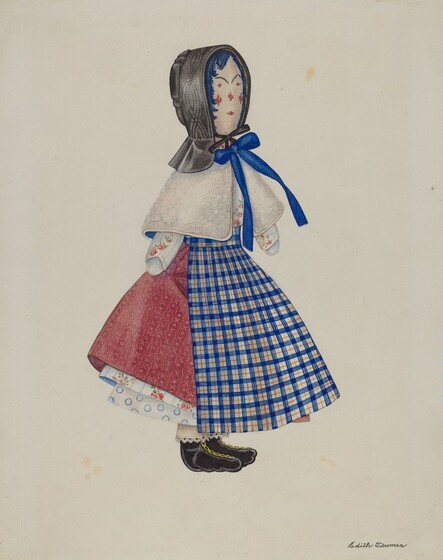 Before the Civil War, most American dolls were made at home, and the practice continued much later, in many cases. This rag doll, one of the most popular doll types, is a charming product of home manufacture during the 1880s. Named "Mollie Bentley," this doll was the work of a girl by the same name who lived in Lancaster County, Pennsylvania. The doll's body and dress were made of various scraps of materials found about the house. "Mollie's" clothing includes two types of cotton fabric popular in the nineteenth century: calico, a name derived from Calicut, India, where cotton textiles were first printed; and gingham, whose name is of either Malayan or French origin, a fabric that had been used from the early days of the colonies.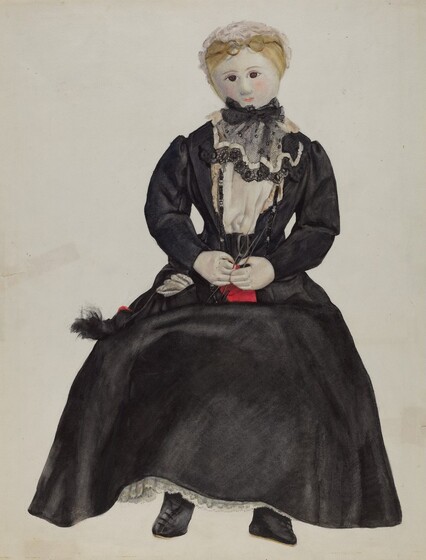 Here is a handmade cloth doll representing a grandmother knitting a red wool sock. The doll was made by a southern gentlewoman who supported herself after the Civil War by making fine cloth dolls. This was the one-thousandth doll made by this woman.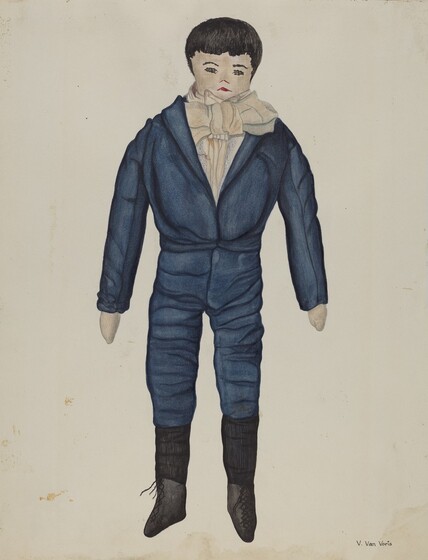 Boy dolls have never been common. This doll, named "Johnnie," dates from the early nineteenth century. He wears a blue challis suit and finely hand-tucked linens. His body is of heavy cotton cloth with hair and features embroidered in yarn. His expression suggests that he may have been modeled after a specific little boy.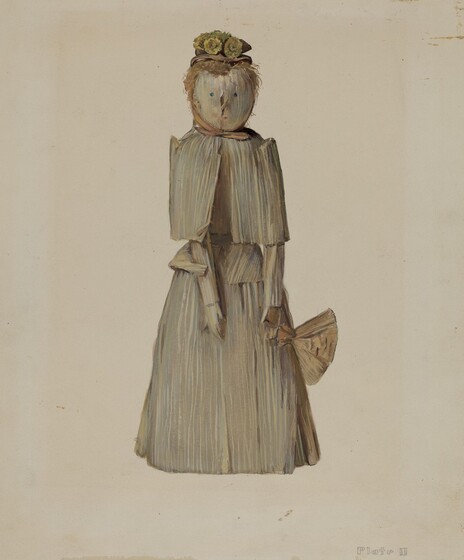 The range of materials used to make dolls shows great ingenuity. In the eighteenth and early nineteenth centuries, a number of American dolls were made from cornhusks and corncobs. This cornhusk doll was made about 1895 in Essex County, Massachusetts. The husk forms the head, limbs, and clothes; cornsilk provides the hair. Cornhusk dolls may have been invented by the early settlers themselves or copied from the Indians. Improvised, handmade dolls of various materials are a tradition in America. Common in the early days of our country, homemade dolls are still found in areas where the commercially produced type is not easily affordable.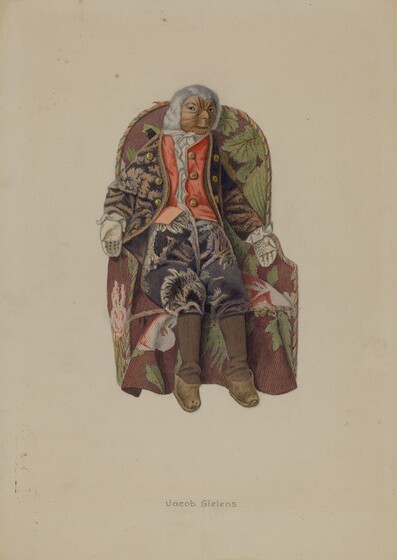 Carved nuts formed the heads of many early dolls. Different kinds of nuts were used: hazelnuts, walnuts, hickory nuts, and even cashews. These dolls were expendable and could be discarded when the children began to tire of them. This example represents a colonial gentlemen with elegant clothes and a wise expression. The doll is from Wisconsin and was made in the eighteenth century.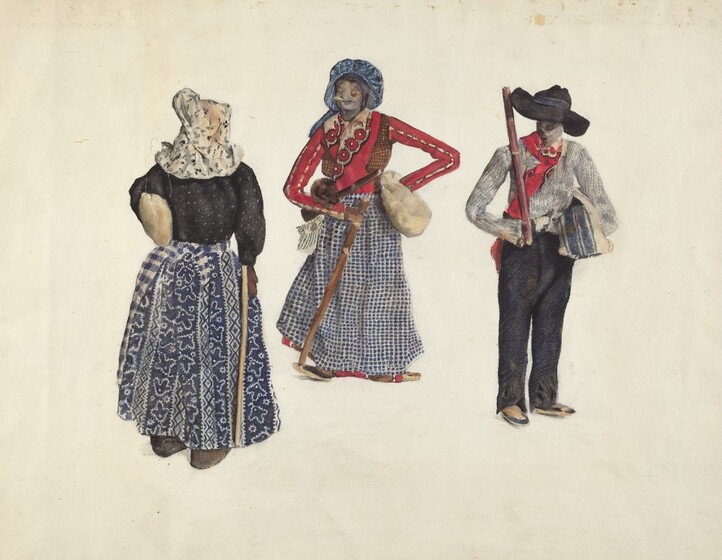 This apple-head trio was designed and made in North Carolina about 1892. Apple-head dolls probably originated with the Iroquois Indians. The expression on the face was produced by pinching the surface of the apple when it began to shrink.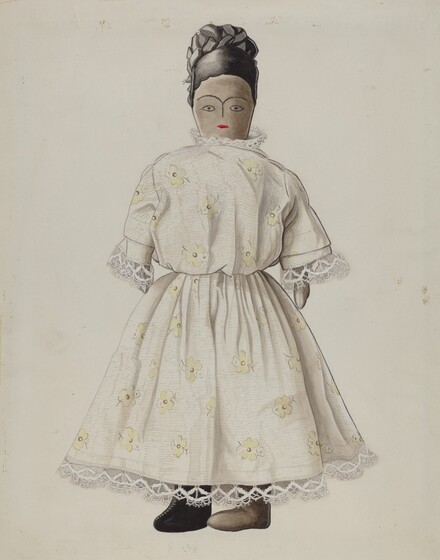 Handmade dolls were among the many crafts produced by people of the Spanish colonial southwest. This rag doll, possibly dating from 1795, was made by a California Indian woman for the original owner, a Mrs. Villa. The doll may be seen as an Indian's interpretation of Spanish colonial women. In the early days of the United States, southwest arts and crafts were often the work of Indian artisans.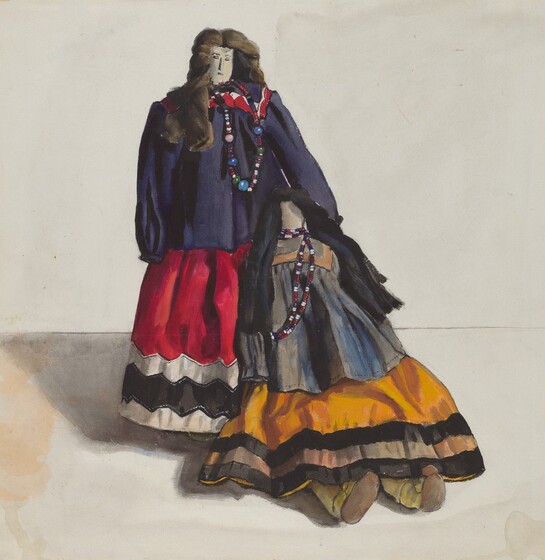 Hundreds of dolls made by American Indians have survived in public and private collections. These two Apache women in voluminous, bright cotton dresses were made in Arizona around 1900. They were passed along from Anna Kittare of San Carlos, Arizona, the original owner, until they found a permanent home in Massachusetts at the Wenham Historical Society. The dolls have cloth bodies and yarn hair.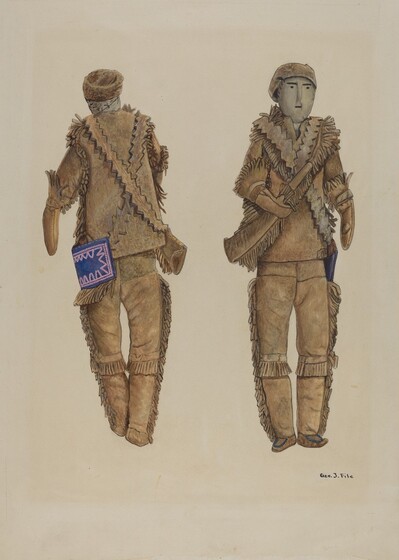 American Indians made dolls depicting white settlers as well as their own people. Here are two views of a frontiersman dressed in buckskin. The doll was made in about 1850 by Plains Indians.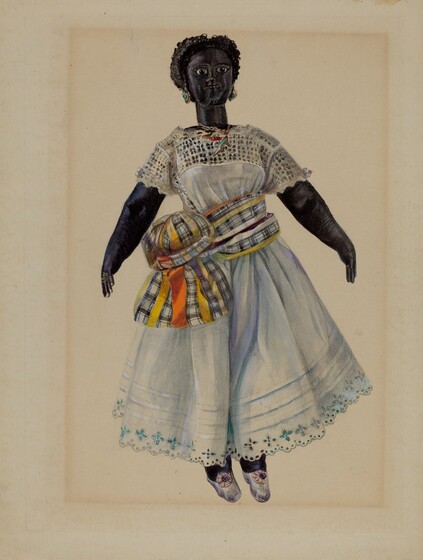 This handsome doll representing a black woman was made about 1870. During the period shortly after the Civil War, black dolls were especially popular. They were again prevalent in the 1890s when dolls of all races appeared in both America and Europe. This doll has a carved wooden head and a stuffed cloth body.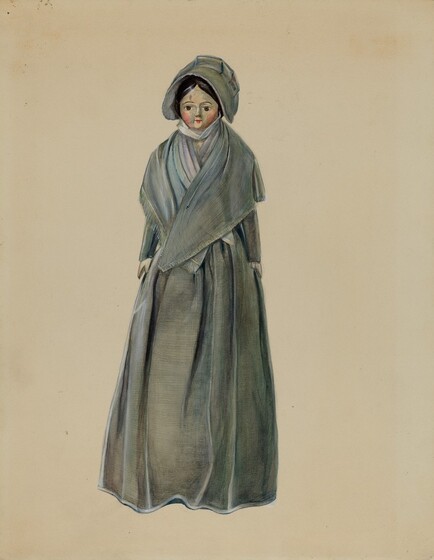 Early American dolls are shown in a wide variety of costumes. This fine doll of the eighteenth century represents a Quaker woman. The doll's head, arms, and legs are made of carved and painted wood. Throughout history, wood has been one of the most frequently used materials for making dolls. For many dollmakers, it was both readily available and inexpensive.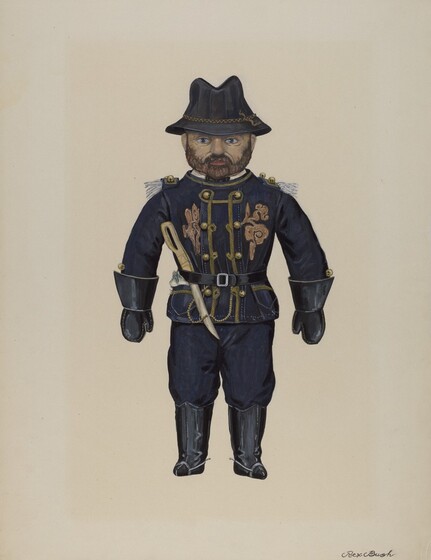 Some of the most interesting dolls were modeled after famous personalities. This doll represents General Ulysses S. Grant of the U.S. Army. It was made in the 1860s for a woman in Cressy, Michigan. The relationship of doll types to historical events is particularly evident in this case, for the doll appeared at the time of the Civil War when General Grant was at the height of his popularity in the North. A variety of materials was used in making dolls during this period, including papier-mâché and rag. Papier-mâché was used for the head of the General Grant doll; the body is made of kid.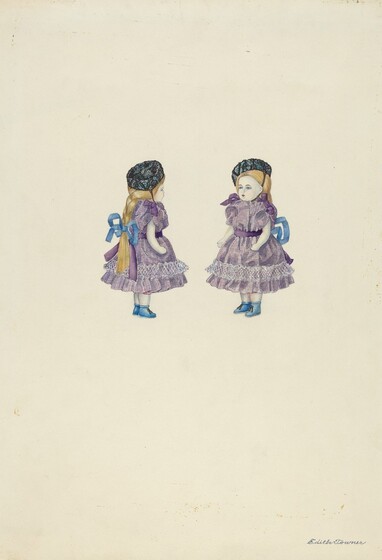 A major category of dolls is the bisque type. Bisque is a ceramic material with a hard, mat surface. Often used for the doll's head alone, the quality of bisque work varies considerably. The tiny doll is only four inches high. It has real hair and wears a lavender dress of cotton trimmed with lace, a purple sash, and purple bows at the shoulders. The cotton turban is black and turquoise; the blue shoes are of self material, that is, the same material as the doll's legs. Popular in America in the 1860s, most bisque dolls were made in Europe, especially in France and Germany. Some examples such as this one may date from an earlier period.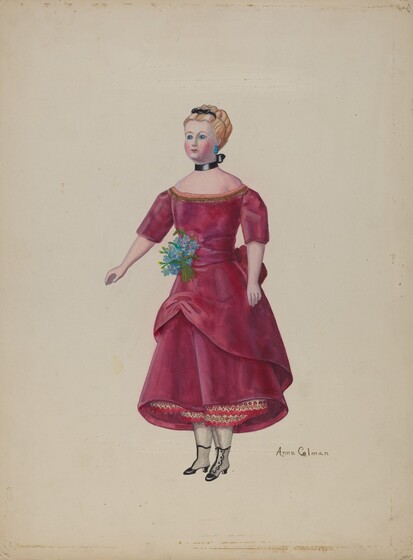 One type of bisque used for dolls was known as "Parian" bisque; this was usually an untinted soft paste or hard paste porcelain. This doll, named "Cornelia," has head, arms, and legs of Parian bisque, with some color added to the cheeks. The doll's body is cloth. The date of the doll is 1876, when Parian dolls with molded hairdos were popular. Wigged dolls' heads, also being made at this time, were principally of tinted bisque. Note the ribbon of self material in her hair. She wears a velvet dress and machine-embroidered cotton underwear. Her eyes are of glass.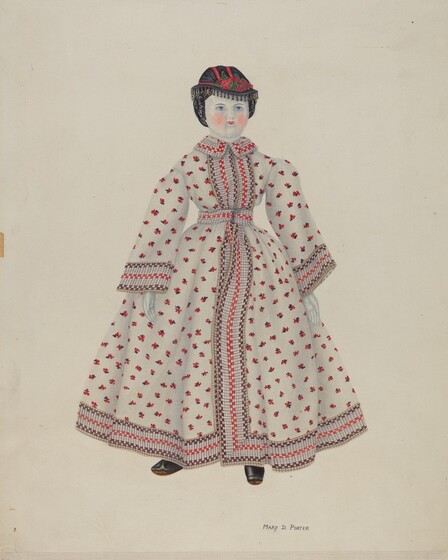 The fashions and tastes of a particular era may often be reflected in its dolls. This Parian bisque doll, dated between 1840 and 1860, wears a costume of sprigged wool challis edged with coordinated braid; the bonnet is velvet edged with black fringe. The style dates from about 1850 when patterned fabrics such as this were fashionable. The doll's hairstyle imitates one popular with children between the 1830s and 1860s.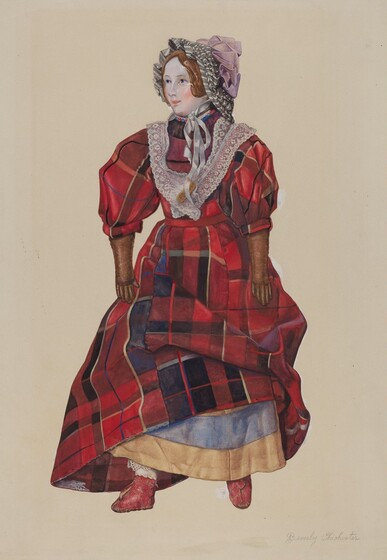 This china-headed doll has a particularly lovely costume. The dress is plaid silk taffeta; it is worn over a petticoat of tan alpaca trimmed with blue silk bands. The pantalettes are of cotton with eyelet embroidery. The doll's hairstyle makes her a collector's item; china dolls with a knot on the head are rare. This feature, however, is almost completely hidden by the silk bonnet. This doll has a cloth body and arms and feet of kid. The head is glazed porcelain. China-head dolls were first made in Europe around 1750 but did not become extremely popular until the 1840s. This doll dates from 1840–1850. Often the heads were imported to America and used on American-made dolls' bodies.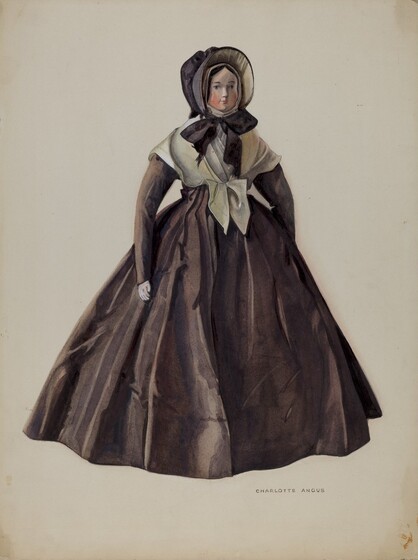 This doll has a fine china head. She wears a black bonnet over a close-fitting white cap. Her dress of taupe silk has a full-gathered skirt. A white shawl is pinned at the waist with an organdy kerchief under it. Three white petticoats and pantalettes are under her dress, and she wears high black shoes. This doll dates from the 1840s or 1850s, when china dolls were becoming popular. Unlike the all-cloth dolls that were often homemade in early America, china and bisque dolls were produced in factories.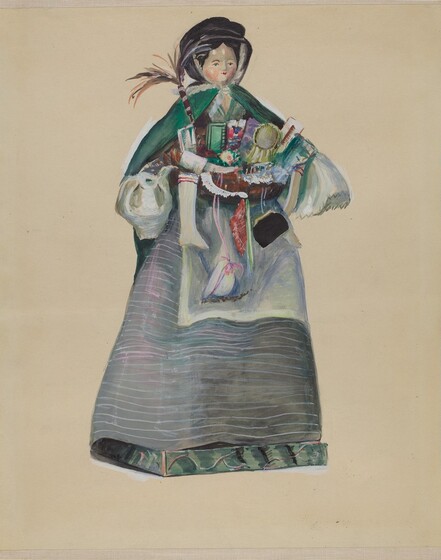 This is a rare and interesting peddler doll; it represents the era of street vendors, who sold items of every imaginable description, from handmade lace to kitchen utensils. This china-headed doll, dating about 1860, carries a basket filled with notions. Such dolls were especially popular during the late eighteenth and nineteenth century in England, where peddlers constantly hawked their wares on the streets.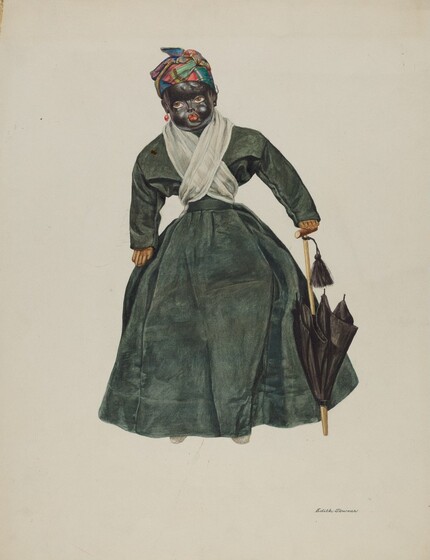 This doll is named "Hanna Hitch." She is a black china-head doll made in Germany and dating from 1876. She has kid arms and a cloth body. The doll's costume is of gray-green alpaca with a plaid taffeta turban. Black china-head dolls are rare; the heads for such dolls were more often made of bisque or other materials. Germany was a leader in the production of china dolls, especially after 1870 when factory methods were introduced. A great number of china and bisque dolls in the nineteenth century came from Germany because dollmakers were being subsidized by the government and could sell the dolls cheaply.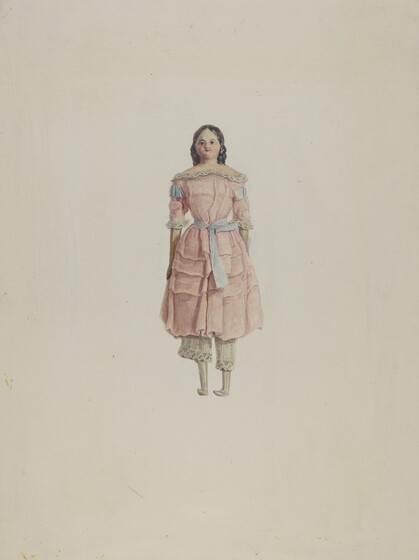 This doll is one of the loveliest of the so-called "milliner's models." The term is actually a misnomer, for such dolls were meant to be used as toys. Many early nineteenth-century paintings show children holding such dolls. There may have been actual milliner's models before the toy doll of that name came into use, but we do not know how close the resemblance between the two may have been. This doll is dated about 1834. The costume is simple and beautifully made; the hairstyle is that of a young girl of the period. Pantalettes are typical for this sort of doll.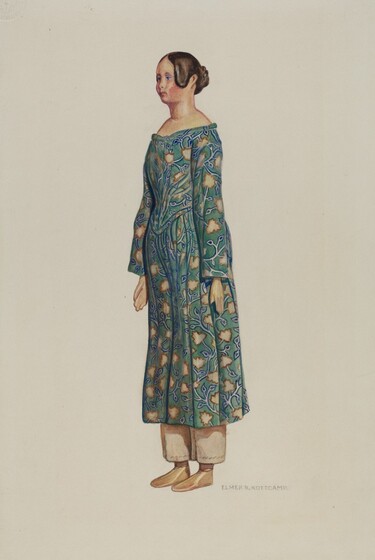 This milliner's model doll is a much sought after type with a knot at the back of the head. Because her ears show, this doll is particularly interesting to collectors. Most milliner's model dolls are from the first half of the nineteenth century. This one, dating from 1843, wears a muslin dress and muslin pantalettes.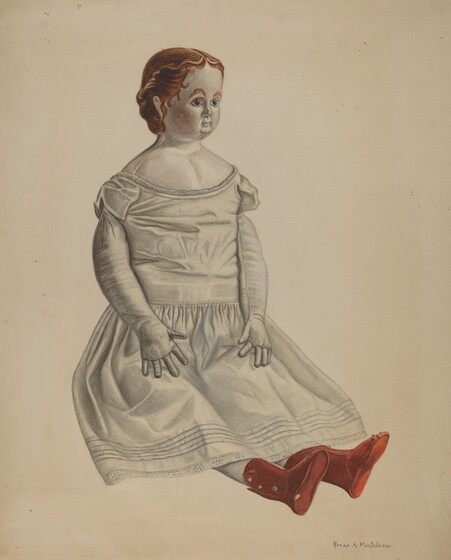 Papier-mâché was a widely used substance for making dolls. Papier-mâché itself is a composition made from paper pulp combined with various other substances. Dolls made of this material reached a height of popularity in the mid-nineteenth century. They first appeared much earlier, however. Edouard Fournier's History of Children's Toys and Games mentions the use of this product by dollmakers from the time of Francis I of France, about 1540. Centuries later, in 1858, the first known patent for a doll's head in the United States was issued to Ludwig Greiner of Philadelphia for his paper-mâché model. This doll, named "Nina," has a unique history. Behind her innocent-looking face, in the hollow of her paper-mâché head, she smuggled morphine and quinine across the border during the Civil War.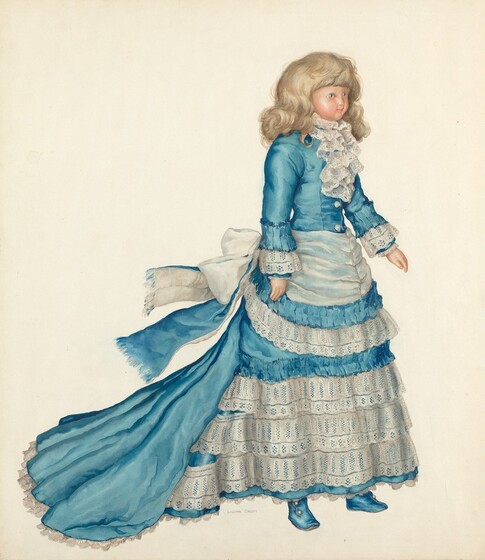 Wax dolls have been made from very early times — by the ancient Romans, for example, on through the first quarter of the twentieth century. This wax doll was probably made in England, which was noted for its wax dolls in the last half of the nineteenth century. This doll dates from the 1870s, and her elaborate costume is typical of the period. The dress is of blue taffeta trimmed with white organdy lace. The doll's childlike face and hairstyle might seem better suited to a child's body, but the true child doll was not yet common. Not until the 1880s was there a change from predominantly adult dolls to dolls representing children and babies. Many collectors still prefer dolls with features of a child but dressed as an adult.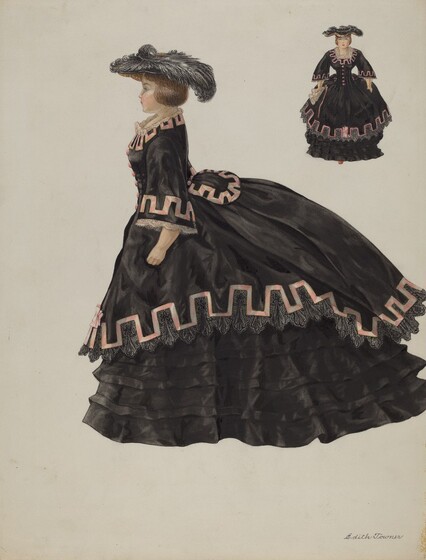 This beautiful wax doll of about 1871 is named "Belle Hervey." She has real hair embedded in her wax head. This was an expensive process, characteristic only of luxury dolls. Belle's arms and legs are also wax, while her torso is made of cloth. Her eyes are glass. The overdress with postillion is of black taffeta trimmed with pale pink silk ribbon and black lace; there are pink buttons on the basque, or bodice, and the shoes are bright red and buttoned. Her underclothes are trimmed with bands of tucked muslin and lace; there is a pink edge on the dainty lace hose.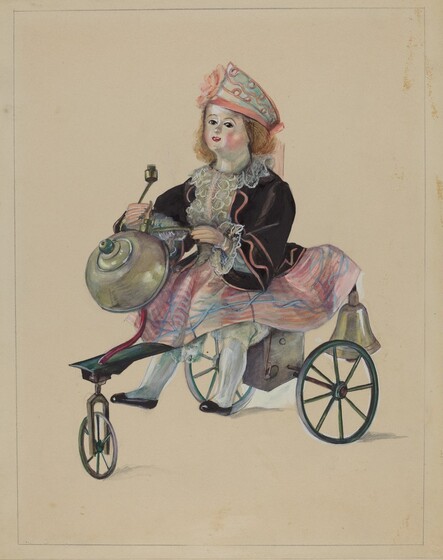 The 1860's began a golden age for dolls. It was also during this decade that some interesting changes in doll-making occurred and a number of new patents were obtained. Before 1860, for example, dolls were not jointed and therefore usually not able to sit down. This charming mechanical doll of the early 1860s mot only sits on her three-wheeled iron velocipede, but strikes the bell in front of her as the tricycle moves. The rear bell chimes with the forward movement. The doll is dressed in a black velvet jacket, a silk blouse trimmed with white lace at the neck and sleeves, and a pink and white striped skirt. Notice the jaunty til of the satin military-style hat adorned with pink ribbons and braid.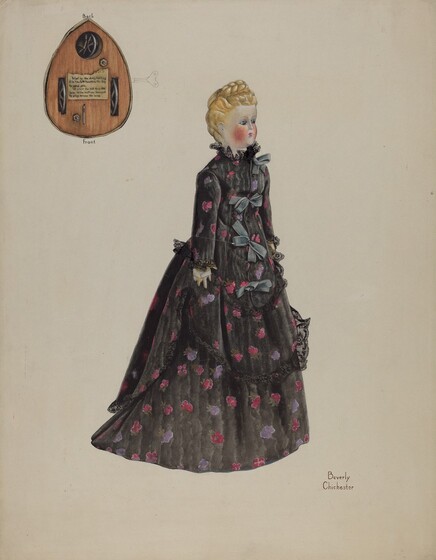 Beverly Chichester (artist), American, active c. 1935, Anonymous Craftsman (object maker), Edison Institute of Technology (object owner), Walking Doll, c. 1938, watercolor and graphite on paperboard, Index of American Design, 1943.8.15540
In 1862, Enuch Rice Morrison obtained patents in both England and America for an "Autoperipatetikos," or walking doll. The walking mechanism was operated by a clock spring. The underside of the mechanism is illustrated at the upper left. It is encased in a wooden base attached to the doll with papier-mâché backwheel pivots. The heads of walking dolls were made in a variety of materials; this one is Parian bisque. The arms are of kid. The doll's black moiré dress is trimmed with black lace.
More Index of American Design Features
Folk Arts of the Spanish Southwest