Woodcarving from the Index of American Design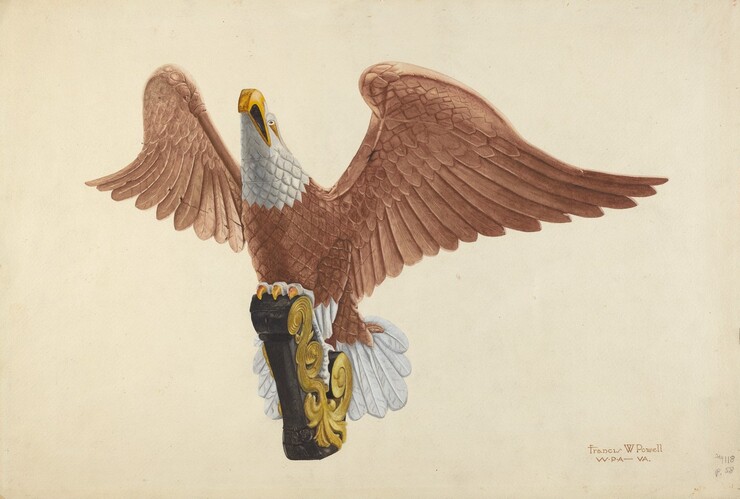 Overview

This program presents a selection of renderings of American woodcarvings, primarily of the nineteenth century. The selection is organized into five groups that are typical of this craft. These categories, though by no means all-inclusive, are ship carvings, shop figures and trade signs, circus and carousel carvings, weather vanes and whirligigs, and dolls and birds. Nineteenth century American woodcarving is part of our folk tradition. Even though some carvings reflect other sources, they are still American -- an expression of the time and place from which they came and of the craftsmen who produced them.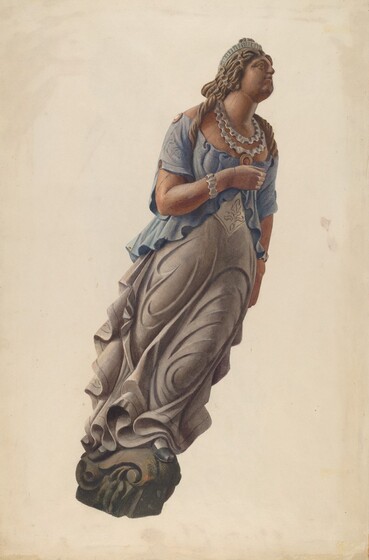 American figurehead carvers were famous for their work, which flourished from colonial times until the late nineteenth century. Aside from figureheads, these versatile craftsmen also produced sternboards, gangway boards, billetheads, and other wooden decorative carvings for ships. Almost every class of ship, from steamboats to whalers to clipper ships, came to be ornamented with carving. There was great variety among American figureheads, but this example represents the most characteristic type: a full-length female figure, seeming to step forward as she gazes out to the sea, the drapery of her gown apparently windblown. This figurehead, from the sailing ship White Lady, is one of the best surviving examples. It is attributed to Charles G. Sampson, of Bath, Maine, and was carved about 1870. The carving of the drapery is quite exuberant but consistent with the shape of the figure. As a practical measure, the grooves are deliberately slanted to shed water. The bent forearm is fashioned from a separate piece of wood but is kept close to the body, retaining the compactness of the whole.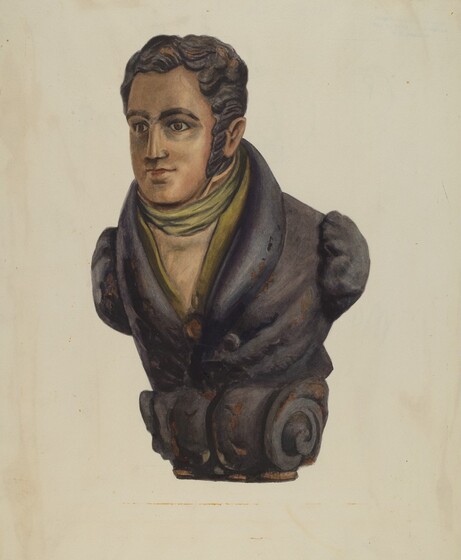 Busts or half-length figureheads were often used for small ships. This piece was made for a New Bedford whaler called the Bartholomew Gosnold. New England shipbuilders were producing whaling ships before the Revolution, and by the time the Bartholomew Gosnold was launched in 1832, New Bedford was the whaling capital of the world. Whalers were relatively small working ships with modest decorations. This portraitlike bust, dressed in the costume of the time, with an eager, animated expression, is modeled after Yankee skippers of the early nineteenth century.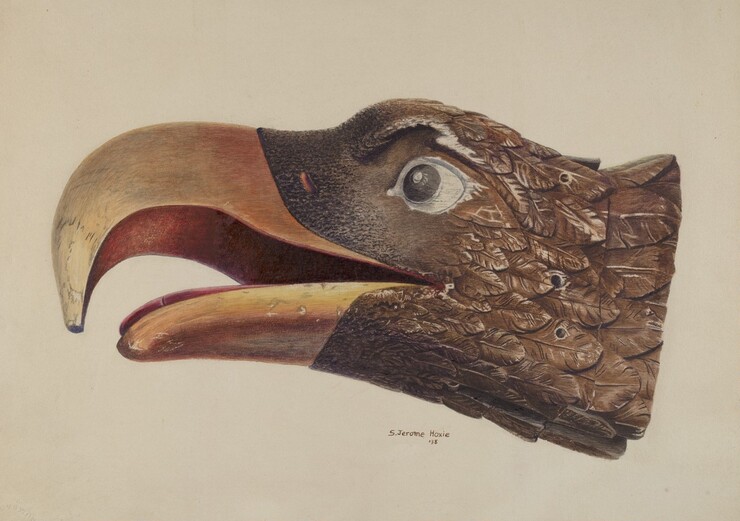 Some small vessels had only an eagle as a bow decoration. In this eagle head, the carving terminates at the neck. Aside from patriotic associations, the eagle, with its sharp eyes, was especially appropriate to symbolize a lookout or guide. This particular example served as a figurehead on the Great Republic, which was launched at Boston in 1853. The piece was carved by either S.W. or William B. Gleason. Eagles were also popular decorations for sternpieces and the top of a ship's pilothouse.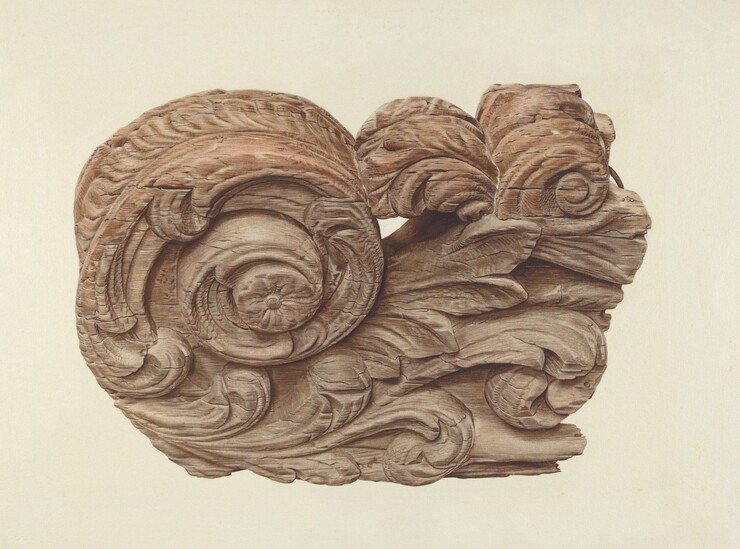 The billethead, in use for centuries, was common in America between 1830 and 1880. An alternative to the figurehead, it was a less elaborate and costly decoration for a ship's bow. Despite its smaller size and lack of a nameable subject, carvers often lavished it with considerable attention. The liveliness of this example with its lush foliate design and crisp carving bespeaks an experienced and talented craftsman. At one time painted (the Index data sheet describes minute traces of black and salmon), its cracked and weather-beaten surface is evidence of its age and history. According to the records of the Peabody Essex Museum in Salem, Massachusetts, in whose collection the object has been since 1905, this billethead once decorated the ship Favorite. Built at Bath, Maine, in 1853, the Favorite plied a route between New Orleans and Boston, carrying a cargo of cotton, molasses, and sugar. She was wrecked off Salem harbor January 29, 1855.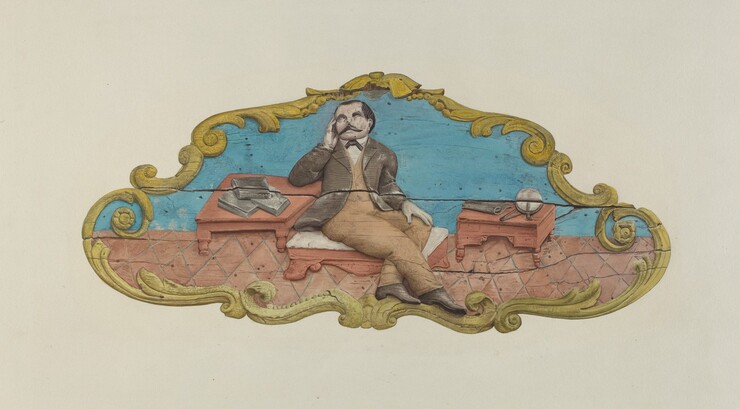 The stern of the ship was usually decorated with a sternboard or sternpiece, such as the one shown here. The eagle was a favorite motif, but other subjects included allegorical figures, the American Indian, and occasionally the shipowner or his wife. This sternpiece was made for the John Penrose, in the early nineteenth century. It shows the owner in a thoughtful pose, surrounded by books, a globe, and a compass, indicating his scholarly and nautical interests.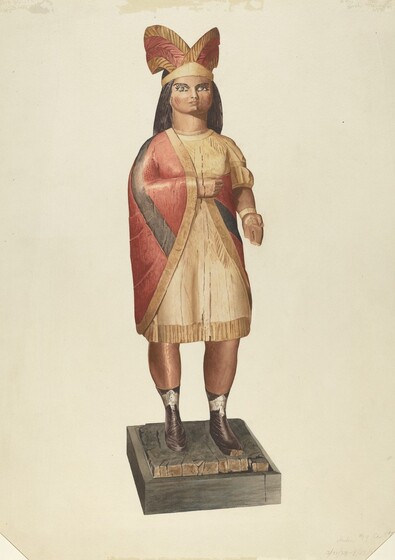 Shop figures and trade signs are a form of American folk art that is still in use today for ornamental purposes. The first shop signs, however, were not only decorative, they were a practical aid to those potential customers that could not read. In addition, signs pinpointed the location of a shop before the days of house numbers. Early American streets presented a lively picture of activities with signs such as barber poles, wooden Indians, gloves, clocks, boots, and spectacles calling attention to services or goods offered for sale. Some carvers of shop figures and signs were drawn from among the makers of ship decorations. The shift in emphasis was increasingly felt in the late nineteenth century, when figurehead carvers were being forced out of business with the demise of the clipper ship era. These craftsmen gradually turned to the full-time production of wooden Indians and other signs. The Indian, as the first American to cultivate tobacco, became the traditional symbol for cigar stores. The production of wooden Indians flourished from about 1840 to the end of the century. In the 1890s, city ordinances required that figures be confined to the interiors of shops, and gradually the statues went out of use. This woman, or Pocahontas, as female Indian figures were sometimes called, was made by a particularly capable artisan. The pose of the statue reflects classical or Egyptian inspiration. The figure is elegantly fashioned; the stance seems natural, the costume has been simplified, and the colors are harmonious.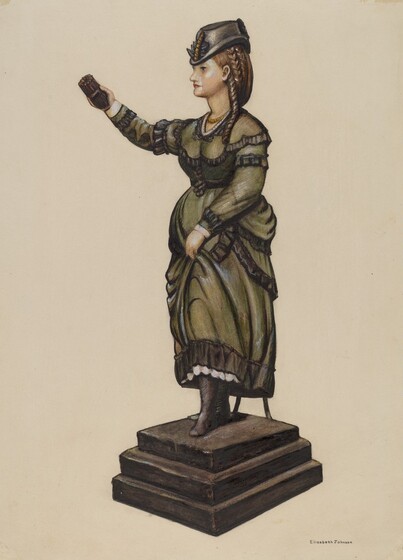 Wooden figures produced for tobacco shops included many subjects other than Indians. This example represents a lady of fashion, dressed in a costume for riding a horse. Her stance is quite daring for the Victorian period: by revealing her ankles she shows to what lengths tobacconists would go to attract customers. The figure comes from Arizona, a state where there were few women and where such a gesture would be sure to command attention.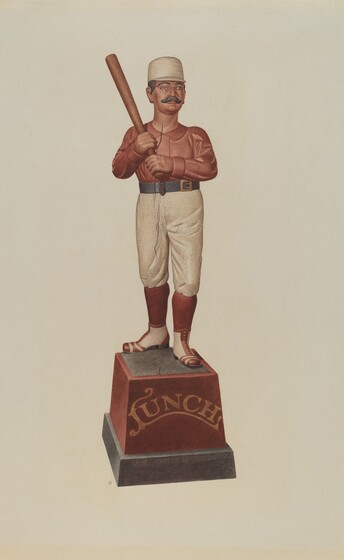 This shop figure clearly advertises the lunch offered by an eatery. Less visible in the rendering is the inscription, "Robb MANUF'R. 114 Centre St. New York," which refers to the premier carver of show figures and trade signs at the time, Samuel A. Robb (1851-1928). Robb had been apprenticed to a carver and then studied drawing from life and from casts at the National Academy of Design and perspective drawing at Cooper Union. By 1875 he had set up his own shop in New York. During this decade baseball players became the favorite subject for cigar-store carvings, and Robb's workshop produced several. It is possible that the mustachioed batter in Ryder's rendering, probably carved between 1888 and 1903, is Mike "King" Kelly, to whom he bears a strong resemblance. Kelly, a catcher who played for Cincinnati, Chicago, Boston, and New York between 1878 and 1893, and who was inducted into the Baseball Hall of Fame in 1945, has been called the first superstar of baseball.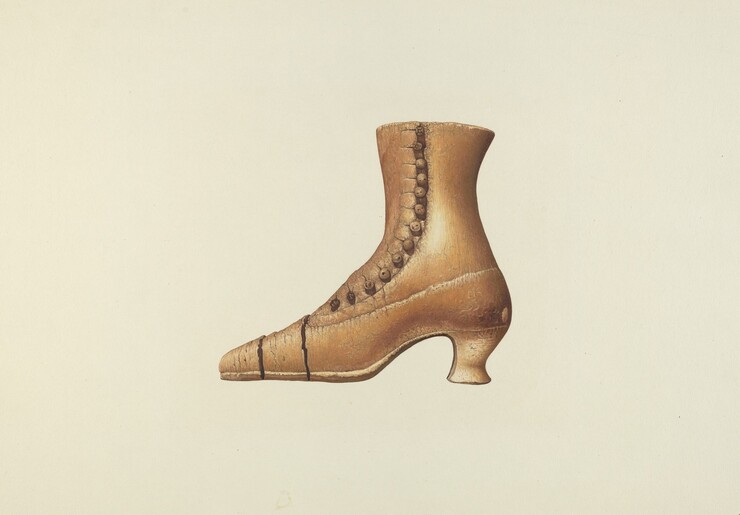 Not all shop signs were human figures. Many, like this shoe, simply exhibited a sample of the goods for sale within. This is a more direct method of advertising. This carving of a shoe is a fine piece of craftsmanship, with graceful lines and precise details. The grain and character of the wood are shown to good advantage.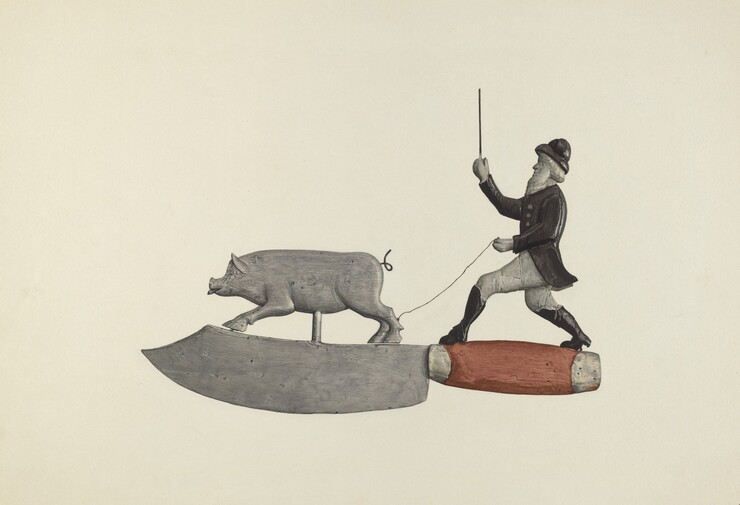 The ideal trade sign was completely self-explanatory. This butcher's sign is not only clear in its message, but it is well composed and witty in design. It was made between 1830 and 1850 for a slaughterhouse.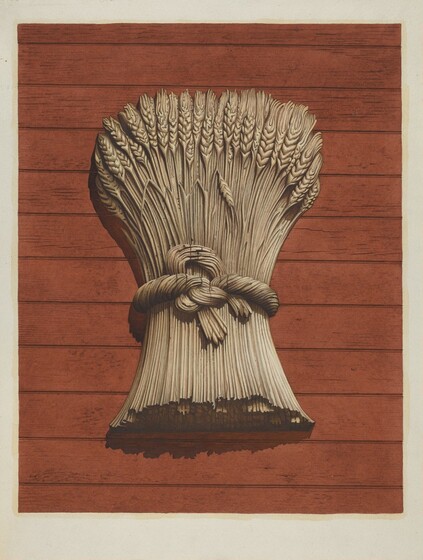 A much-admired shop sign was this sheaf of wheat, carved in relief by Clark Noble about 1900 for a bakery building. Heads and stems are carefully differentiated, while the simplicity of the sheaf's contour contributes to the total effect.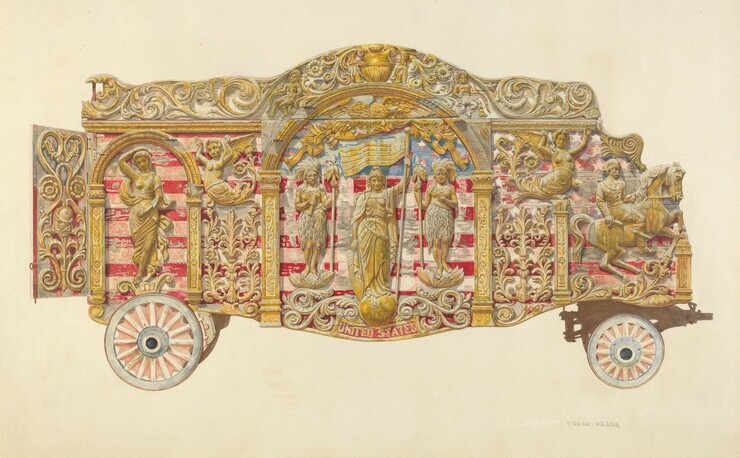 The traveling circus received its start in America in 1824, when John Robinson took three wagons, five horses, and a tent across the Allegheny mountains. It was not long before the American circus became the "Greatest Show on Earth," bringing excitement to many towns, small and large, across the country. Circuses were transported by means of wagons, which became glamorous showpieces in themselves. The wagon builders employed woodcarvers to decorate the exteriors with figures and scrollwork. The result added to the impressive effect of a traveling company. Few circus carvings remain, however; not only were the wooden figures perishable, but they were not taken seriously in their own time and usually were not considered worthy of preservation. This circus wagon, of about 1875, is named "United States." Elaborately gilded and carved, it appropriately displays the Goddess of Liberty flanked by Indian maidens as symbols of our country.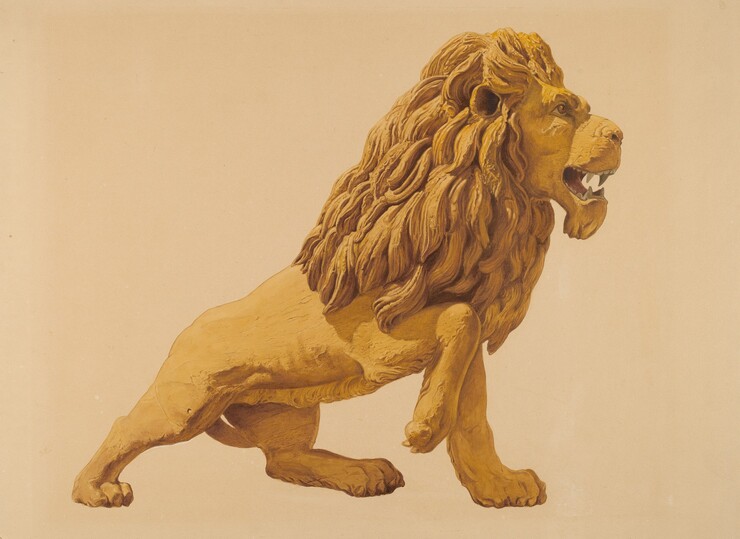 The ornament of circus wagons was not intended to be studied carefully; it was meant to give a momentary impression in the passing parade. The same applied to the lavish floats depicting tableaux of historical or religious events. The carvings used for these purposes needed to be robust and colorful in order to have an effect as they passed by the crowds. This ferocious lion was designed to strike terror into the hearts of small children.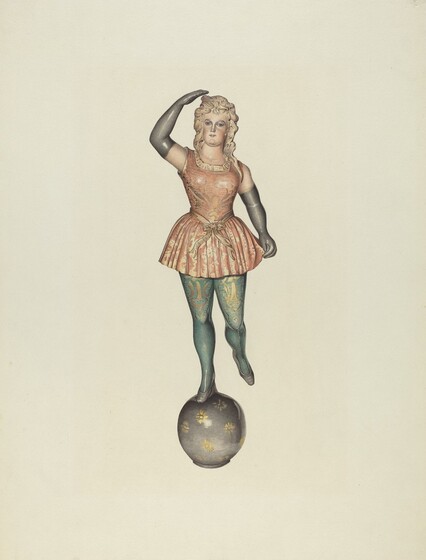 This ballet girl, a rather plump blonde with luxuriantly disheveled hair, was an ornament for the calliope, or steam organ. Carved around 1895, it is typical of the figures of dancers and musicians favored as suitable subjects for calliopes.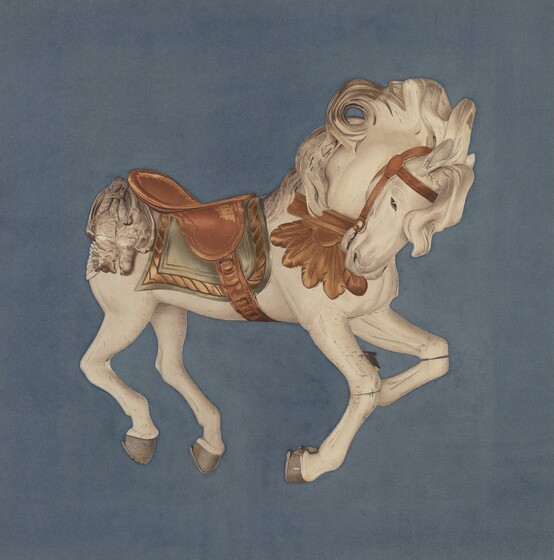 Carousel sculpture was another type of woodcarving important to circuses and to amusement parks. While crude carousels of various kinds had been available in America before the Civil War, the carousel with a rotating platform did not appear until 1879, when a version was first made in North Tonawanda, New York. Carousels became regular attractions at fairs and carnivals as well as at circuses. Their numbers increased greatly during the last years of the nineteenth century. One of the best-known makers of carousel animals was Charles Looff, who worked in Riverside, Rhode Island, and produced a wide range of animal figures between 1876 and 1918. Looff probably carved this fine, galloping steed after the turn of the century, since it is consistent with his late style both in liveliness and in the splendor of the animal's mane and accessories.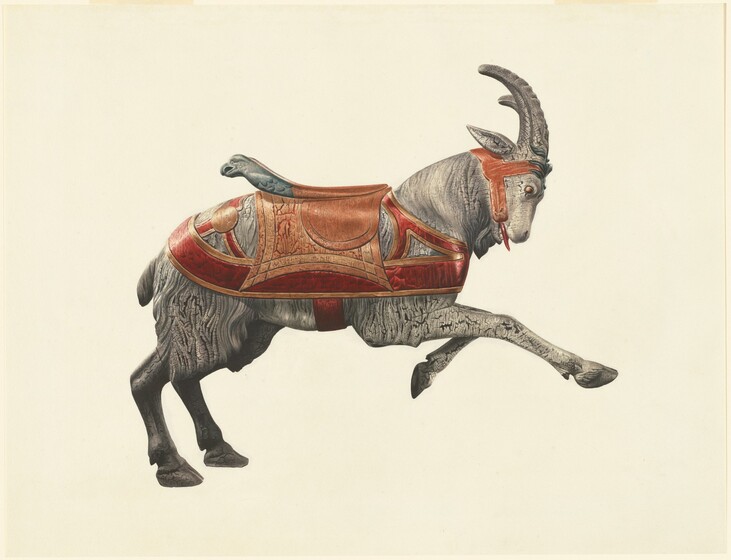 This goat once graced the Island Park Carousel in Portsmouth, Rhode Island, which opened in 1905/1906. The carousel was one of about forty built by the Charles I.D. Looff Company. Looff, a German immigrant, was a skilled artisan and woodcarver. The success of his first carousel, installed in 1875 at Coney Island, allowed him to open a factory in Brooklyn. Soon he had factories in East Providence (Riverside), Rhode Island, and Long Beach, California. Looff carved many works himself and, as his business grew, also employed a number of master carvers with their own distinct styles. Although the horse was the most popular subject, carousel animals often included dogs, bears, lions, giraffes, roosters, ostriches, and reindeer. This particular goat was recorded by Index artist Donald Donovan. He captured the well-used figure in great detail, showing the eagle-head saddle cantle and the weathered paint finish.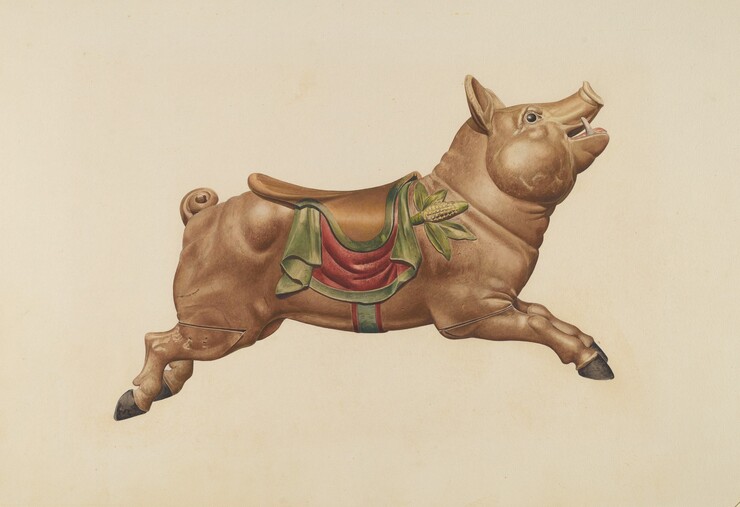 This pig is an example of the wide variety of domestic and exotic creatures designed for carousels. Though realistic, it is made particularly appealing for the purpose of the carnival. The surface modeling is dynamic, and the accessories are well carved. While hand-carved wooden carousel animals continued to be made well into the nineteenth century, they were eventually replaced by less expensive and less perishable versions in metal, plastic, and fiberglass.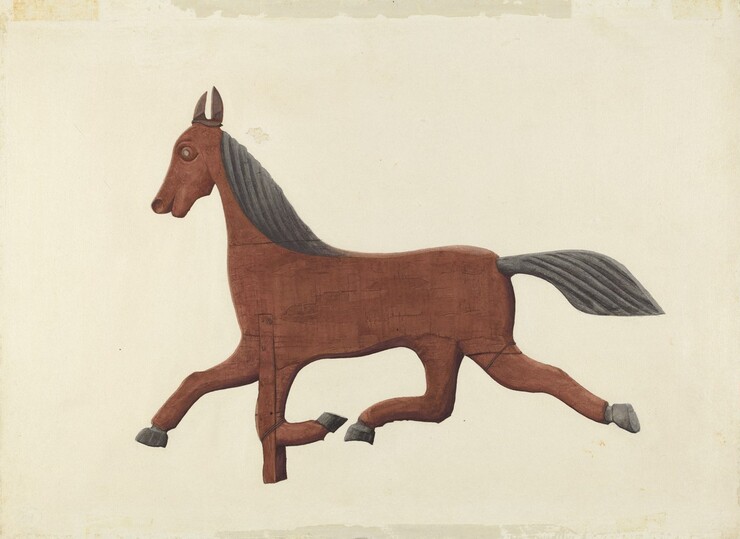 Certain wooden household articles were related functionally. Weathervanes, designed to adorn the roof of a house and to move with the wind, were akin to whirligigs. The latter also functioned as toys. Weathervanes, among the first meteorological instruments, have been a part of American folk art for more than 300 years. While many were made of metal, a large number were also of wood, providing one of the earliest avenues of expression for the woodcarver's art in America. The first American weathervanes were probably used on churches and were frequently in the shape of roosters -- a reference to Christ's warning that Peter would deny him before the cock crowed twice. But flourishing farm life in the nineteenth century prompted the adoption of many diverse silhouettes. Running-horse weathervanes were popular. Some were fashioned after Currier and Ives prints, but this one is somewhat more unusual. While interesting texture is added through the repeated grooves of mane and tail, the artist has concentrated on uninhibited, flowing contours. The most important aspect of a weathervane, indeed, was its silhouette, since it would be viewed from a distance against the sky.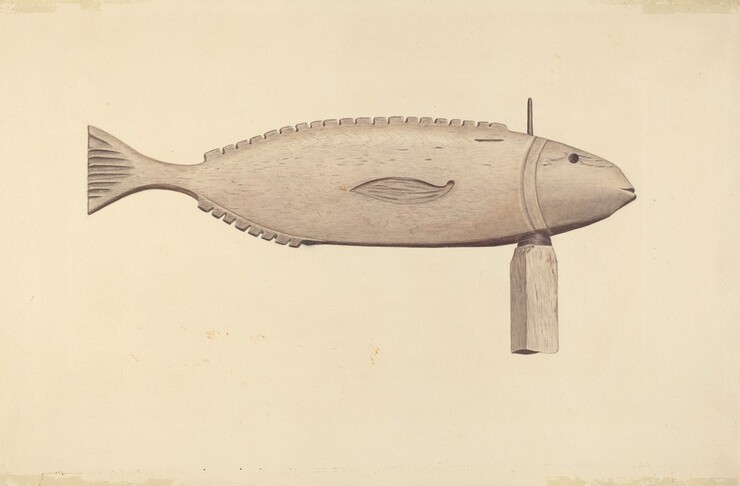 The fish, one of the symbols of Christianity, was a form originally used for church weathervanes in Europe and early America. Fish weathervanes later appeared abundantly along the Eastern coast, particularly in New England, as a kind of regional symbol. This example exhibits the simple repetition of pattern -- here, little blocks along the upper and lower contours -- that is a characteristic of folk art.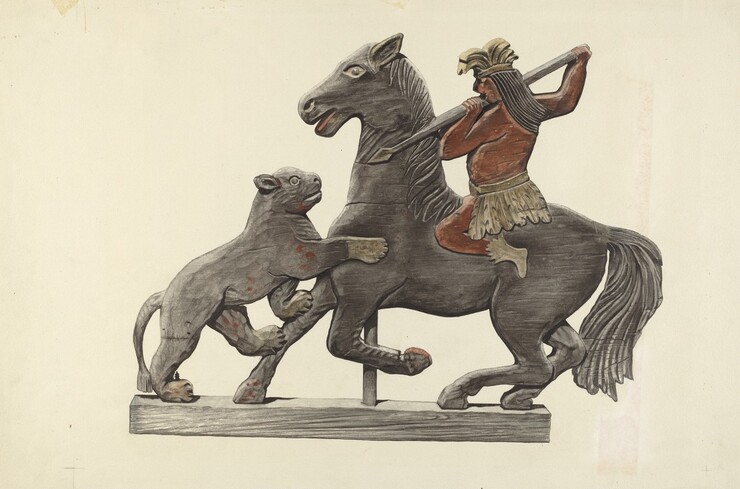 Compared to most weathervanes, which are single figures, this example was an ambitious project. Carved by an artisan from Salem, Massachusetts, the three figures represent an Indian, on a horse, about to spear an attacking mountain lion. On the whole the composition succeeds well; the diagonal line of the spear and upward-lunging animal contrasts with the backward movement of the horse. The tail and mane of the horse have been given particular attention in their detail.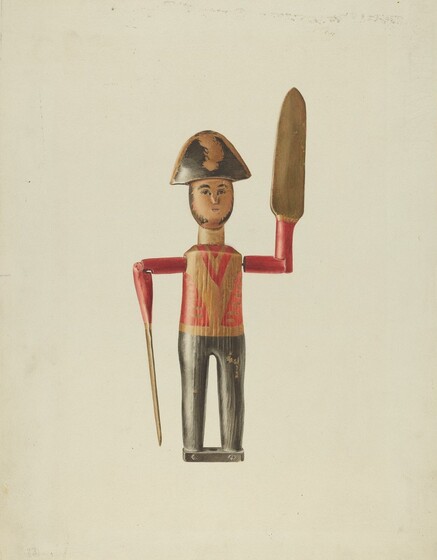 The whirligig is a special kind of weathervane, which can indicate velocity as well as wind direction. Based on the principle of the windmill, whirligigs were usually in the form of a human figure so that the paddlelike arms, extending in opposite directions, could be set spinning by the wind. Although the larger whirligigs were undoubtedly placed outdoors to function as vanes, smaller versions may well have served as children's toys. A clue for dating whirligigs is the costume of the figure. This example, known as "Sailor Jack," wears a hat that suggests an officer in the War of 1812. Thus, it was most likely made in the early nineteenth century. The carving of the figure, however, is timelessly abstract.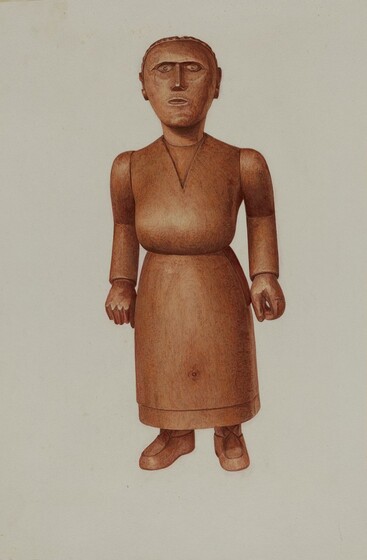 A fine example of a child's toy is this wooden doll made of pine. In the long history of doll-making, wooden ones were among the first to be produced in any quantity. This doll comes from New Hampshire where it was probably created about 1790 by a carver living in a Swiss settlement. The unpainted, natural wood has a smooth and beautifully grained surface. The doll's dress and shoes are carved in the wood.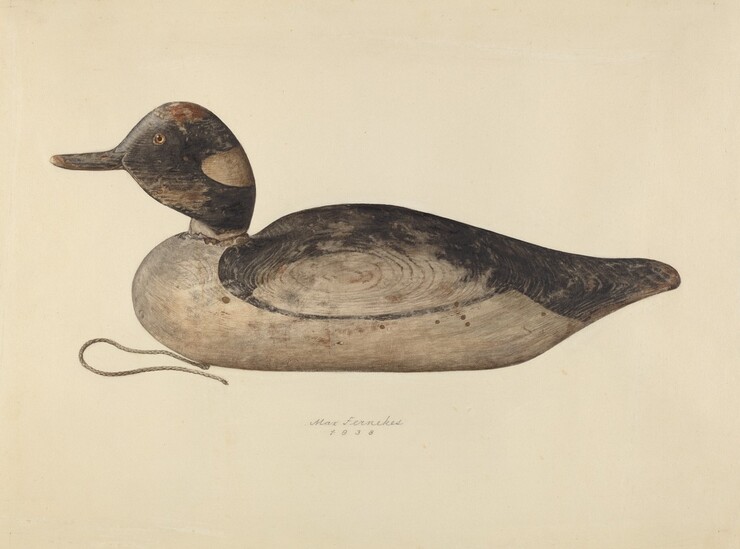 The art of carving wooden birds, whether for use as decoys or for purely ornamental purposes, has long been popular in America. This example is from the Mason Factory in Detroit, which was active from 1896 to 1924. Large workshops produced decoys in response to the demands of commercial hunters before the industry came to a sudden end with the passage of the Migratory Bird Treaty Act in 1918. The Mason Factory was one of the most important suppliers of factory decoys, offering five different grades that varied in detail and degree of hand-finishing. This decoy was rated a Challenge grade (next to best). It was carved from a single block of wood except for the head, which was attached separately and featured glass eyes. The originally fine paint surface has worn considerably, but the bird is still recognizable as a bufflehead drake, even though it is slightly longer and less stocky than its living match. Decoy forms were typically kept low and broad to prevent them from overturning in rough water.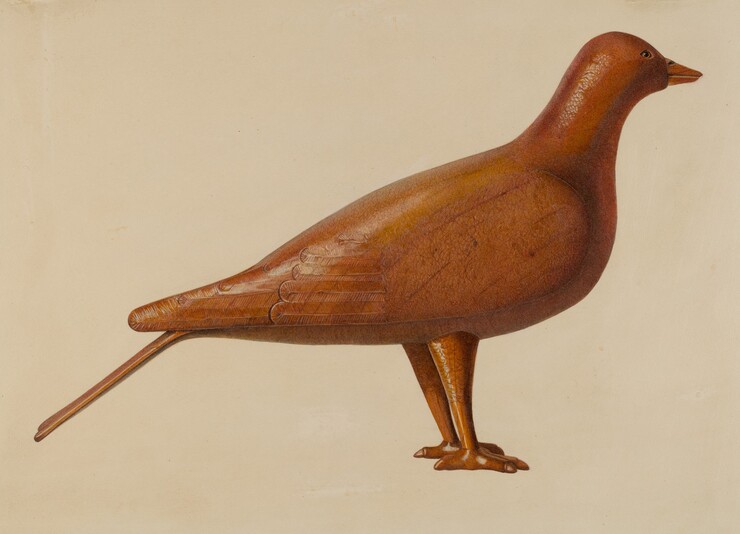 Bird carvings such as this dove fulfilled an ornamental function. The faithfully rendered shape of this example has a flowing contour, with the feathers, claws, and bill carefully articulated. While decoys were usually painted, carvers of ornamental birds often preferred unpainted natural wood.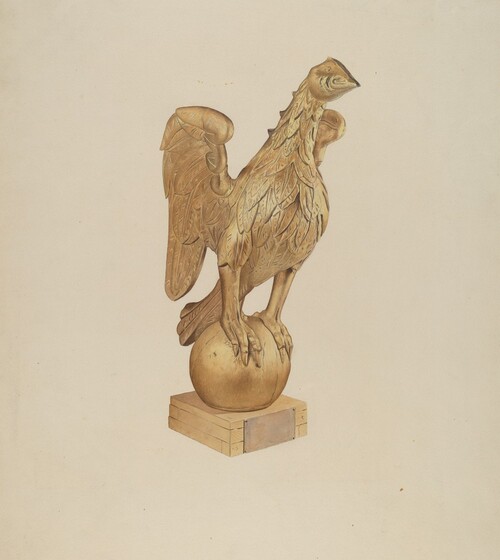 Early American bird carvings were frequently used as ornaments for fences or gateposts. One such carving is this bird, which probably represents a chicken, as suggested by its head, beak, and clawed feet. It is dated 1750. After 1782, the eagle, which became the symbol of the new republic, was a frequent theme of woodcarvers and also decorated fence and gateposts.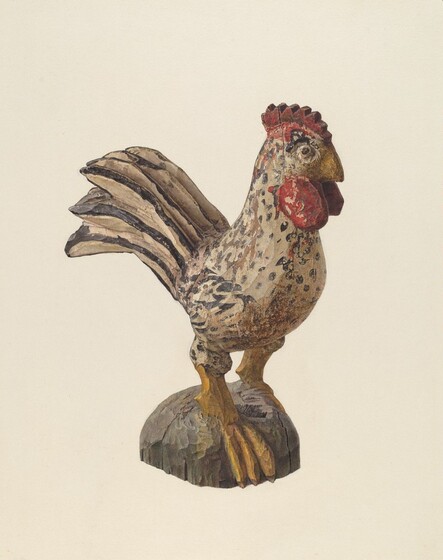 Marian Page (artist), American, active c. 1935, Wilhelm Schimmel (object maker), American, 1817 - 1890, Harry Vinton Long (object owner), Rooster Woodcarving, c. 1940, watercolor, gouache, and colored pencil on paperboard, Index of American Design, 1943.8.8111
Wilhelm Schimmel was a Pennsylvania carver well known for his eagles, parrots, and roosters. An example of his work is this small, perky rooster. Though just ten inches high, it has an air of monumentality. Schimmel, born in Germany, immigrated to the United States shortly after the Civil War. He was an itinerant worker who wandered the Pennsylvania countryside making carvings to earn his keep. His only tools were a jackknife, bits of glass to smooth away the knife marks, and a few paint brushes. He died in a almshouse, but today his carvings are famous.
More Index of American Design Features
Folk Arts of the Spanish Southwest