Introduction
The thriving musical and theatrical life of 19th-century Paris gave Edgar Degas his pick of opera companies, but he formed an attachment only to one: the Paris Opéra, an illustrious institution tracing its origins to the Royal Academy of Music founded by Louis XIV in 1669. From its inception, the academy staged operas that integrated music and dance, and as the genre developed over the next two centuries, French opera audiences continued to expect ballet sequences alongside arias. For Degas as well as many of his contemporaries, the ballerinas remained a key attraction of French opera. [fig. 1]
Degas came of age at a time when extravagant spectacles known as "grand operas" reigned supreme at the Paris Opéra. Consisting of four or five acts, grand operas filled the stage with large choruses, numerous soloists, and a corps of spritely dancers accompanied by a full orchestra. Sets were complicated and costumes lavish as designers sought to capture the medieval and Renaissance subjects that grand operas favored. Works by Giacomo Meyerbeer, whose Robert le Diable (1831) was the only specific opera Degas ever depicted, epitomized the genre, which faded in popularity in the later decades of the century. [fig. 2]
Le Peletier and the Garnier Theaters
In Degas's lifetime the Opéra performed in two different buildings. The first, Le Peletier, was by all accounts neither grand nor beautiful. [fig. 3] Hastily erected as a temporary home for the Opéra in 1821 following a fire that destroyed a previous theater, it nevertheless boasted excellent acoustics and was the first French theater to use gaslight. In 1873, it too burned down, although its replacement had already been under construction for several years. Designed by Charles Garnier, the new, resplendent opera house—still in operation today—was one of the major building projects initiated by Emperor Napoléon III (who was deposed before the building opened in 1875). [figs. 4, 5, 6] Degas mourned the loss of Le Peletier and never warmed to the extravagance of the Garnier theater, despite spending his most active years of opera attendance there. At the Garnier he gained access to backstage spaces and observed the interactions of dancers and dark-suited season ticket holders. [fig. 7] However, the settings of his opera scenes have more in common with the erstwhile Peletier than the Palais Garnier.
Degas and Music
Music was a lifelong passion for Degas. Neither a musician nor singer himself, he was raised in a family with a strong appreciation for musical performance. For years his father, Auguste De Gas, hosted weekly musical salons at which amateurs and professionals alike sang and played instruments. [fig. 8] Auguste passed on his love of eighteenth-century music to his son, whose favorite composer was Christoph Willibald Gluck. Wolfgang Amadeus Mozart and Johann Sebastian Bach also ranked high in Degas's esteem, and he counted several contemporary composers among his friends and acquaintances. The performances he attended as a season ticket holder in the 1880s and 1890s included works by composers in his own musical circle such as Charles Gounod and Ernest Reyer, as well as operas in the grand style by the likes of Meyerbeer, Gaetano Donizetti, Giachino Rossini, and Giuseppe Verdi.
Over the course of several decades Degas portrayed many figures associated with the Parisian opera and ballet world as well as in his own musical circle. Some of their stories are told below.
Degas's People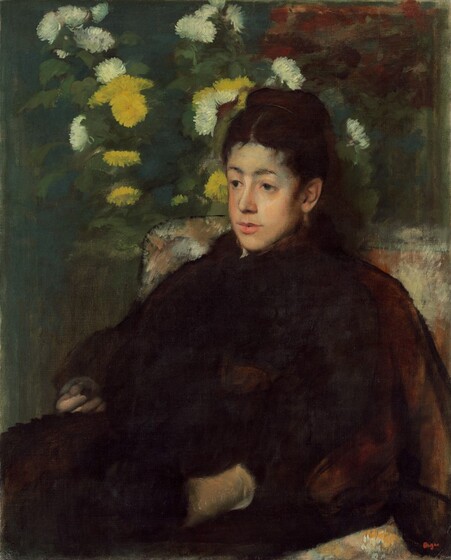 Little is known about Thérèse Malot beyond her relationship with the Degas family. She was a dancer at the Opéra in the 1860s who presumably served as the model for at least two of Degas's ballet pictures and was the subject of three portraits (her sister Augustine, also a dancer, is a possible, but less likely model). Degas had reason to know Thérèse beyond her role in his art, however, since she and the artist's younger brother, Achille, had engaged in a love affair for years. In 1875, after they had ended their affair, a public quarrel with Malot's husband led to Achille pulling a revolver and attempting to shoot the man. None of his shots found their target, but Achille was sentenced to six months in prison following this encounter.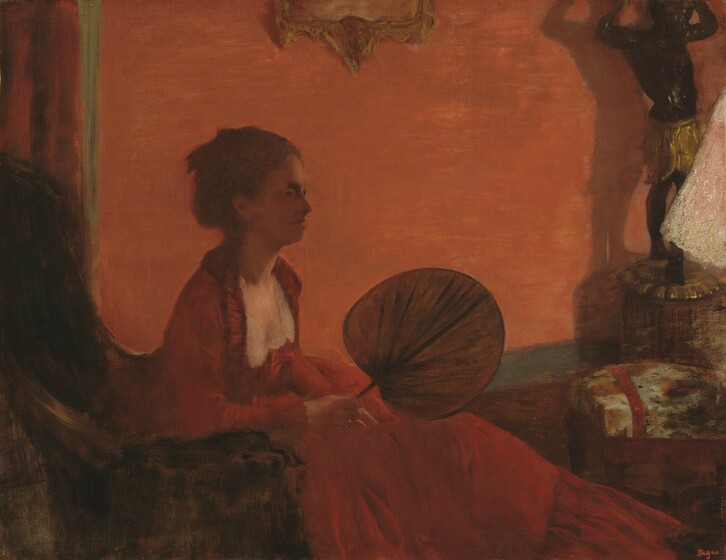 Blanche Camus was a gifted amateur pianist. Initially a close friend of Degas's sister Thérèse, she regularly performed at the musical parties hosted by the artist's father, Auguste De Gas, who recalled her passion for the fugues of Johann Sebastian Bach. Camus also hosted musical evenings in her elegant Paris apartment, along with her husband Gustave Émile Camus, a doctor and collector of fine porcelain and Japanese art. Degas, who would become a lifelong friend, painted two portraits of her in her home that evoke her role both as performer and music lover.
Eugénie Fiocre began her dance training in 1858 at age 13, following in the footsteps of her older sister, Louise. Eugénie became a ballerina in 1861 and rocketed to fame with her debut in the ballet Néméa, or Love Avenged in 1864. Admired for her beauty more than her talent, she nevertheless enjoyed a very successful career, gaining considerable recognition for performing "en travesti" (roles in which she dressed and acted as a male character). In 1866 she was cast as Nouredda, the principal role in the landmark ballet La Source (with music cowritten by Léo Delibes and Ludwig Minkus, the latter of whom also wrote the score for Néméa). Degas drew the dancer's portrait in August 1867, later memorializing her role in what would become his first ballet picture. (She is the figure in blue.)
Rose Caron was a celebrated soprano who began her professional singing career in Brussels. In 1885 she made her debut at the Paris Opéra in the role of Brunehild, Queen of Iceland, in Ernest Reyer's opera Sigurd. Degas attended this opera at least 37 times. He was a great admirer of the singer, whom he called the "Divine Madame Caron." He dedicated a sonnet to her, an homage to her performance in this role. She enjoyed a long and successful career in both Paris and Brussels until her retirement in 1902.
Listen to a recording of Caron, made at the end of her career.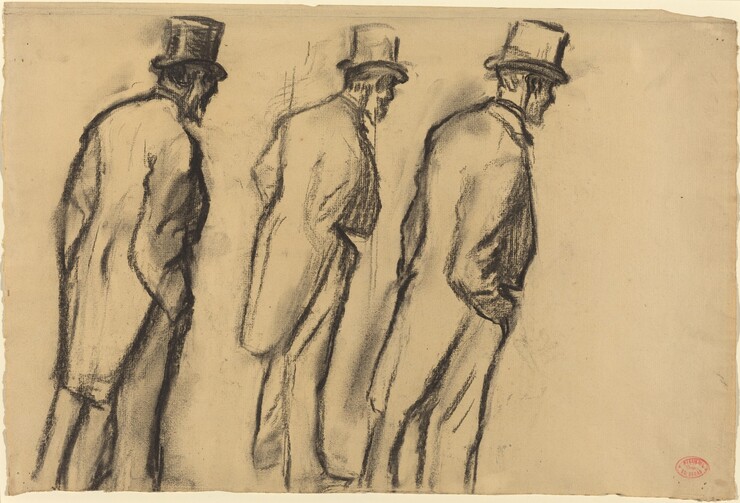 Ludovic Halévy, a friend of Degas's since childhood, first introduced the artist to the Opéra. He was the nephew of the composer Fromental Halévy and a cousin of Georges Bizet. A playwright, novelist, and librettist, he cowrote the text for Bizet's opera Carmen as well as many operettas by Jacques Offenbach, including his most famous work, Orpheus in the Underworld. Halévy had a flair for comedy and social satire and he published a number of books and short stories. The most famous of these was a series of best-selling novellas about the amorous adventures of two young dancers, published collectively as The Cardinal Family, which served as the inspiration for nearly 80 monotypes by Degas.
Désiré Dihau (the musician in the front row center of Degas's The Orchestra at the Opéra) began his musical studies in his hometown of Lille before entering the Paris Conservatory, where he won first prize for bassoon in 1857. He joined the orchestra of the Paris Opéra in 1862, a position he held until 1889, while also performing at other theaters around the city. Dihau was a talented composer who created a large and diverse array of musical compositions, including waltzes, polkas, ballads, and lullabies. Several of his tunes were published with cover sheets illustrated by his cousin, Henri de Toulouse-Lautrec. Dihau, along with his sister Marie, herself a talented pianist, were regular guests at the musical gatherings hosted by the artist's father, Auguste. Degas painted portraits of both siblings.
Jules Perrot was a celebrated dancer and choreographer during the 1830s–1850s—the period during which the Paris ballet was considered to be at its artistic peak—and he is credited with the creation of several of the most famous ballets of the 19th century, notably Giselle (1841). He toured Europe and eventually became the ballet master at the Imperial Russian Ballet in Saint Petersburg. He had retired by the time Degas began his exploration of the ballet; nevertheless, the artist depicted Perrot several times in the role of exacting ballet master, a reminder of a glorious era since gone.
In 1853, at the age of 20, the Spanish-born Lorenzo Pagans moved to Paris to pursue a singing career. He enjoyed some success as an opera singer, performing both in Paris and his native Spain, and went on to become a singing teacher, composer, and musician. He regularly performed at private musical gatherings such as those hosted by Degas's father, Auguste. Known as the "Spanish singer," due to his fondness for the music of his homeland, Pagans sang both traditional songs and his own compositions while playing the guitar.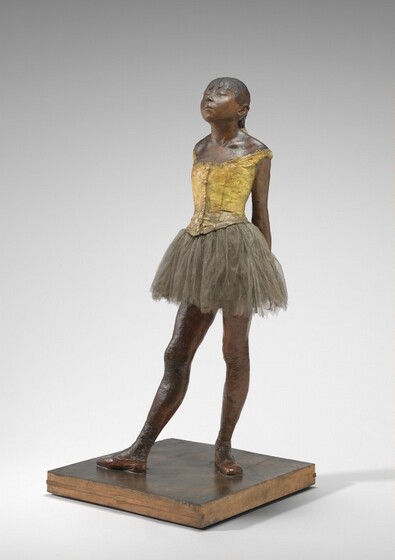 Marie van Goethem was born in 1865, the second of three sisters, all of whom pursued careers at the Paris Opéra. Her father, a tailor, and her mother, a laundress, had moved the family to Paris from Brussels in 1861 in search of a better life. In 1878 Marie became a student at the school of dance at the Opéra and shortly thereafter began to pose for Degas, most famously for his sculpture Little Dancer Aged Fourteen. In 1882 she was dismissed from the Opéra for poor attendance. Her subsequent fate remains unknown.
Cover Image: Edgar Degas, The Curtain, c. 1880, pastel over charcoal and monotype on laid paper mounted on board, Collection of Mr. and Mrs. Paul Mellon, 2006.128.16