The comparatively chaste young woman in Gerrit Dou's Woman with a Parrot removes a blue-fronted Amazon parrot (Amazona aestiva) from the dome-topped birdcage she grasps in her other hand [fig. 2]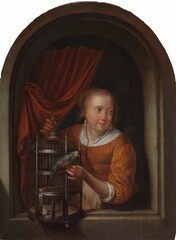 [fig. 2] Gerrit Dou, Woman with a Parrot, c. 1660–1665, oil on panel, The Leiden Collection, New York, GD-105. © The Leiden Collection, New York. In the symbolic language of Dutch art, a bird in a cage was often seen as a visual metaphor for conjugal felicity, whereas a bird leaving a cage was seen as representative of freedom from sexual restraints.[3] [3]
E. de Jongh provides a comprehensive analysis of illustrated emblem books from the 17th century in conjunction with contemporary paintings featuring the birdcage. He underscores the amorous nature in which the bird and the cage appear. See "A Bird's-Eye View of Erotica: Double Entendre in a Series of Seventeenth-Century Genre Scenes," in Questions of Meaning: Theme and Motif in Dutch Seventeenth-Century Painting, trans. and ed. Michael Hoyle (Leiden, 2000), 43–46. In addition, numerous examples of this cage exist, often suspended from the ceiling of interiors in the center of the room, as in Gerrit Dou, Lady at Her Toilet, 1667, Museums Boijmans van Beuningen (cat. 4.1), and Gerrit Dou, Woman at the Clavichord, c. 1665, Dulwich Picture Gallery, London (cat. 7.3), in Adriaan Waiboer, Arthur K. Wheelock Jr., and Blaise Ducos, eds., Vermeer and the Masters of Genre Painting (New Haven, 2017). The young woman in Dou's painting restrains the parrot by its talon, using her thumb and middle finger, suggesting that she is tempted by love, yet remains cautious about embracing sexual freedom (see detail of fig. 2).[4] [4]
A close examination of the bird's feet reveal that one foot is obscured from view and the foot in the foreground features only two digits of the talon. Parrot feet are zygodactyl and therefore feature two digits in front and two in back. Digit four is the only one clearly in view. Terri Brittin, "Fossil Groups: Psittaciformes," University of Bristol Palaeobiology Research Group, November 11, 2016, http://palaeo.gly.bris.ac.uk/Palaeofiles/Fossilgroups/psittaciformes/Characters.html. Dou's characterization of her uncertainty is wonderfully subtle and articulated discreetly through her interaction with the parrot.