Photography at the Turn of the Century
In the late nineteenth century, improvements in technology and processing, along with the invention of small handheld cameras such as the Kodak, suddenly made it possible for anyone of middle-class means to take photographs. Many amateurs took up the camera to commemorate family, friends, and special events. Others, such as the sociologist Lewis Hine, used it as a tool for social and political change. Partially in response to the new ease of photography, more serious practitioners in America and Europe banded together to assert the artistic merit of the medium. Called pictorialists, they sought to prove that photography was just as capable of poetic, subjective expression as painting. They freely manipulated their prints to reveal their authorial control, often resulting in painterly effects, and consciously separated themselves from amateur photographers and mechanized processes.

Photography at the Turn of the Twentieth Century
American 19th Century, Untitled, c. 1888, gelatin silver print, Gift of Robert E. Jackson, 2006.161.2
In 1888 George Eastman revolutionized photography with the Kodak camera. This simple, small, portable box was loaded with rolled film that could be sent off for processing and printing, eliminating the need for amateurs to learn the mechanics of photography. This picture was captured by one of the earliest Kodaks, which produced a circular image; by the mid-1890s the rectangle had become the most common shape for prints.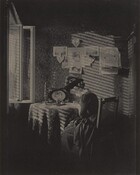 Photography at the Turn of the Twentieth Century
Alfred Stieglitz, American, 1864–1946, Sun Rays — Paula, 1889, platinum print, printed 1916, Alfred Stieglitz Collection, 1949.3.57
Early Work of Alfred Stieglitz
Born in Hoboken, New Jersey, Stieglitz began to photograph while he was an engineering student in Berlin in the 1880s. When he returned to the United States in 1890, he organized exhibitions, edited periodicals, and wrote articles to demonstrate the artistic merit of photography. Although he applauded the often heavily reworked prints of his fellow Photo-Secession members (see the following slide), most of his own pictures were remarkably free of manipulation. To supply the kind of painterly atmospherics many others added in the darkroom, he exploited the real-life effects of rain, snow, mist, and dim lighting and took advantage of cropping and framing to present evocative compositions.
One of Stieglitz's best known early photographs, this work demonstrates his mastery of tone, technique, and composition. Always eager to demonstrate his prowess, Stieglitz took on the difficult task of capturing the alternating bands of light and shadow without over- or underexposing the picture. Although he reached back to the tradition of Dutch genre painting for his subject, he gave a nod to his own work by including his photographs hanging on the wall. Most are pictures of his lover Paula, who writes at the table, and represent an early example of Stieglitz's lifelong practice of recording the same subject repeatedly over time.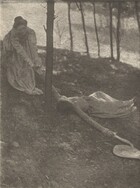 Photography at the Turn of the Twentieth Century
Clarence H. White, American, 1871–1925, The Hillside, c. 1898, gum dichromate print, Patrons' Permanent Fund, 2008.65.20
The Photo-Secession
At the turn of the century in America, Alfred Stieglitz and his colleague Edward Steichen (slide 10) led the movement to establish photography's status as a fine art. In 1902 Stieglitz founded an organization called the Photo-Secession, consisting of young artists who shared his belief in the creative potential of the medium. Many of the photographers featured here were members of the group, including Gertrude Käsebier (slide 5), Clarence White (above), and Alvin Langdon Coburn (slide 9). Through the exhibitions Stieglitz organized in his New York gallery, called 291, and the essays he published in his influential quarterly, Camera Work, he and the Photo-Secession promoted the pictorialist aesethetic of softly textured, painterly pictures that elicit emotion and appeal to the imagination. Occasionally the photographers' compositions refer to other works of art, such as Steichen's portrait of his friend Auguste Rodin, whose pose recalls one of the sculptor's most famous works, The Thinker. Influenced by the modern European and American painting, sculpture, and drawing he exhibited at 291, Stieglitz lost interest in the Photo-Secession in the early 1910s and began to explore a more straightforward expression.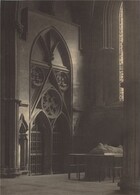 Photography at the Turn of the Twentieth Century
Frederick H. Evans, British, 1853–1943, York Minster, North Transept: "In Sure and Certain Hope," 1902, platinum print, Carolyn Brody Fund and Pepita Milmore Memorial Fund, 2011.18.1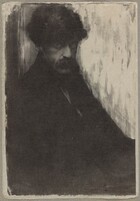 Photography at the Turn of the Twentieth Century
Gertrude Käsebier, American, 1852–1934, Alfred Stieglitz, 1902, platinum print, R. K. Mellon Family Foundation, Diana and Mallory Walker Fund, and Horace W. Goldsmith Foundation through Robert and Joyce Menschel, 2005.123.1
Photography at the Turn of the Twentieth Century
Lewis Hine, American, 1874–1940, An Anaemic Little Spinner in a New England Cotton Mill (North Pownal, Vermont), 1910, gelatin silver print, Pepita Milmore Memorial Fund, 2014.164.1
Trained as a sociologist and initially employed as a teacher, Hine used the camera both as a research tool and an instrument of social reform. One of the earliest and most influential social documentary photographers of his time, he made many pictures under the auspices of the National Child Labor Committee, an organization formed in 1904 to promote better working conditions for children. Hine's focus on the thin, frail body of this barefoot twelve-year-old spinner, who stands before rows of bobbins in the mill where she worked, was meant to illustrate the unhealthy effects of her employment. Photographs like this one were crucial to the campaign to change American child labor laws in the early twentieth century.
Photography at the Turn of the Twentieth Century
Paul Strand, American, 1890–1976, People, Streets of New York, 83rd and West End Avenue, 1916, platinum print, Patrons' Permanent Fund, © Aperture Foundation Inc., Paul Strand Archive​, 1990.85.1
Strand was introduced to photography in high school by his teacher Lewis Hine (previous slide), who instilled in him a strong interest in social issues. In 1907, Hine took his pupil to Alfred Stieglitz's 291 gallery in New York, which launched Strand's desire to become a fine art photographer. By the early 1910s, influenced by Stieglitz, he began to make clearly delineated portraits, pictures of New York, and nearly abstract still lifes. Strand came to believe that photography was a gift of science to the arts, that it was an art of selection, not translation, and that objectivity was its very essence.
Photography at the Turn of the Twentieth Century
Alfred Stieglitz, American, 1864–1946, Georgia O'Keeffe—Hands and Thimble, 1919, palladium print, Alfred Stieglitz Collection, 1980.70.138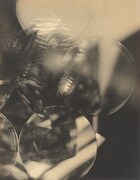 Photography at the Turn of the Twentieth Century
Alvin Langdon Coburn, British, born United States, 1882–1966, Vortograph, 1917, gelatin silver print, Patrons' Permanent Fund, 2003.120.1
One of the younger members of the Photo-Secession, Coburn shed the romanticism of the pictorial movement in the early 1910s and sought to bring photography more in step with abstract painting and sculpture. During World War I he became involved with a group of British artists known as the Vorticists, who aimed to construct a visual language as abstract as music. In 1916 Coburn invented a kaleidoscope-like device of three mirrors clamped together, which when fitted over the lens of a camera reflected and fractured the image. The poet Ezra Pound dubbed the device a vortoscope and the resulting prints Vortographs, widely celebrated as among the first deliberately created abstract photographs.
Photography at the Turn of the Twentieth Century
Edward Steichen, American, 1879–1973, An Apple, A Boulder, A Mountain, 1921, platinum print, Patrons' Permanent Fund, © 2015 The Estate of Edward Steichen / Artists Rights Society (ARS), New York, 2014.114.1
After World War I, Steichen became disillusioned with the painterly aesthetic of his earlier work and embarked on a series of experiments to study light, form, and texture. Inverting an apple, he demonstrated how a small object, when seen in a new way, can assume the monumentality and significance of a much larger one. His close-up scrutiny of a natural form closely links this photograph with works by other American modernists of the 1920s, such as Edward Weston (following slide), Paul Strand (slide 7), and Georgia O'Keeffe.
Photography at the Turn of the Twentieth Century
Edward Weston, American, 1886–1958, Shell 1, 1927, gelatin silver print, Gift of Agnes S. Wolf, 2013.27.1
The Californian photographer Weston was initially enamored of the soft, painterly style of the pictorialists, exemplified in his photograph The Breast (The Source). However, after meeting Stieglitz on a visit to New York in 1922, he changed course. Stieglitz encouraged him to adopt a more modernist approach that valued sharp focus and celebrated the beauty of the world around him. As Weston later said, "the camera should be used for a recording of life, for rendering the very substance and quintessence of the thing itself."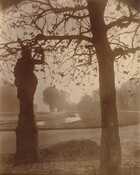 Photography at the Turn of the Twentieth Century
Eugène Atget, French, 1857–1927, Saint-Cloud, 1926, albumen print, Gift of Mary and Dan Solomon and Patrons' Permanent Fund, 2006.133.22
Using a cumbersome camera mounted on a tripod, Atget recorded the myriad facets of Paris and its environs at the turn of the century. Transforming ordinary scenes into poetic evocations, he created a visual compendium of the objects, architecture, and landscapes that were expressive of French culture and its history. He sold his photographs to artists, architects, and craftsmen, as well as to libraries and museums interested in the vanishing old city. Throughout his career he returned repeatedly to certain subjects and discovered that the variations caused by changing light, atmosphere, and season provided inexhaustible subjects for the perceptive photographer.