Postwar Photography
Photography thrived in the decades after World War II, invigorated by new ideas, practices, and expanding venues for circulating and displaying pictures. Immediately after the war, many photographers sought to publish their pictures in illustrated magazines, which prospered during these years. Some, such as Gordon Parks, made photographs highlighting racial, economic, and social disparities. Others, such as Louis Faurer, Sid Grossman, and Robert Frank, turned to the street to address the conditions of modern life in pictures that expose both its beauty and brutality. Using handheld cameras and available light, they focused on the random choreography of sidewalks, making pictures that are often blurred, out of focus, or off-kilter.
In the later 1950s and 1960s a number of photographers pushed these ideas further, mining the intricate social interactions of urban environments. Unlike photographers from the 1930s, these practitioners, such as Garry Winogrand, Lee Friedlander, and Diane Arbus, sought not to reform American society but to record it in all its complexity, absurdity, and chaos. By the late 1960s and 1970s, other photographers, such as Robert Adams and Lewis Baltz, looked beyond conventional notions of natural beauty to explore the despoliation of the urban and suburban landscape. Their pictures of tract houses, highways, and motels are stripped of any artistic frills, yet they are exquisitely rendered and replete with telling details. Also starting in the 1960s, many conceptual or performance artists working in a variety of media embraced what they perceived to be photography's neutrality and turned to it as an essential part of their experiments to expand traditional notions of art. In the late 1960s, improvements in color printing techniques led others, such as William Eggleston, to explore the artistic potential of color photography.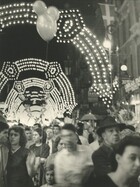 Postwar Photography
Sid Grossman, American, 1913–1955, San Gennaro Festival, New York City, 1948, gelatin silver print, Anonymous Gift, 2007.107.6
Postwar Photography
Gordon Parks, American, 1912–2006 Red Jackson, 1948, gelatin silver print, Corcoran Collection (The Gordon Parks Collection)
Parks, a photographer, filmmaker, writer, composer, and civil rights activist, once stated that "I picked up a camera because it was my choice of weapon against what I hated most about the universe: racism, intolerance, poverty." In 1948 Parks broke through the color barrier at Life magazine when he was appointed the first African American staff photographer. His initial assignment was to cover youth gangs in Harlem. Parks created a multilayered study of a teen gang leader, Red Jackson, pushing his story beyond traditional stereotypes and injecting an insider's perspective on race into the mainstream media. Silhouetted against the broken window, Jackson appears both vulnerable and determined.
Postwar Photography
Frederick Sommer, American, 1905–1999, Max Ernst, 1946, gelatin silver print, Pepita Milmore Memorial Fund, 2013.139.1
The surrealist artist Max Ernst considered this the definitive portrait of himself. Befitting the surrealists' love of the happy accident, it came together by chance while Sommer was tidying up in his studio and found two negatives—a portrait of Ernst standing against the side of his house and a picture of a waterstained concrete wall. When he printed the two together, Ernst's skin took on the texture of the wall, suggesting the look of frottage, a technique of rubbing graphite on paper laid over a textured surface that Ernst pioneered in the 1920s.
Postwar Photography
Robert Frank, American, born Switzerland, 1924, Woman, Paris, 1952, Tickertape, New York City, 1951, in Black White and Things (1952), gelatin silver prints in bound volume, Robert Frank Collection, Gift (Partial and Promised) of Robert Frank, in Honor of the 50th Anniversary of the National Gallery of Art, © Robert Frank, 1990.28.29.6, 1990.28.29.7

In the late 1940s and early 1950s, Frank made several handbound volumes of photographs, exploring different ways to link his pictures through non-narrative sequences. While in Zurich in October 1952, he assembled pictures taken in Europe, South America, and the United States in a book called Black White and Things. With a brief introductory quote from Antoine de Saint-Exupéry—"it is only with the heart that one can see rightly; what is essential is invisible to the eye"—the photographs are arranged in a sophisticated sequence that uses formal repetition, conceptual contrasts, and, as here, witty juxtapositions to evoke a range of ideas.
Postwar Photography
Robert Frank, American, born Switzerland, 1924, Trolley—New Orleans, 1955, gelatin silver print, Gift of Maria and Lee Friedlander, © Robert Frank, from The Americans, 2001.8.1
Trained as a commercial photographer in Switzerland, Frank immigrated to America in 1947, taking a job with Harper's Bazaar. He quickly tired of this work, and spent seven years restlessly traveling abroad, seeking subjects in each place that expressed his response to the people and their culture. In 1955 and 1956 he drove more than ten thousand miles around the United States to create his landmark book, The Americans (1958/1959). In this work, Frank looks beneath the surface of American life to reveal a profound sense of alienation, angst, and loneliness, as well as a people plagued by racism and ill-served by their politicians.
See the corresponding contact sheet in the following slide.
Postwar Photography
Robert Frank, American, born Switzerland, 1924, Guggenheim 340, Americans 18 and 19—New Orleans, November 1955, gelatin silver contact sheet, Robert Frank Collection, Gift of Robert Frank, © Robert Frank, from The Americans, 1990.28.2141
This contact sheet reveals the remarkable transformation in Frank's style in only a few years. An earlier London sheet, made when he was eager to sell his pictures to magazines, shows how he repeatedly photographed a hearse to ensure that he had captured his desired picture. The present New Orleans sheet, made when he had received a prestigious Guggenheim grant, reveals a more immediate and decisive response to the world around him.

Postwar Photography
Roy DeCarava, American, 1919–2009, Mississippi Freedom Marcher, Washington, D.C., 1963, gelatin silver print, Horace W. Goldsmith Foundation through Robert and Joyce Menschel, 1999.67.3 © Sherry Turner DeCarava and the DeCarava Estate
Postwar Photography
Harry Callahan, American, 1912–1999, Providence, 1968, gelatin silver print, Gift of the Callahan Family, 2011.95.31
Soon after Callahan began to photograph in the late 1930s, he met the landscape photographer Ansel Adams, who inspired him to make clear, sharp, and highly detailed photographs. He was also deeply influenced by the Hungarian modernist Laszló Moholy-Nagy, whose work Callahan saw in the early 1940s and who later hired Callahan to teach at his school in Chicago. He encouraged Callahan to experiment freely, prompting him to explore the effects of multiple exposure, camera movement, and extreme contrast. Using these precepts, Callahan spent his life photographing nature, the city, and his family, distilling the mundane, transitory scenes before his camera into timelessly elegant pictures.
Postwar Photography
Lee Friedlander, American, born 1934, New York City, 1966, gelatin silver print, Trellis Fund, 2001.22.26
Heir to the tradition of documentary photography established by Eugène Atget, Walker Evans, and Robert Frank (slides 4–6), Friedlander focuses on the American social landscape in photographs that can seem absurd, comical, and even bleak. In dense, complex compositions, he frequently depicts surprising juxtapositions that make the viewer look twice. He has made numerous self-portraits, yet he appears in these pictures in oblique and unexpected ways, for example reflected in a mirror or window. The startling intrusion of Friedlander's shadow onto the back of a pedestrian's coat, at once threatening and humorous, slyly exposes the predatory nature of street photography.
Postwar Photography
Garry Winogrand, American, 1928–1984, Los Angeles, 1964, gelatin silver print, Avalon Fund, 2013.42.3
Winogrand, a New Yorker who roamed across the United States during the postwar decades, left behind a sweeping portrait of American life. Making the middle class the primary subject of his pictures, he scrutinized both cities and suburbs, always on the lookout for those instants when happenstance and optics might join to make a good picture. Winogrand once said, "when things move, I get interested," perhaps explaining his proclivity for loose, casual, and occasionally off-kilter compositions. Despite this picture's suggestive detail—a bandaged nose, sullen expressions—like many of Winogrand's photographs it poses more questions than it answers.
Postwar Photography
Diane Arbus, American, 1923–1971, A Young Man in Curlers at Home on West 20th Street, N.Y.C., 1966, gelatin silver print, Gift of the Collectors Committee, 1994.78.1
Postwar Photography
Irving Penn, American, 1917–2009, Woman with Roses (Lisa Fonssagrives-Penn in Lafaurie Dress), Paris, 1950, platinum/palladium print, printed 1977, Gift of Irving Penn, © Condé Nast, 2002.119.48
One of the most influential fashion and portrait photographers of his time, Penn made pictures marked by refinement, elegance, and clarity. Trained as a painter and designer, he began to photograph in the early 1940s while working at Vogue; more than 150 of his photographs appeared on the cover of the magazine during his long career. A perfectionist, Penn explored earlier printing techniques, such as a late nineteenth-century process that used paper coated with solutions of platinum or palladium rather than silver, to achieve the subtle tonal range he desired.
Postwar Photography
Robert Adams, American, born 1937, Colorado Springs, Colorado, 1974, gelatin silver print, Gift of Mary and Dan Solomon and Patrons' Permanent Fund, 2006.133.7
For more than forty years, Adams has recorded the changing American landscape, especially the ongoing settlement of the West. Although he has photographed roads, tract houses, and strip malls that have utterly transformed the landscape, he has also captured the beauty that remains and indeed, that refuses to die, as in his poetic picture of morning fog over California hills. He is convinced, as he wrote in 1974, that "all land, no matter what has happened to it, has over it a grace, an absolutely persistent beauty."
Postwar Photography
Lewis Baltz, American, 1945–2014, Sausalito, 1973, gelatin silver print, Charina Endowment Fund, © Lewis Baltz, 2010.81.1
From 1967 through the early 1970s, Baltz made a series of photographs of the sides of warehouse sheds, stucco walls, empty billboards, and other geometric forms found in the postwar suburban landscape. These seemingly dispassionate compositions, rigidly flat and planar, relate to the minimalist art of the period. Yet while his subjects might not possess an inherent aesthetic allure, his photographs manage to wrest an exacting beauty from simple geometry and tonal qualities.
Postwar Photography
Giovanni Anselmo, Italian, born 1934, Entering the Work, 1971, photographic emulsion on canvas, Glenstone in honor of Eileen and Michael Cohen, 2008.30.4
Conceptual Photography
In the 1960s, many painters and sculptors questioned the traditional emphasis on aesthetics and turned to creating art driven by ideas. Photography's association with mechanical reproduction appealed to them as they sought to downplay the hand of the artist while promoting his or her role as idea maker. Some conceptual artists, such as Sol Lewitt and Mel Bochner, used photographs to explore an interest in perspective, scale, and mathematics. Others turned to photography as a tool to record performances and artistic undertakings, the resulting pictures acting as an integral part of those projects.
Anselmo was a member of the Italian Arte Povera group, which sought to break down the separation of art and life through experimental performances and the use of natural materials such as trees and leaves. To make this work, Anselmo set his camera up with a timed shutter release, and raced into view so that his running figure creates a modest yet heroic impression on the landscape.

Postwar Photography
Gordon Matta-Clark, American, 1943–1978, Conical Intersect, 1975, silver dye bleach print, The Glenstone Foundation, Mitchell P. Rales, Founder, 2008.30.56
Known for his site-specific projects, Matta-Clark created temporary art works by sawing and cutting portions of walls and floors out of abandoned buildings, and then photographing his results. Fascinated by the process of decay and destruction, he made Conical Intersect by cutting large cone-shaped holes through two seventeenth-century houses in Paris that were slated to be demolished to make room for the Centre Georges Pompidou.
Postwar Photography
William Eggleston, American, born 1939, Greenwood, Mississippi, 1973, dye imbibition print, Corcoran Collection (Gift of the Women's Committee of the Corcoran Gallery of Art)
One of the pioneers of color photography in the late 1960s, Eggleston has created an eclectic, if eccentric, portrait of his native Memphis and the South. Before him, color photography was thought to be the province of advertising agencies, fashion magazines, and amateurs making family snapshots, not "serious" photography. Eggleston's deceptively simple compositions harness the descriptive power of color and frequently use unusual perspectives to summon the beauty of mundane subjects. His highly influential work has inspired many more to explore the potential of color photography.