Modern Portraits in Photography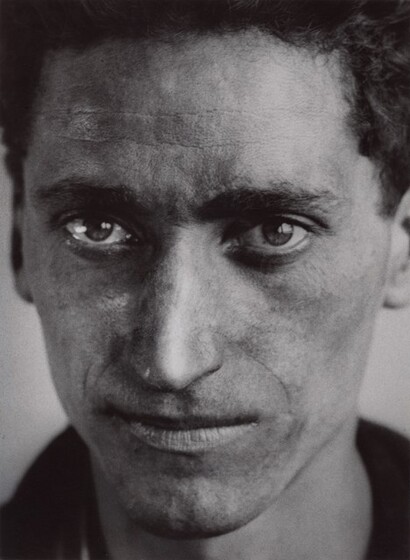 Overview

Like other traditional artistic genres, portraiture was radically transformed with the advent of modern art. Before the 1800s, portraits typically depicted a sitter's external likeness; they also indicated his or her standing in society through clothing, setting, or the choice of surrounding objects. Beginning in the late nineteenth century, however, many artists rejected surface impressions. They argued that to reveal a person's character, one needed to show normally invisible elements such as mood or state of mind. Furthermore, artists wanted to address the unnatural space of art—flat canvases, self-contained chunks of wood or stone—as much as the natural space of the sitter. From the 1890s onward unnatural colors, distorted physical features, and abstract or nonrealistic settings became hallmarks of portraiture in advanced painting and sculpture.

Photographers transformed the scope of portraiture as well, beginning soon after the invention of the medium in 1839. Small, inexpensive photographs, such as tintypes or cartes-de-visite, catered to a broadly held desire for individual likenesses, expanding the clientele for portraits from affluent elites to middle-class multitudes. Nor were people interested in seeing or owning just their own portrait. Studios such as the firm of Albert S. Southworth and Josiah J. Hawes, established in Boston in 1843, or the Parisian salon opened in the 1850s by Nadar (Gaspar-Félix Tournachon), vied to photograph famous sitters, whose portraits were then sold or reproduced in print for mass distribution. Wide circulation of these portraits created the thoroughly modern phenomenon of stardom, bestowing upon images of politicians, actors, and even bohemian intellectuals, such as the poet and critic Charles Baudelaire, the status of icon.

In the early twentieth century, artistically ambitious photographers drew inspiration both from advanced vanguard art and commercial portrait photography.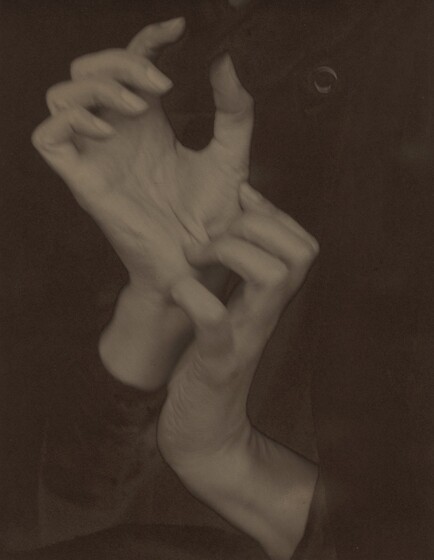 Alfred Stieglitz (1864–1946) spent much of his career establishing a dialogue between advanced photography, painting, and sculpture, and his more than three hundred photographs of the painter Georgia O'Keeffe (1887–1986) count as a signal contribution to this long-term enterprise. Two years after opening an exhibition space, the Little Galleries of the Photo-Secession (Gallery "291"), in 1905, Stieglitz began showing modern art there as well. Drawings, paintings, and sculpture by Auguste Rodin, Henri Matisse, Pablo Picasso, and Constantin Brancusi, among others, influenced Stieglitz in his thinking about photography. These artists, significantly, all made or worked from photographs.

Stieglitz's decision to consider his photographs of O'Keeffe's hands "portraits" of her in their own right, rather than simply studies for a larger composition, is certainly indebted to the sculptural fragments made by Rodin and pursued to the point of abstraction by Rodin's one-time assistant Brancusi. Yet Stieglitz cultivated here above all the sense of photography as fragmentary, a partial viewing that lends itself to juxtaposition and serial development. Stieglitz called his ongoing studies of O'Keeffe a "composite portrait," meaning one that developed over time, piece by piece. This closely framed view of ecstatically clawing hands, sinewy fingers pressing into flesh, gives just one aspect of O'Keeffe's multifaceted personality as shaped through this portrait series.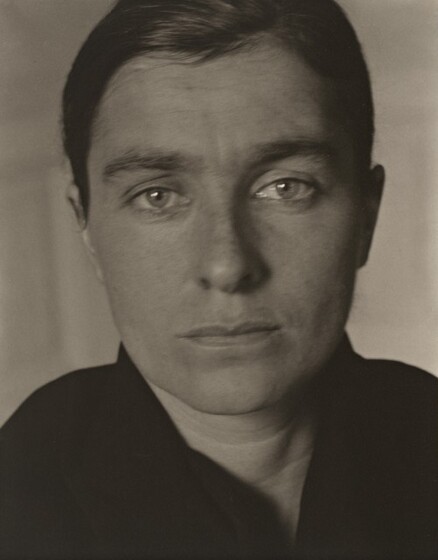 Paul Strand (1890–1976) first studied photography with Lewis Hine (1874–1940), a teacher at the Ethical Culture School in New York who used the camera as a means to document the disadvantaged and effect social reforms on their behalf. Hine's photographs of immigrants arriving at Ellis Island, taken in 1904, included sympathetic, individuated portraits of these otherwise anonymous and impoverished newcomers to American society. Strand refined his own photographic technique in the following years, taking inspiration from the exhibitions at Alfred Stieglitz's Gallery "291," and from 1915 through contact with Stieglitz himself.

In 1922 Strand married Rebecca Salsbury (1891–1968), a self-taught artist who was friendly with Stieglitz as well. One year earlier, Stieglitz had exhibited a large group of his portrait studies of O'Keeffe, including many of her nude, placing them boldly in counterpoint to his more conventional portraits of male friends and colleagues. The open sensuality of Stieglitz's work with O'Keeffe clearly influenced Strand, who used his habitual emphasis on deep, warm print tones to accentuate an impression of frank intimacy between photographer and sitter.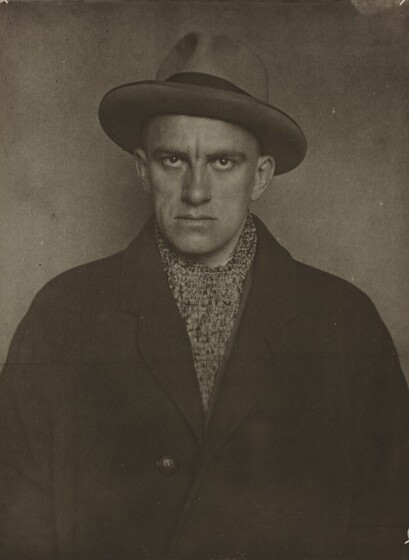 A student of the fine arts in Moscow for much of the 1910s, Aleksandr Rodchenko (1891–1956) announced the death of easel painting in 1921 with his triptych of red, yellow, and blue monochrome canvases; all artists and art production henceforth were to serve politics and society directly. Throughout the 1920s Rodchenko designed advertisements, film sets, furniture, and numerous publications featuring dynamic, unexpectedly angled camera images and photomontages. Caught like all Soviet intellectuals in an increasingly vicious climate of persecution, Rodchenko concentrated from around 1930 on glorifying Stalinist directives, for example in photographs for the magazine SSSR na Stroike (Building the USSR).

Rodchenko made a series of portraits of poet and revolutionary activist Vladimir Mayakovsky soon after taking up photography in 1924. In this particular image, the visually imposing Mayakovsky is shown in an unmediated frontal view, drained of emotion and staring stonily at the camera. Such unadorned directness had no precedent in ambitious photography, but it clearly evoked the strictly practical world of police photographs. Photography was introduced as a tool to aid in identifying suspects and prisoners during the mid-nineteenth century, and rapidly gained favor as a means of governance and societal control. Here Rodchenko has rejected the look of commercial studio photography—another development of the mid-1800s—in favor of an equally widespread, powerful kind of photographic portraiture deliberately removed from the conventions of traditional painting.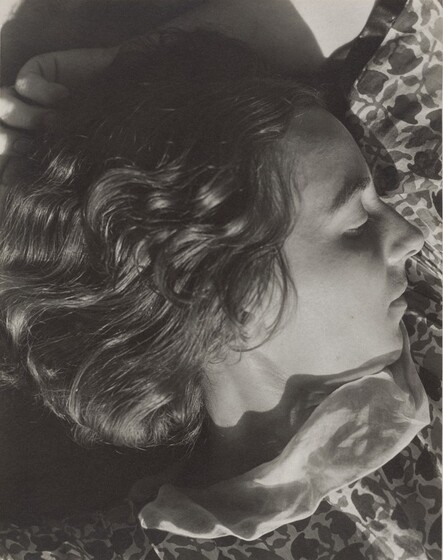 After earning a degree in chemistry at the University of Washington (1907), Imogen Cunningham (1883-1976) trained in the Seattle studio of Edward Curtis (1868-1952), a specialist in genre and portrait photographs of Native American tribespeople. Following further studies of photochemistry in Dresden, Germany, Cunningham returned to the West Coast, where she exhibited regularly and founded her own portrait studio. She is best remembered together with Edward Weston and Ansel Adams as a member of f/64, the 1930s group whose crisp, technically precise abstractions shaped the course of art photography in America.

Cunningham's portrait of Gertrude Gerrish, who studied etching with Cunningham's husband Roi Partridge, has much in common with the starkly erotic compositions created by Paul Strand, Alfred Stieglitz, and Edward Weston in the preceding decade. Cunningham's highly unnatural camera angle, however, relates most directly to the modernist style propagated by members of the German art school, the Bauhaus (1919-1933). Close-up views from directly above or below and poses that suggest a casual intimacy with the photographer are hallmarks of this style. Bauhaus affiliates particularly favored views of their friends apparently asleep, as Gerrish is here, for their suggestion of revealing a dreamlike, inner character. The "New Vision," as this approach was termed, attained unprecedented visibility at the 1929 Film und Foto exhibition, a mammoth international survey of contemporary photography in which Cunningham took part. With their revolutionary reinvention of portraiture, above all, practitioners of the New Vision crystallized the metaphorical aim of an entire generation: to change the face of their time.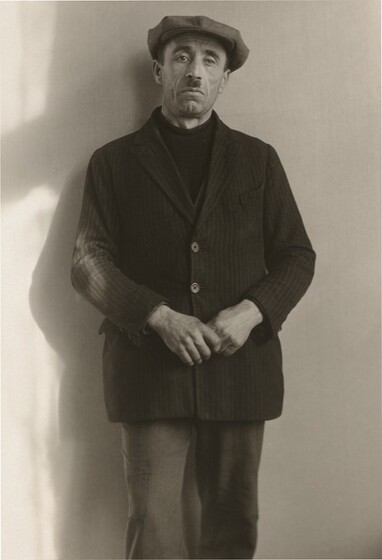 A studio photographer, August Sander departed from usual practices when he began to seek out clients among local farmers and villagers in the 1910s and to take unpretentious portraits of them, often out of doors. In the 1920s Sander announced an encyclopedic project that would incorporate those early portraits into a series of portfolios, collectively titled "Citizens of the Twentieth Century." Progressing from the countryside to the city, this cycle was to document the types of people who made up modern Germany.

As in all his pictures for this vast portrait cycle, Sander here withholds the sitter's name. One may ask, then, whether his photograph qualifies as a portrait. This question belongs at the core of Sander's magnum opus, which presents people as unique, irreducible beings but also as specimens of broad demographic groups: here, the steadily increasing proportion of welfare seekers in Depression-era Germany. Sander registers subtle signs of personal character, such as a hesitancy in the man's stance or the almost quizzically raised eyebrows on a face otherwise set stolidly in resignation. Such indications attest to Sander's skill at getting people to "act themselves," an apt phrase to define photographic portraiture in general. By withholding names and showing his subjects primarily against blank or nondescript settings, Sander effectively creates a tension between individual identity and his larger, typological project. What results is, effectively, a portrait of modern society; a world that struggles with the ideal, impossible task of knowing each and every one of its citizens.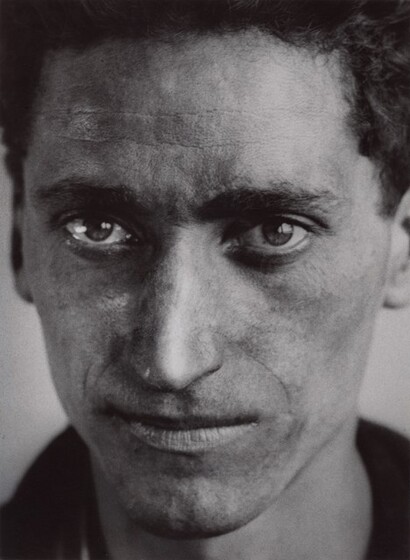 One of the foremost representatives of Hungarian documentary photography, Kata Kálmán (1909-1978) turned to portraits of laborers and disadvantaged children in 1931, as soon as she began working with a camera. Several Hungarian photographers specialized in similar subjects in the 1930s, creating a community of politically committed photojournalists who wished to emphasize dignity in working-class people and pathos in their surroundings. In 1937 Kálmán published an album of twenty-four portraits titled Tiborc, the name of a character who personifies the Hungarian peasantry in the nationally celebrated novel Bánk Bán (1821). Widely reviewed, Kálmán's book cemented her reputation as an artist capable of putting a face, quite literally, on the suffering and inequity in modern industrial society.

Factory worker Ernő Weisz, whose portrait appeared in Tiborc, provided Kálmán with one of her earliest subjects. His apparent proximity to the camera lens, and by extension to the viewer, carries a deeply humanistic charge. Weisz's steady eyes promise us his sympathy, and the very slight downward tilt of his head, together with the almost parted lips, suggest he has just heard his name spoken and is preparing to be introduced. Kálmán's approach casts an ironic light on what was historically perhaps the most widespread type of portrait photograph, the carte-de-visite (visiting card), which, as its name suggests, also functioned as a form of social introduction. Sitters for a carte-de-visite, however, typically considered themselves to "have a name," whereas Kálmán is precisely inviting viewers to get to know better her otherwise anonymous subject.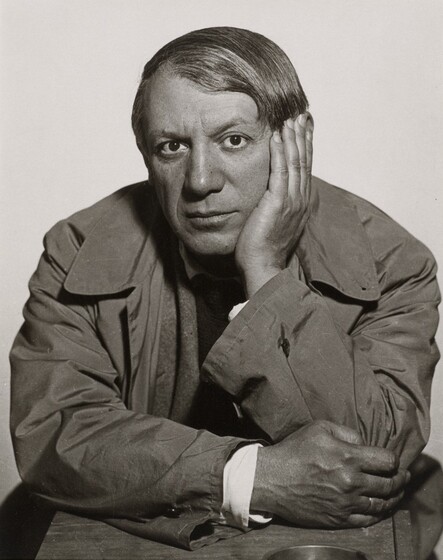 Man Ray (1890–1976) was a key member of the Dada and surrealist circles in Paris and New York from the 1910s through the 1930s. Although best known for his photographs, Man Ray rested his claim to art above all on his activities as a painter. He nevertheless marketed his other skills tactically. Arriving in Paris in 1921, he quickly established himself as a portrait photographer, working with artists and for magazines such as Vanity Fair and Vogue. At the same time, Man Ray's cameraless "rayographs" (made by placing objects on photosensitive paper and then exposing the paper directly to light) were well publicized and became key models of artistic innovation among European photographers and painters.

This apparently prosaic picture of Pablo Picasso (1881–1973) in fact does much to convey the painter's formidable personality. In the age of celebrity, it is not necessary to show a person's trappings or the attributes of his trade, as in older portraiture. Everyone knows who Picasso is. His fame becomes itself a subject of study. Centering his sitter firmly at eye level, Man Ray suggests that Picasso has won his renown thanks to a vital strength of character. The painter's magnetic, penetrating stare confirms his legendarily possessive insight, and from this vantage point his relaxed hands and upper body seem particularly forceful. Man Ray's portrait, like many of the works on this tour, imparts a deliberate air of casualness. Thrillingly, that intimacy seems here to banish the distance conferred by media renown, as if one found oneself face to face with a Hollywood star.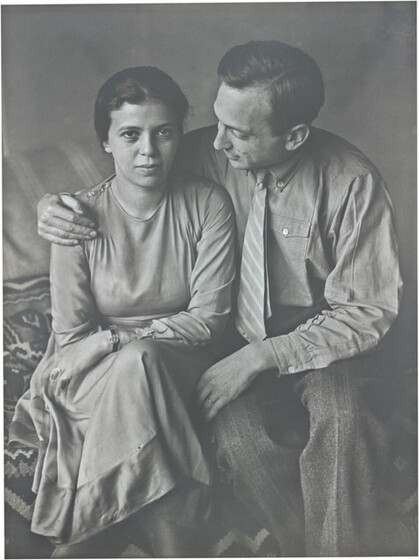 Kertész Andor adopted his Gallicized first name, André, after moving to Paris from Budapest, Hungary, in 1925, having decided to make an artistic career as a commercial photographer. In Paris, Kertész worked freelance for illustrated magazines, a form of publishing that was already thriving in his native central Europe. While frequenting the company of painters and sculptors, he also showed his work in ambitious exhibitions of progressive photography, such as the Salon de l'Escalier (Staircase Salon), Paris (1927), and the Film und Foto exhibition in Stuttgart (1929). Kertész emigrated to New York in 1936 where, after many years of desultory work for House and Garden magazine, he slowly became integrated into a new establishment of galleries and museums.

Kertész specialized in scenes of lyrical intimacy and solitude, exactly the sentiments expressed in this self-portrait with his Hungarian wife Elizabeth. After years of fitful courtship, she had joined him in Paris in 1931 and they married two years later. Undoubtedly, the couple needed to adjust to each other after their extended separation, during which Kertész had discovered himself professionally and personally as well (he even married, briefly, another Hungarian émigré). This newlywed portrait registers the couple's mutual rediscovery, from the awkward tenderness of his hand on her shoulder, to the stiffness with which she folds her body into his. One has the impression that the participants in this image are evolving before our eyes toward a new relationship. In this sense, the portrait is not a still image and even less a commemorative picture, but rather the stage for an evolving narrative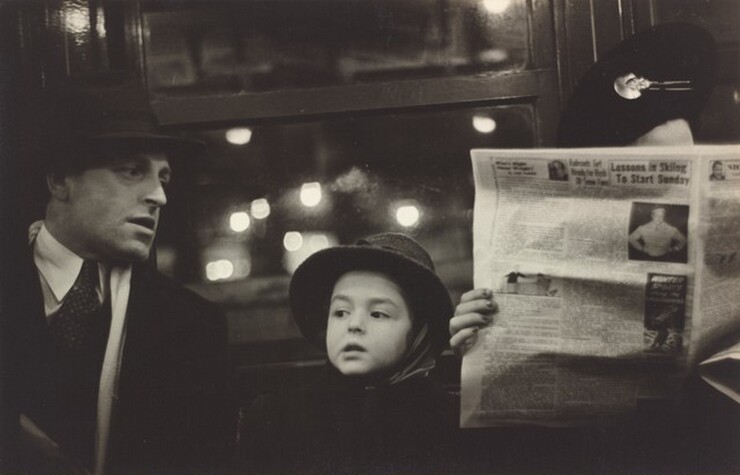 Although he resisted the term "art photographer" throughout his life, Walker Evans was instrumental in establishing photography as an artistic profession in the United States. Ten years after making his first serious photographs, Evans had published three books with noted writers and had as many one-person shows at the Museum of Modern Art. The last of these, American Photographs (1938), established a lineage, characterized by the ironic documentation of this country's sights and mores, that was later furthered by Robert Frank, Lee Friedlander, and other photographers in the postwar decades.

For his "subway portraits," which Evans began to make immediately after the appearance of American Photographs yet first published only fifteen years later, the photographer remained as anonymous as his subjects. Furtively riding New York City subway cars, Evans hid all but the lens of his camera and snapped his pictures without raising the camera to his eyes. By shooting "blind," he sacrificed the ability to frame his compositions exactly (although he did crop many negatives in printing) but gained thoroughly candid views in return. Portraiture merges here with voyeurism and surveillance. Interestingly, the disjuncture between artist and subject is matched by the sitters' own alienation from one another. Even family members traveling together connect only tangentially, as we see in this photograph. Snatches of conversation travel across their intended recipients, to a rhythm suggested by the reflections of bouncing lights. The lack of eye contact, meanwhile, is eloquently summed up in a wall of newsprint at right.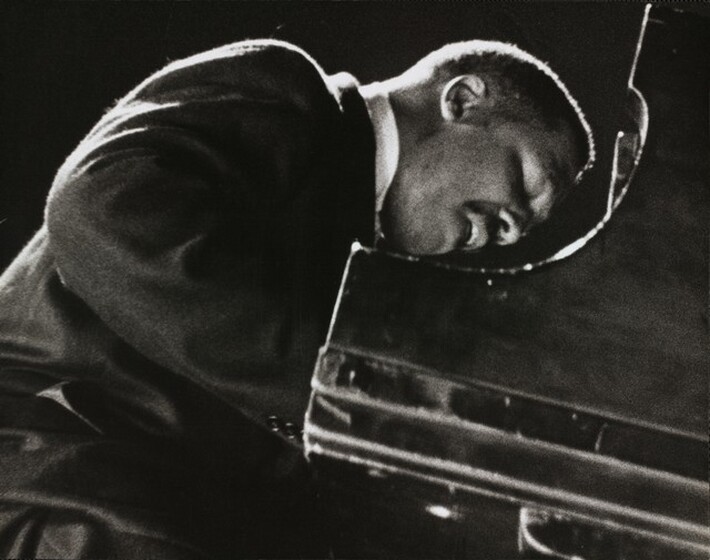 Lisette Model (née Seybert, 1901-1983) turned abruptly to photography in 1933, after studying piano and voice in her native Vienna and later in France. Escaping the war, Model relocated from Paris to New York in 1938 and began a freelance career in magazine photography, as well as a complementary trajectory of exhibitions, principally at the Museum of Modern Art. During the 1940s and 1950s, the decades of her greatest visibility, Model established a signature of gritty, off-kilter urban imagery that marked many artists of the subsequent generation, from Garry Winogrand to her own student Diane Arbus.

Model here shows jazz pianist Earl Rudolph (Bud) Powell (1924-1966), one of the leaders of the "be-bop" generation, in a moment of intense concentration as he performs. The frame is tight, almost touching the nimbus of stage light that spills down the back of Powell's head and right arm and glances off the edge of the piano. This close cropping, combined with a view from below, conveys dynamism and intensity of action. Model retains the traditional portrait convention of showing her sitter at work and identifying his trade. But she does not focus on Powell's hands, the most obvious attribute of a pianist. Instead, Model—herself quite accomplished on this instrument—likens music making to an act of thought. Powell's head curves downward as if to meet the contour of the piano; his ear is turned to the music while his mouth parts slightly in an inner dialogue. The true portrait of Bud Powell, Model suggests, comes to us not through his likeness but only by analogy with the action of his sound.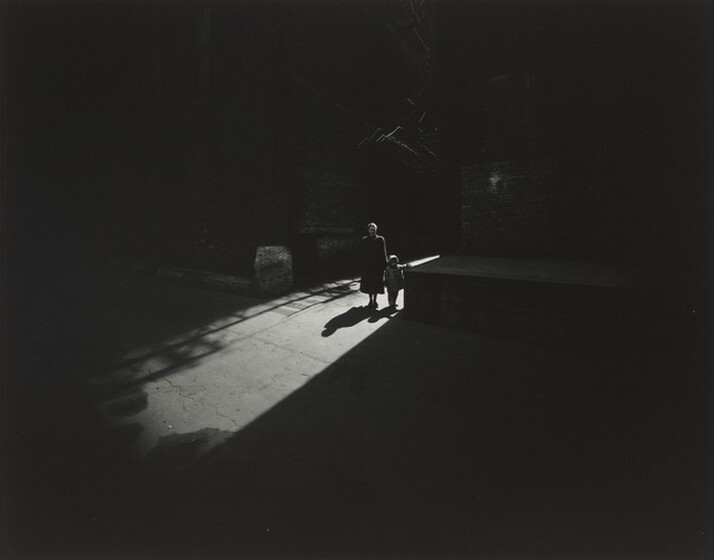 Harry Callahan (1912-1999) always made place the measure of his artistic sensibility. In Detroit, where he was born and raised, Callahan focused on snow, the Great Lakes, and industrial cityscapes. While at the Institute of Design in Chicago (1946-1961), Callahan took advantage of that city's canyonlike urban core, as well as its dense pedestrian life and lakeshore geography. Later on, at the Rhode Island School of Design in Providence (1961-1983), Callahan concentrated on expanses of beach and shoreline waves, among other subjects. In each case, the artist pushed the notion of clarity nearly to a paradoxical illegibility, exploring extremes of white and black as well as subtle juxtapositions of gray in his quest to describe liminal forms of abstraction.

Callahan's wife Eleanor and their daughter Barbara (born 1952) served repeatedly as his models. Although not creating a formal portrait, it could be said that Callahan plays with the category of portraiture in these works rather than abandoning it altogether. Where the paintings of Edward Hopper (1882-1967), for instance, afford a distance from the anonymous loneliness they depict, Callahan's real bond of affection for his wife and daughter, who are recognizable physically and are named in the title, pulls us in as well. The two females stand isolated in the chill light of winter, separated from the photographer by an impenetrable shadow. If we dismiss the connection between him and them, hardly anything remains to look at in this inky scene; if we meditate on that connection, then we strain to find their faces, peering through the darkness until we can hardly see.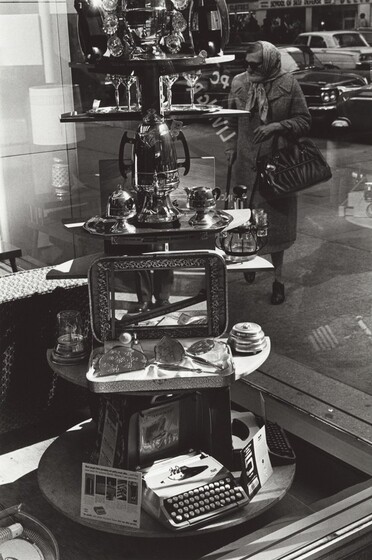 Lee Friedlander (born 1934) began his career taking portraits of jazz musicians for Atlantic Records in the mid-1950s. By the end of the next decade Friedlander's dry, deceptively casual shots of contemporary America—store windows, signs, pedestrians, and self-portraits—had been consecrated as worthy successors in a photographic lineage associated with the work of Robert Frank and Walker Evans. Friedlander has since explored subjects as varied as the California desert, small-town monuments across America, and female nudes, in each case with an apparently slovenly disregard for composition that masks an ascetic rigor.

As he does in all his many self-portraits from the 1960s, Friedlander here refuses to show himself whole. With willful, deadpan humor, all he gives us to substantiate the title of this work are a pair of shoes and a bit of trouser leg framed in a pawnshop mirror (infinitesimal refractions on a samovar and other appliances stacked here escape the naked eye). By contrast, an elderly window-shopper appears in full view. A tense symmetry subsists between this woman and the photographer, each looking at the corner-store display from opposite sides. By virtue of the many layers of reflection, both seem to be part of the display itself. Friedlander recapitulates with irony a long-standing development in portraiture, a genre fostered by the middle classes, in which people become increasingly interchangeable with their possessions—though neither Friedlander nor his accidental interlocutor seem likely to purchase anything from this store.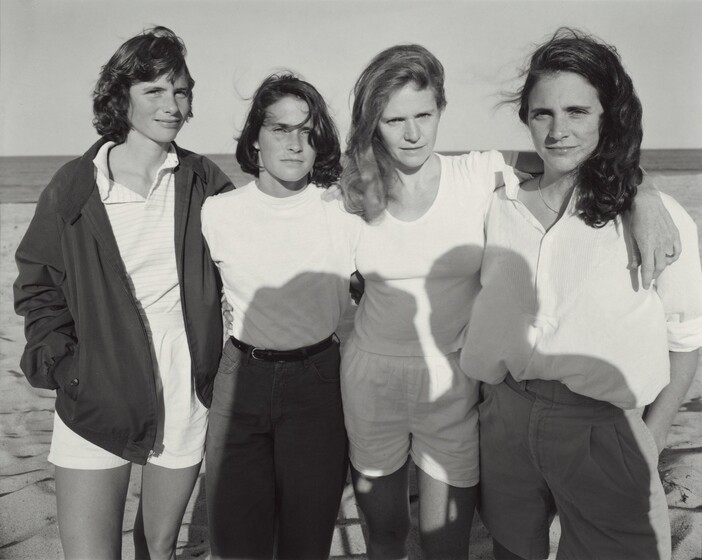 In an age of fast-paced, intrusive media imagery, Nicholas Nixon's photography stands as a model of slow and sensitive camera work. Using a view camera mounted on a large tripod—the equipment casts a hulking shadow in the photograph you see here—Nixon (born 1947) has devoted his attention to family and friends, neighborhoods in his home city of Boston, residents at an elder home, and people dying of AIDS, among other subjects.

The annual portraits Nixon has made since 1975 of his wife Beverly (Bebe) Brown and her three sisters are by far the most extensive of his serial projects. At some point each year, Bebe (third from left) and her sisters Heather, Mimi, and Laurie (again from left) gather at a family event and pose, always in the same order. Subtle relations among the sisters suggest themselves in each composition—here, for instance, a motherly assurance in the way Bebe circles Mimi's waist and Laurie's shoulder with her arms—but it is above all the changes over time that fascinate us: shifts in hairstyle, skin texture, and sense of self. As we have seen elsewhere on this tour (with Stieglitz and Sander, for instance), "composite" portraiture constitutes an important aspect of modernist photography. In the case of the Brown Sisters portraits, the process is open-ended, pointed always toward the next encounter; yet the cumulative effect of these time-lapse images is intensely commemorative, underscoring as it does our own mortality.