These concepts were recognized and refined over the centuries by numerous scholars, including the 17th-century German Jesuit priest Athanasius Kircher, who, among other topics, wrote extensively on music theory.[6] [6]
From "Athanasius Kircher," ThereminVox: Art, Technology and Gesture, February 4, 2004, http://www.thereminvox.com/article/articleview/77/1/16/. One of Kircher's most important theories was his work on the correspondence of musical notes to specific colors, which he coded into a chart and published in 1646 (for an adaptation of this chart, see [fig. 2]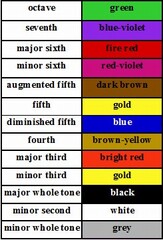 [fig. 2] Athanasius Kircher, Color chart, 1646. adapted by the author at right). According to Kircher, deep, dark sounds of minor notes are associated with cool, deep colors, while the warmer, brighter sounds of major notes are warmer, lighter colors. As a Jesuit priest, Kircher believed that the coexistence of sensory functions had profound implications in worship and that the immersion of sight and sound had the capacity, as one scholar wrote, to "move the passions, to produce strong emotional effects that, under properly controlled conditions, [could] ravish the soul and lead the faithful closer to the divine."[7] [7]
See Penelope Gouk's helpful chapter "Making Music, Making Knowledge: The Harmonious Universe of Athanasius Kircher," in The Great Art of Knowing: The Baroque Encyclopedia of Athanasius Kircher, ed. Daniel Stolzenberg (Stanford, 2001), 71–83, in particular 74.
Kircher's articulation of the multisensory relationship between color and music resonates with Van Mander's advice for artists and suggests that the experience of looking at painting may engage viewers on a variety of sensory levels. For synesthetes, the integration of certain colors and shapes on an artist's panel or canvas may stimulate a musical experience, which would allow them to "hear" the painting.
For most viewers, a painting's composition reinforces the subject matter. In Vermeer's Woman with a Lute, for example, which is largely a cool, dark painting, accents of warm light on the upper left of the wall (promoted by whites and creams) direct our attention to the woman's face [fig. 3]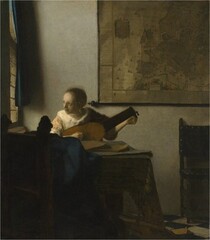 [fig. 3] Johannes Vermeer, A Woman with a Lute, c. 1663–1664, oil on canvas, The Metropolitan Museum of Art, New York, Bequest of Collis P. Huntington, 1900, 25.110.24. © 2017 The Metropolitan Museum of Art/Art Resource/Scala, Florence. Viewers are drawn in by the painting's composition and color, while the lady tuning the lute provides the aural suggestion of harmony and balance.